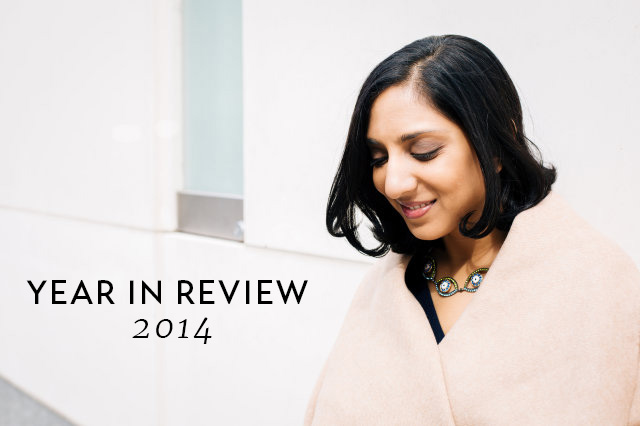 What a year.
It had the highest of highs (finding out I'm pregnant, making a massive career change, relaunching the website). It also had the lowest of lows. Losing one aunt in September was rough enough – losing two aunts and an uncle, in the span of 3 months, felt like torture.
That's the thing about life we often forget. It begins, and it ends. I have no clue how long I have left on Earth, but I plan on making every minute count.
Motherhood seems like a good place to start.
This post is a purely selfish exercise – a lot has happened this year, and I want it recorded in a single place for my own sake. It also was a tremendous year of growth for Hitha On The Go. Setting new records, filming video projects, and being featured are certainly wonderful. But the very fact that you found this website, and continue to visit and comment, means everything.
Without you, there would be no Hitha On The Go. There would just be Hitha, on the go.
Thank you, thank you, thank you for an incredible year.
January
We spent most of the month away from the frigid weather – in San Francisco and Sydney, specifically. A trip to Australia was high on my 'dream destinations' list, and my husband's company made it a reality with a work project based in Sydney. I won't lie – it was blissful to spend most of this frozen month basking in the Sydney summer.
Best of January 2014
February
Besides returning from Australia, nothing much of consequence happened this month. The weather was cold, plans were few, and snowstorms were plentiful. On a personal note, this was the month I started thinking about a career outside of the pharma industry. It's crazy how a seed planted that month would flourish into…well, reality.
Best of February 2014
March
The weather began to warm up. We socialized a lot (many an indulgent dinner was had), and I filmed my first packing video series. Between the video project and a work conference (and the necessary preparation and follow-up for both), March flew by. On a personal front, we signed the lease for our new apartment – a huge upgrade from our alcove studio.
Best of March 2014
April
WE MOVED! And in the process, realized that professional movers are worth the investment. I scrambled to get the home office ready in time for my Career Contessa photo shoot (note – do not schedule any kind of shoot in your apartment mere days after you move in). We also jetted down to Fort Lauderdale for the annual party of my husband's firm (a party I'm sad to be missing in 2015, given how close it is to my due date).
Best of April 2014
May
It was this month that I made the decision to leave my job and the industry for good. I can't remember the specific circumstances of that a-ha moment, but I remember being so at peace and relaxed come Labor Day weekend. A feeling I had not felt in years, if I'm being honest. May is always a busy month on the personal front, with my father and nephew's birthdays and Mother's Day. It was busy on all fronts, with filming my second video series, work trips, and continuing to decorate our apartment.
Best of May 2014
June
While I had made the decision to leave my job in the previous month, it wasn't until June that my friend and co-founder approached me with the idea for our startup. From the moment she finished her pitch, I was in. We traveled a good amount this month – Austin for our cousin's wedding reception, and jetted off to Scandinavia for vacation.
Best of June 2014
July
I turned 30 and found out I was pregnant. To be honest, everything else this month pales in comparison.
Best of July 2014
August
Hit with a double duty of nausea and exhaustion, I spent most of this month in bed. I did make it to upstate NY for a country weekend with friends (I swapped my bed for the house's incredibly cozy couch) and continuing to plug away at our startup while wrapping up my responsibilities at SciDose. All while trying my hardest not to blurt out "I'M PREGNANT!" and feign a stomach virus instead.
Best of August 2014
September
It was a bittersweet month – while I got to reveal the happy news and emerged from the first trimester haze, I lost my dear aunt and couldn't fly to India to properly say goodbye. I wish I could say this was the only loss of the year, but instead her death set the stage for two more in 2014. I also discovered that pregnant women should never go to Las Vegas. Ever.
Best of September 2014
October
We squeezed in the last of our pre-baby travels (Virginia and New Orleans), and things kicked into full gear with our startup. We also began to clear out the home office in preparation for the nursery, and my belly popped from a "I just ate a large meal" bump into a proper baby bump. I also felt the baby kick for the first time – during an Eagles game, right after a touchdown. Like mama, like baby.
Best of October 2014
November
The new Hitha On The Go was finally unveiled. And I made a promise to myself to try and avoid major projects and transitions (career, website relaunches, startups) during my next pregnancy. Famous last words? It also hit us that we would be parents in a few short months, spurring my husband and I to get off our couch and kick off a slew of date nights. Dates that will continue until this little one makes its arrival.
Best of November 2014
December
Getting a proper Christmas tree may seem like a minor thing, but it had been almost 20 years since I had a real one. And a full Christmas (a real tree, stockings, wrapped presents, movies, cocoa) was a brand new concept for my husband. We trialled a lot of options this year to figure out holiday traditions we want to set for our growing family. A real tree, multiple viewings of Home Alone (with cheese pizza, naturally), cookie baking, and new pajamas on Christmas Eve made the list. While we usually jet off to warmer pastures for the holidays, we loved enjoying New York in its glittery splendor and holing up at home. That said – I could really use a few lazy days on a beach.
Best of December 2014