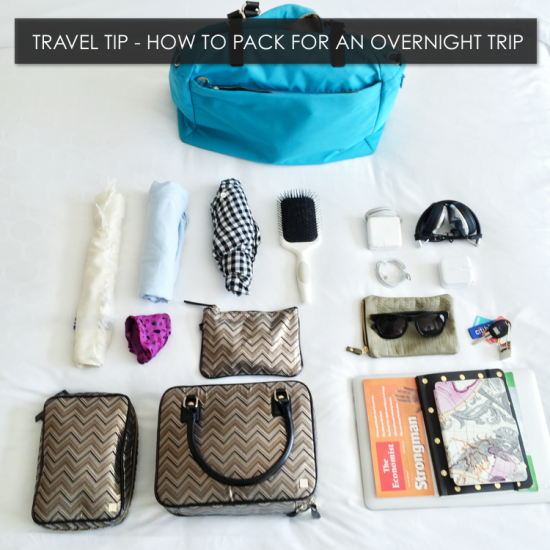 I will never forget a flight I took in January 2012.
I was flying to Chicago for the start of a hectic multi-city trip – Chicago, Columbus, and Las Vegas. 10 days. All in a carry-on.
As I boarded the first flight out of Newark, I struck up a conversation with the woman behind me in line. She carried an overstuffed tote and a small carry-on suitcase, like myself.
"I hope my bag comes first in the baggage claim," she remarked. "I have a meeting to get to."
"How long will you be in Chicago for?"
"Oh, just a night," she replied.
ONE NIGHT. CHECKED-IN BAG. TWO CARRY-ON ITEMS.
That exchange remains fresh in my mind, two years later, every time I pack. I thought of her Tuesday morning as I packed for my overnight business trip in Illinois.
One night. Everything in my Lo & Sons bag.
It's entirely possible. And as I breezed through the LaGuardia and O'Hare airports, it was freeing. And now I'm going to show you how to do the same.
CLOTHES
Since my meeting was scheduled for the afternoon I arrived, I wore my business casual uniform of slacks, a silk blouse, and pointed-toe flats on the airplane. I packed a pair of underpants and a clean blouse for traveling home the next day, and a chemise to wear at night. All the clothes were rolled and packed at the bottom of the bag, to conserve space and potentially embarrassing moments in my meeting. I kept the jewelry to a minimum (long necklace and three bangles from Alanna Bess, a watch from Coach, and my wedding band) and wore them all on the flight.
TOILETRIES & MAKEUP
My pre-packed toiletry kit went straight in the bag, and I packed my makeup as I applied it in this case. I keep a set of brushes and a Beauty Blender pre-packed in my makeup bag to reduce the packing/unpacking to a minimum. Powder, a brush, and lipstick went into the small zippered pouch and was tossed in the front section of my bag, along with my apartment keys. I slipped my hairbrush after I packed my clothes, and then tossed in my toiletry case and makeup bag.
SHOES
These pair. That's it. Comfortable enough to walk through airports and parking lots, and elegant enough for meetings. One pair is all you need for such a short trip.
WORK ESSENTIALS
My laptop, Kindle, and notebook slid into the laptop pocket in the bag. Rather than carrying my full chargers bag, I selected the laptop and phone chargers and packed them in the interior zip pocket, along with a handful of business cards and a spare pen. Headphones were packed at the top of the bag, along with a scarf.
AIRPORT ESSENTIALS
My GiGi wallet never left my wrist from the Uber ride to the airport. It made my two trips through security a breeze (mobile boarding pass – win. Lounge outside of security – fail), as well as exiting the airport in my rental car.
Moral of the story – don't check in a bag for an overnight trip. And try to pack it in a single bag. The smaller, the better.
I'd love to know – what was your most proud moment when it came to packing for a trip? COMMENT below and share your story!