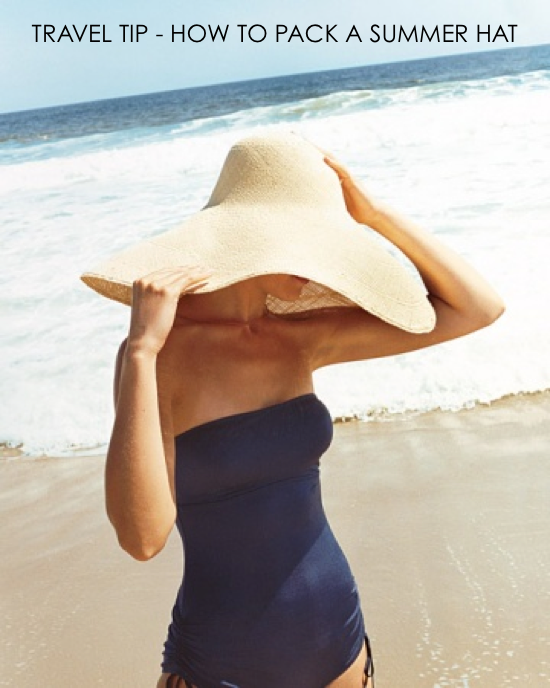 Oh, hats.  So necessary for beach trips.  Such a pain in the a$$ to pack.
Is it, though?
With summer approaching, I've been getting the question of "how do you pack a hat?" often.  By often, I mean all the time.
Well, friends, I'm no longer keeping you in suspense.  Here are my go-to tips for packing your chapeaus.
1)  Select the correct hat
Investing in a hat that is relatively packable is the way to go.  I just splurged on this perfect summer hat (support it!  It's a Kickstarter!  It helps make dreams come true!), but this Eric Javits hat is a similar option.  I can also vouch for the packability of Sole Society's hats.  Both the straw fedora and ombré floppy sun hat fold up well and retain their shape.
2)  Wear it, don't pack it
I love a hat on any outfit.  I especially love it paired with an airport outfit.  What's more chic than a Panama hat paired with boyfriend jeans, a silk blouse, a brightly patterned scarf, and a slip-on sneaker?  Answer – nothing.  In a pinch, the hat can act as a eye mask and gives the "leave me alone, I don't want to talk" vibe perfectly to potentially chatty neighbors.
3)  Pack it right
Okay, fine.  So you don't want to wear your hat.  That's fine.  Let's talk packing.
One of the attractive things about the aforementioned Satya Twena sun hat is that it comes with its own pouch for packing.  GENIUS.
For all the other summer hats you have, here's how to pack them perfectly:
Stuff the crown of the hat with clean small items – bathing suits, coverups, underwear.  Fill until it's completely full so the crown maintains its shape.
Once your larger items are packed (clothing, shoes), lay your hat brim down on top of those large items.  Pack your smaller items (toiletries, hair tools, makeup bag, etc) around the crown of the hat, placing the items on top of the brim to maintain its shape.
Zip up the bag and get going!
I'd advise against packing your hat in your personal item, since items are constantly being removed and added to that bag.  The suitcase or duffel is a better option, as you won't be digging through it often during your journey.
I'd love to know – are you a hat person or not?  What's your go-to hat for beach/poolside trips?  COMMENT below and let me know!