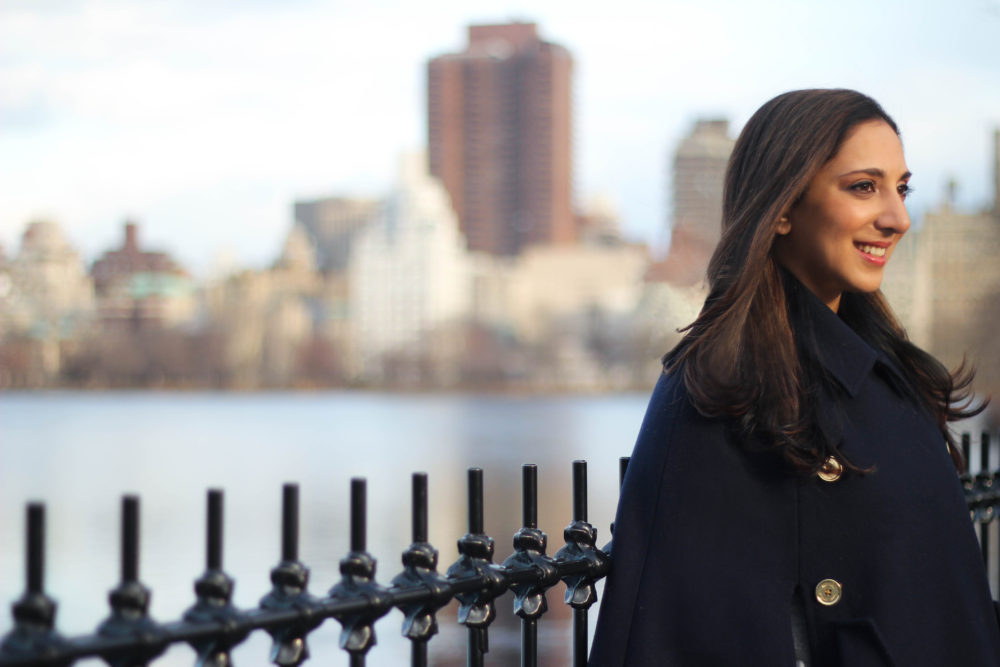 How long have you been blogging?
I started Hitha On The Go in 2009. I took a few breaks here and there, but have been blogging consistently since 2013.
What got you into blogging?
It's a familiar story – uncreative job, needed a creative outlet. I was traveling every week while working as a project manager at a pharma company, and needed a side project to offset technical job. Thanks to all my work travel, I developed my own packing system and tips, which I shared here as well and published a book about.
What's one tip you would give to a new blogger?
I would create a 6 weeks worth of posts before launching a blog, and establish a consistent content creation routine. It doesn't have to be a post a day, but 3 times a week is a great place to start.
Are you a full-time blogger?
I am not. I run Bridge2Act, a tech platform that makes giving easy. I'm an angel investor in women-focused companies, such as MM.LaFleur and Werk. I also sit on the Athena Center Leadership Council at Barnard College and the advisory board for Magic Bus USA, which are both dear to my heart.
What camera do you use?
I shoot with a Leica Q and my iPhone 7+.
Do you use any specific filters or certain apps for editing photos?
I use VSCO to edit my pictures on my phone and Polarr to edit on my computer. Both are incredibly easy to use. For collages and GIFs, I use Photoshop.
Can you share any photography tips?
I'm still learning, to be perfectly honest! DSLR Workshops has been great to learn the basics of photography and Lightroom.
Where were you born? Where is your family from?
I was born in upstate New York, and moved around quite a bit growing up. We lived in Ohio, England, Colorado, and Washington State. But I spent most of my childhood outside of Philadelphia, and now live in New York City.
My family is from Hyderabad, India.
What did you want to be as a child?
I wanted to be a fashion designer, Mr. T (yes, from The A Team), and a pediatric oncologist.
What does your day to day look like?/How do you organize your day?
Every day is different, but I spend every morning taking care of myself, and then my son. Once my nanny arrives, I spend the rest of the day working (either from home or a co-working space). I reserve two nights a week to meet friends for dinner or attend events. I share more about my day-to-day here and here.
Where did you go to college and what did you major in? How has that helped your career thus far?
I went to University of Washington, and studied biochemistry and history. While I don't actively use what I learned anymore, both degrees gave me a unique way of thinking and a solid work ethic. I still love history and read a lot of historical fiction for pleasure.
What does your workout routine look like?
Indoor cycling is my favorite workout, and we're lucky to own a Peloton bike. I ride 2-4 times a week, and try to add in a boxing and yoga workout as well. When the weather's nice, I love to run around the Central Park reservoir with an Aaptiv workout.
How did you meet your husband?
I met him at a conference in Toronto, when we both served on the leadership board. Turns out we were living in Pennsylvania at the time (him in Pittsburgh, me in Philadelphia).
What's your favorite sport to watch or play?
I'm a huge Philadelphia Eagles fan, and fall Sundays are sacred in my home. I play tennis and golf when I have the chance.
What's your ultimate go-to, can't live without item?
Coffee in the morning, wine at night, and water all day.
Where's your happy place?
Anywhere I'm with my family. I love our home, but I also love exploring the world with them too.
If you could describe yourself in 1 word, what would it be?
Random.
Who most inspires you?
My son, my husband, and my parents everyday. My aunt, for showing me you don't have to pick between beauty or brains. My best friend Samira, who pushes me to be better every day. Indira Gandhi, Nancy Pelosi, and Tiffany Dufu for living their truth and lifting others up around them.
What are your favorite books?
Kate Chopin's The Awakening, The All Souls Trilogy by Deborah Lee Harkness, and anything by Dan Brown.
Where are your favorite places to write?
My reading chair in my bedroom, the couch in my office, or at The Wing.
Will you write more books?
That's the plan! I would love to write a family version of How To Pack, and I have a few novels brewing in my head.
Do you have any recommendations of things to do in New York? 
Yes! I live in the Upper West Side and this is what a perfect day would look like in this neighborhood.
Where's your favorite place to travel? Why?
I love traveling back to India. I also love the usual suspects (Italy, France, Thailand). Saint Petersburg, Russia is one of the most magical places I've ever been. Bali is paradise. But my favorite place to travel are the places I have yet to visit. Burma, Antarctica, and Norway are high on my list.
If you could live anywhere, where would it be?
Living in New York has been my lifelong dream, and I'm lucky to call the city home.
Your kid is cute! Why don't you show more of him on the blog?
Thank you! My husband and I made the decision to keep his Internet presence as minimal as possible, so he could have a clean slate when he was mature enough to choose what he wants to share online. Keeping my family life private was a great decision – it helps me truly unplug and just be "mommy" or "wife," and not feel pressured to capture various moments. It's what works for my family. Rho and my family make many appearances on my Instagram Stories, so follow me there if you like that kind of stuff!