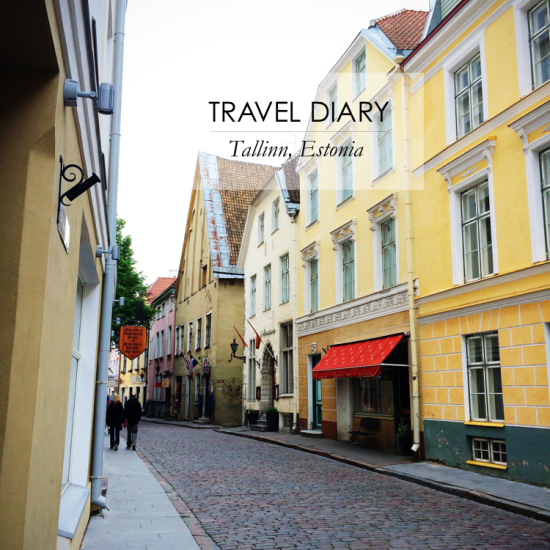 "Where's Fat Margaret?  That's where we're supposed to start the walking tour!"

My poor husband examined the map again, his brow furrowed.  "What is Fat Margaret, exactly?"
It was a tower.  A tower we had apparently walked past twice, in our attempt to find it.
Fat Margaret marked the start of the Rick Steves' walkng tour of Tallinn.  Given our short time in the city (just 5 hours), I was anxious to cram in as much as possible.
If only we could find Fat Margaret.
Google Maps directed us to the hostel of the same name.  As we looked around, I noticed the round tower flanking the entrance to old town Talliin.
"Honey?  I think that's it," I admitted, sheepishly.
We walked back towards the tower and inside the Old Town, to the start of Rick Steves' tour.  Our search for the cursed tower from the cruise occupied the first hour of our time in Tallinn – and I was anxious to make up the rest.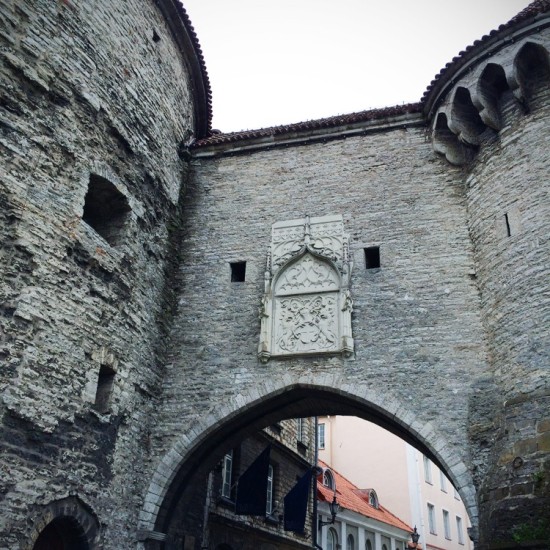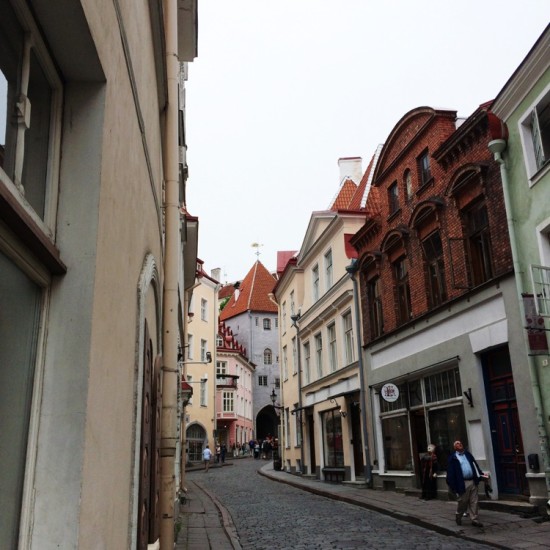 Old Town Tallinn is straight out of a fairy tale, with its cobblestone streets and candy colored buildings.  As we walked up Pikk Street (the main road running through Old Town), I noted some of the sights described by Rick in the walking tour – the ministry of police (which was the local KGB headquarters during Soviet rule) and St. Olav's Church (which wasn't open yet).  We moseyed down to Maiasmokk, where we tucked into some cappuccinos and marveled at the décor of Tallinn's oldest coffee shop.  I was especially charmed by the Ferris Wheel of vintage coffee cups.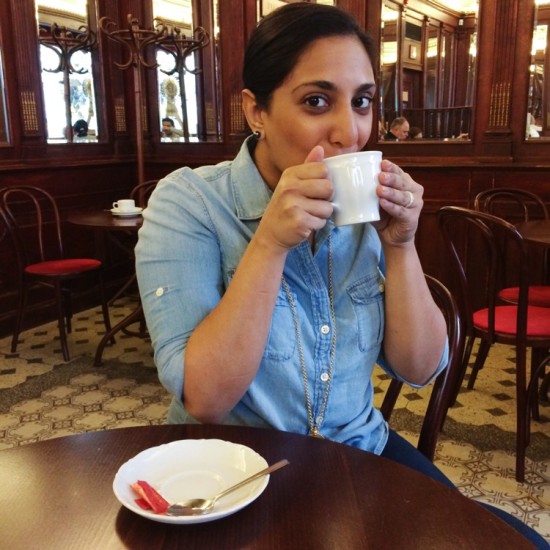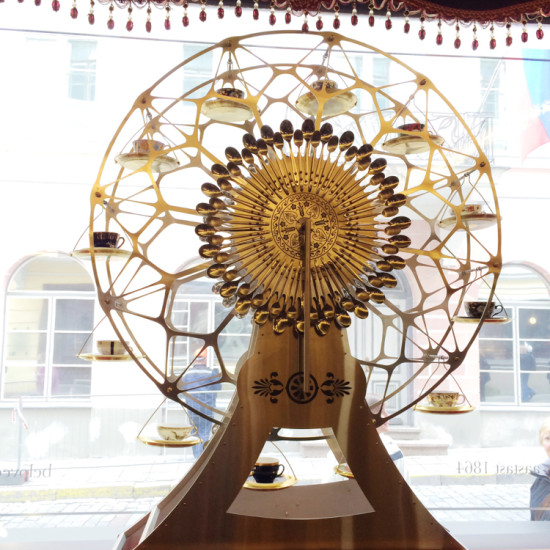 Adequately caffeinated, we circled back to St. Olav.  The church was a far cry from the ornate Russian Orthodox churches I was used to seeing in the region.  Instead of elaborate mosaics and paintings, St. Olav was minimalist with whitewashed ceilings, a handful of paintings, and ample benches.  After a quick round around the chapel, we made our way up the narrow stone steps to the top – well worth the view.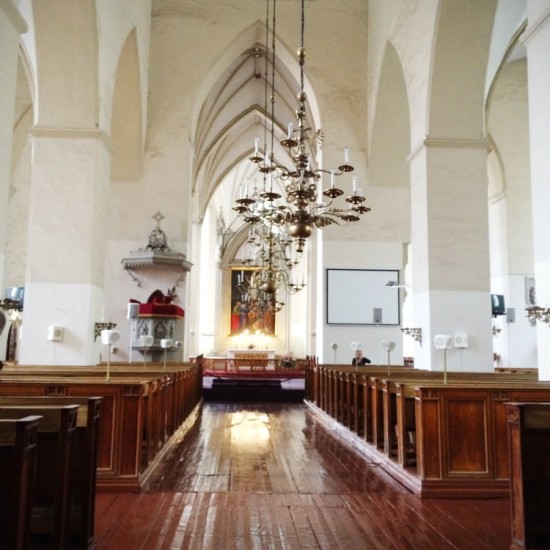 The trip down was more harrowing than the trip up.  But worth it, nonetheless.
We retraced our steps on Pikk Street and continued towards Town Hall Square, also known as Raekoja plats.  Reminiscent of a Roman piazza, the square was dominated by another church (St. Nicholas') and countless restaurants and shops.  Just like in Italy, restaurant hosts implored guests to dine at their establishments, guaranteeing blankets, heat lamps, and umbrellas.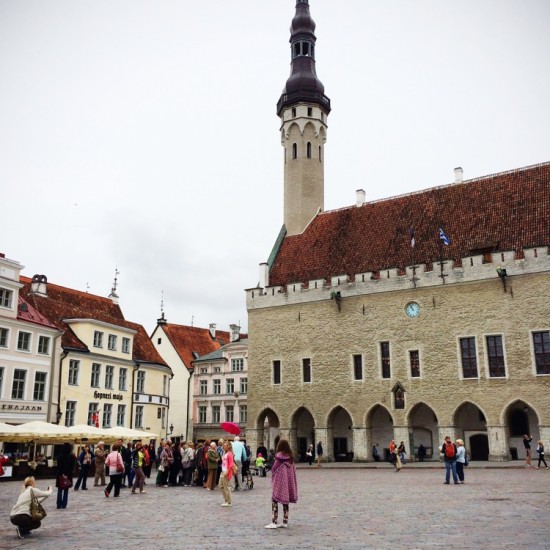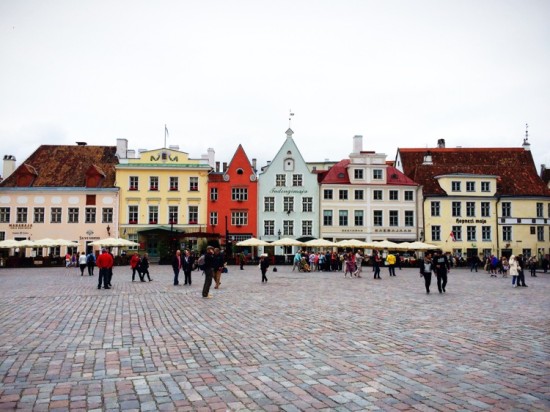 We weren't hungry.  We also wanted to eat somewhere off the beaten path.
"Toompea Castle.  That sounds awesome.  Let's go there."
Who doesn't want to visit a place called Toompea?  A castle, nonetheless?  We continued to meander through Old Town, walking down a  cobblestoned hill and towards the domed pillars marking the Nevsky Cathedral.
Turns out the nationalistic Estonians rarely frequent the Russian cathedral, which was built by the Russians to enhance their power during an Estonian nationalist movement.  A bonus for us, as it meant that there weren't large lines or crowds.  Replete in detailed paintings, gold leaf, and ornate décor, Nevsky Cathedral was a foil to the austere St. Olav's – and a nice teaser of what lay ahead of us in Saint Petersburg.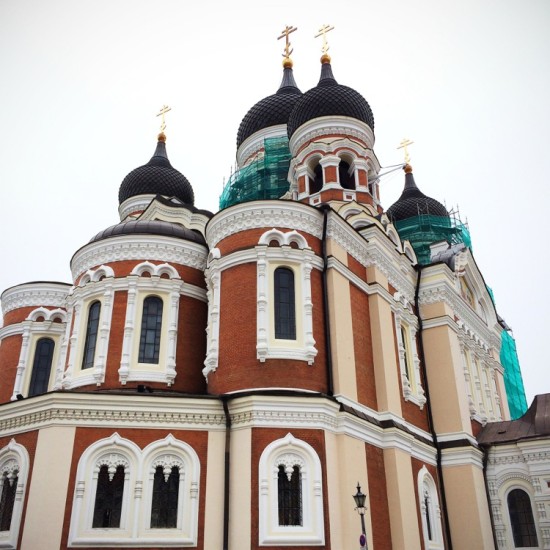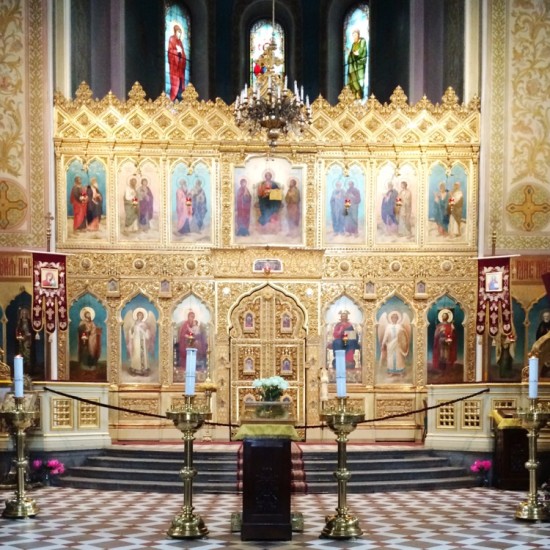 Toompea Castle, the home to Estonia's Parliament, was a giant pink palace.  My six-year-old self would have wanted to move in.  My 29-year-old self wanted lunch.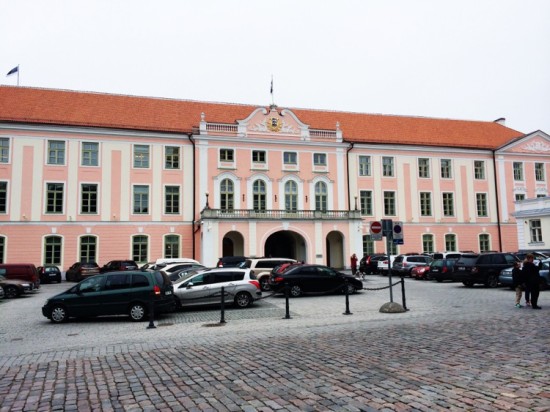 We retraced our steps back onto Pikk Street in Old Town, ending up at Bollywood.  Our desire for authentic Estonian food was out the window – I wanted chicken tikka masala, and my husband wanted saag.  Plus, the Chinese and Thai options on the menu proved too irresistible to pass up.  The food was delicious, incidentally.  Skip the saag and request the chicken tikka masala and spring rolls.  I also had a 0.3 L of Saku, a local Estonian brew, which cut the heat of my "extra spicy" chicken quite nicely.
We finished up lunch and began the trek back to the boat, the weather having taken a turn for the worse.  The shipyard, which looked deceptively close, was farther than expected.  After a tumble into a muddy puddle (by me – my husband stayed annoyingly dry), we gave up on the walk and hopped into a taxi to take us back to the ship.
My jeans and shoes were soaked and covered in mud.  My impressions of Tallinn, however, remained high.
All photography by Hitha Palepu