En Route With is back!  After a hiatus to gather some more features and figure out the frequency of this series, I'm happy to announce that it's back for good.  New features will be published every third Monday, which will also see more Travel Diary and View From Seat 20A posts.  I'm so pleased to be re-launching this series with a woman truly on the go. Case and point – she writes for National Geographic.  Need I say more?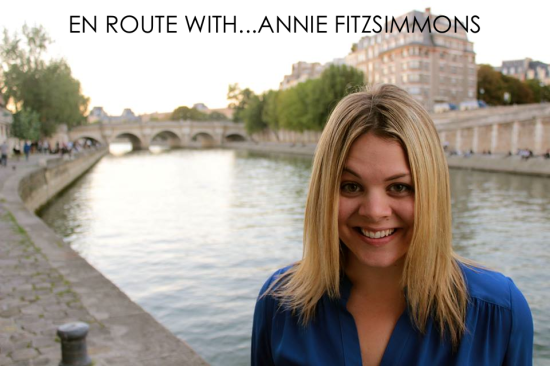 Annie Fitzsimmons // National Geographic's Urban Insider
Like most areas of my life, I have evolved when it comes to packing and learn with every trip I take. Last year, I was on the road 2-3 weeks every month, so I better be good at it! On trips to Australia, China, and India, I managed with my favorite bag, the Lipault wheelie. This bag is just gorgeous and fun and envy-inducing when you're rolling it through the airport. Like seemingly every traveler out there, I also love my Lo & Sons O.G. bag. The Lipault combined with my O.G. is a great combo.
I'm searching for a better, bigger suitcase so if you have any ideas, let me know! Right now I have an old suitcase that I picked up at home in Scottsdale, Arizona years ago, probably at Marshall's or T.J. Maxx! Lately, I've been packing in larger bags because I like to buy items for our new apartment when I'm on the road and I like to work out when I travel but hotel laundry is ridiculously expensive. I haven't found lightweight sneakers that I love so I bring my Asics with me.  If I pack the night before, I give myself a pat on the back. But normally I'm rushing around and putting it off like the best procrastinators (Oh I have to watch a few more minutes of the Today show! Oh I need to scroll through Instagram one more time!). I do lay out everything, try on outfits, and ruthlessly cut items that I don't absolutely need.
I love getting to the airport 2 – 3 hours ahead of time for international trips. I love a good airport (like Hong Kong and Amsterdam) The smell of duty free with perfume and chocolate reminds me of my first trips to Europe when I was a teenager and I just love it!  Of course, the airports you get stuck in are always the crappy ones. But still – I have certain rituals – I buy Haribo gold gummi-bears and stacks of magazines to take with me (The latest US Weekly and a handful of bears will get you through the dreariest of travel days). If there's one of those quick mani-pedi places, I might do that. I do long walks through the airport if it's in Europe and I have a cart. I'm super quick about security – but I don't get annoyed when people are slow in front of me. I just am happy that people are traveling. Before I even leave my apartment, I make a green smoothie with extra spinach or kale or drink a green juice – I truly think it keeps me healthy.
I can't even tell you how awesome Global Entry is. I put off doing it for so long because I thought it would be a pain – guess what? It's not! You will feel so smug and content as you whizz through security and if you carried on, you're on your way home!
I need the aisle seat when flying! Once you've gone business, it's hard to go back. But I get through with a well-stocked iPad mini with new episodes of The Good Wife, Parenthood and old favorites like Friends and Gilmore Girls. I binge-watch shows too – I watched all 8 episodes of the UK's Broadchurch on a recent flight from JFK to Hong Kong. I also have been listening to a lot of podcasts lately – I love Rick Steves for a fun travel one. I love the Today show and download the first hour video podcast if I'm traveling. I also use SugarSync to sync all my country and city documents – I have Word docs for hundreds of countries and cities and destinations where I put my finds, recommendations and things to explore (this is where I'll copy and paste tweets I want to save about a particular place, or link to a travel blog I read). I will read through whatever one I'm headed to and do any last-minute research for a destination.
I used to drink Diet Coke but quit back in August (I'll still have one at movies or when I really want one – but definitely not every day). So I drink water, skim cappuccinos to wake me up after an overnight flight and tea. What is more comforting than a cup of tea?
I recently stocked up on these Splendid pants when I went to Laos and Cambodia because they are lightweight and can be dressed up or down. I do wish they didn't wrinkle so easily. I'll bring 3-4 black dresses in various fabrics – who cares if you're wearing the same thing?   On my iPad mini, I download books (favorite reads lately: Wild, Beautiful Ruins, Where'd You Go Bernadette), movies, and TV shows and pretty much only use it to consume content. It keeps me happy!  While  I'm not very religious (but as a traveler, spiritual!) I love this little coin my cousin gave me of Saint Christopher, the patron saint of travel. I pack it in my suitcase for good luck.  I've turned so many people onto Quest and Luna Caramel Nut Brownie bars –  because I always have, like, 20 of them with me. The Quest bars are just so good – the cinnamon roll and chocolate chip cookie dough are the best, with only 1 gram of sugar and lots of protein. I also love the Luna bars – they both are under 200 calories and feel like a real treat. I always have almonds, mini packets of peanut butter, and protein powder with me to mix in with yogurt or water. You have to be prepared!!  I never go anywhere without my aforementioned Lipault suitcase – I have the carry-on in purple. I have a gray Love Notes scarf that I always take on the plane with me. I just love these scarves – they are the perfect size and weight.  I buy at least 5-6 magazines before I get on a flight. I subscribe to a ton, but buy trashy tabloids, home decor magazines, and cooking ones that I don't get at home. I usually read them within the first hour of a long flight and save a couple for boring delays. La Canadienne black "Passion" boots have been a lifesaver – they're pretty sleek so you can wear them to meetings but most importantly, you can walk for miles and miles in a gorgeous, foreign city. Comfort is number one for me – I need to be able to zip around quickly.  I don't buy anything without doing a ton of research, and I've been looking for a great, basic tote for a long time. I finally settled on the Piel XL tote, which was less expensive than many of the others I was looking at. I bought it for a trip to Paris last fall after I eloped with my longtime beau of 10 years and it was perfect. It's big but sleek and you can fit pretty much anything you need into it. I've taken it on a few trips since and still love it. In fact, I probably should switch over to my regular handbags again but I just haven't because it's so useful to lug stuff around in the city. I never forget a pair of giant sunglasses. Even my little "cartoon" on National Geographic has me wearing sunglasses. I love Maui Jim and Ralph Lauren.