I'm prone to forgetting to pack underwear.  It's a sad truth I'm embarrassed to admit.  Even sadder is the amount of money I've spent purchasing underwear at airports ($10 for a basic cotton pair?  Thieves).
What's a girl to do?  She blogs about it once she figures out a system that works.
Friends, I have FOUND that system.  Not only does it ensure that I pack my undergarments, it guarantees that I'll have the right ones – no more no less.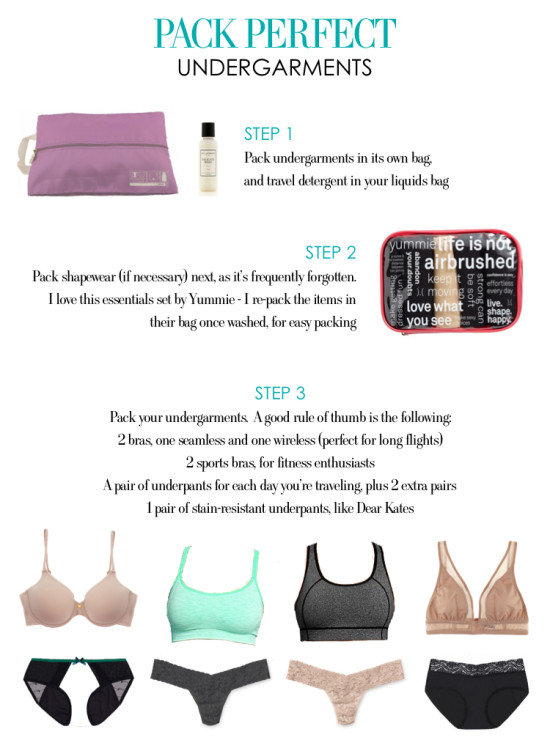 Some additional packing tips for those unmentionables:
It's boring, but you can never go wrong with nude and black undergarments – particularly if you're inclined to wear light colored tops and dark bottoms.
The stain-resistant underwear may be an odd one, but you will never be more grateful to be donning a pair of Dear Kates than when Aunt Flo decides to come for an impromptu visit.  These delicates won't be ruined by her surprise, and they're amazingly comfortable and so pretty.  BONUS – get 25% off your order from Dear Kates using the code "hithaonthego" (offer good through April 20th)
You can swap out a wireless bra for an extra sports bra – but I'm obsessed with Addiction's triangular bra.  It offers the right amount of support for dashing through airports (which, let's face it, is my cardio) without pinching you on long flights.
I'm a recent convert to shapewear.  After being amused by Heather Thomson's wit on Real Housewives of NYC, I purchased my first Yummie item (this slimming tank).  Consider me obsessed – her garments are smoothing without suffocating you.  This convenient package of shapewear has me covered for any outfit, anywhere, at any time.
I love this FLIGHT001 lingerie bag for the same reasons I love my SpacePak – it keeps my garments protected from the other elements in my suitcase, it has a dirty clothing compartment (key), and the separate lingerie bag ensures I actually pack my underwear.  The detergent LIVES in my liquids bag – underwear is the easiest thing to wash in a hotel room sink, and it dries quickly.
I'd also love to know – what random packing pains do you have?  Do you forget socks?  Enough shirts?  Snacks?  Something else?  COMMENT below and let me know!