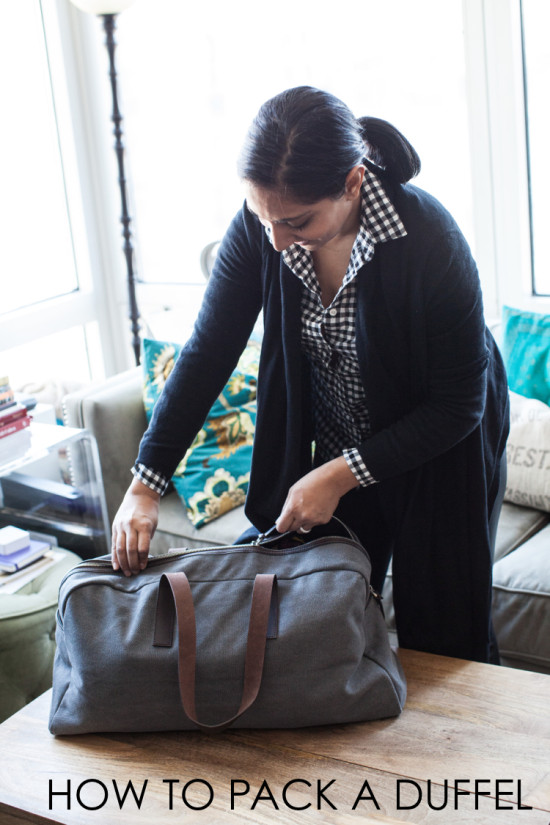 It should be simple.  But like finding the perfect outfit at the last minute, that one pair of shoes that seem to have gone missing, or rummaging through your bag for your identification in an airport's security line, it always manages to evade us.
And in the case of packing a duffel bag, it results in a dash to stuff in one last item, hugging the bag closed as you try to close it, and realizing it's WAY too heavy when you try to pick it up.
It's rough.  But that's why I'm here.
I'll preach these travel tips (pre-pack your bag, only three pairs of shoes, essential toiletries) until I'm blue in the face, but they are the foundation to a perfectly packed bag.  My trip essentials (SpacePak, shoe bag, toiletry kit) live in a basket in my closet for easy reach.  I opt for a roomy duffel that's still comfortable to carry.  AND I pack in a super-specific order that maximizes space and minimizes stress.
Now the million dollar question – why should I pack a duffel (versus a suitcase)?
Glad you asked.
1)  A duffel will ALWAYS fit underneath the seat in front of you.  If you are in boarding group 4 of higher, there's a strong chance that the overhead space will be occupied by wheeled suitcases long before you board the plane.  Duffels are also ideal for small planes, where wheeled suitcases would be dropped off and picked up in the jetway.
2) It's the perfect luggage piece for weekend getaways and beach trips.  Do you really need a wheeled bag for bathing suits, shorts, and sunscreen.  No, you don't.  You really don't.
3) When packed correctly, you can fit 5 days worth of clothing in that bad boy.
Ready to learn how to pack your duffel perfectly?  Yes?  Good.
1. Create your outfits.  Pack them in a packing cube.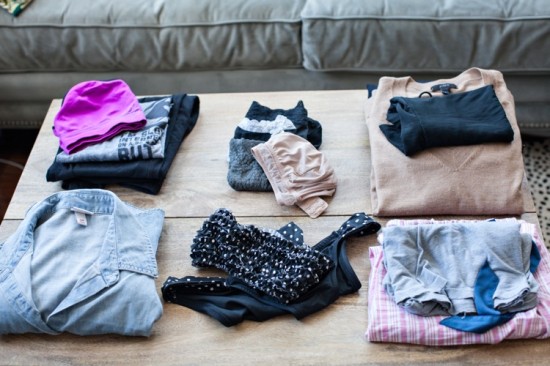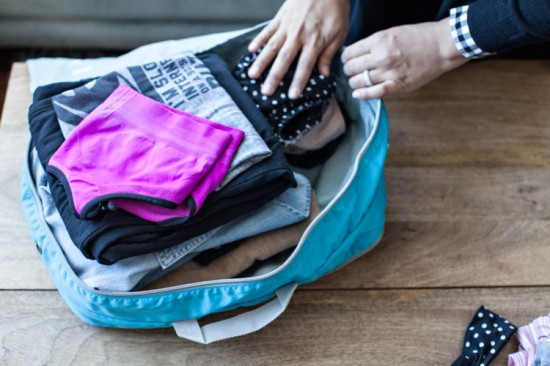 Stick with the "wear each item at least twice" rule, and opt for your favorite pieces that hold their shape after multiple wears.  And always pack a swimsuit – you never know if there's going to be a pool/hot tub/any reason to throw on a bikini and jump into a massive body of water.  (PS – snag my clothing calculator for more tips on packing clothing).  And always use a packing cube, to conserve space AND keep your clothes clean and separate from other items.  I swear by my FLIGHT001 SpacePak.
2.  Lay out everything else.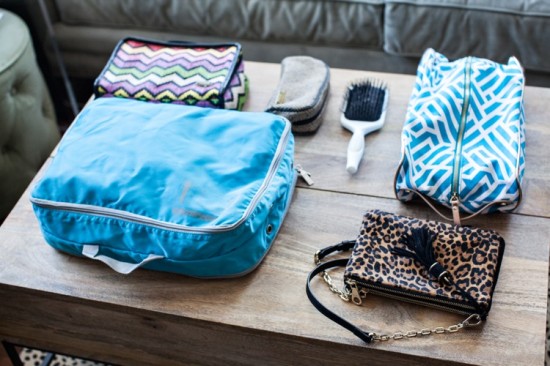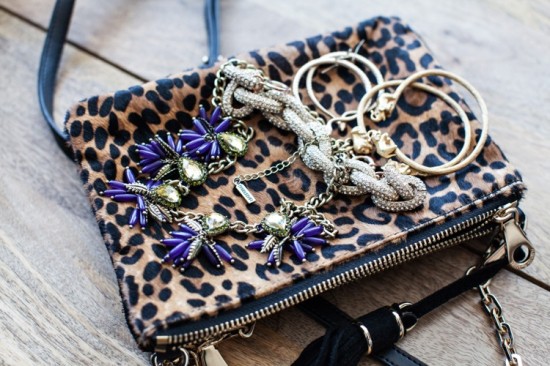 This is a foolproof way to make sure you don't forget anything.  Shoes packed in your shoe bag, jewelry packed in your clutch, and toiletries, makeup, and hair tools at easy reach.  Laying everything out also helps you incorporate the next tip…
3.  Pack the duffel with your large, heavy items first.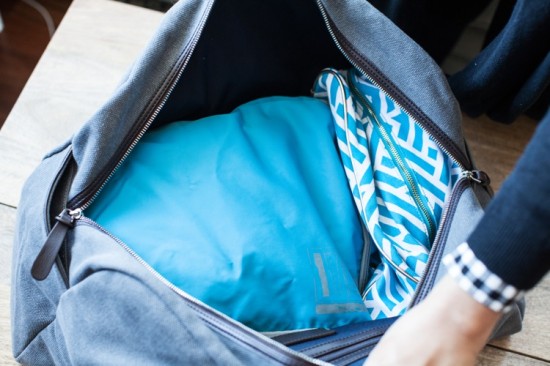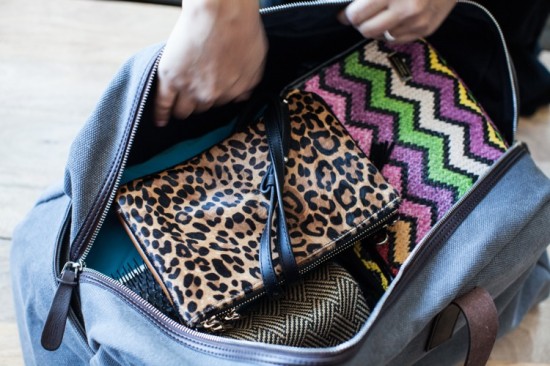 Your packing cube and shoe bag should go in first, where the duffel is the largest.  Next goes in your toiletry case, makeup bag, jewelry inside a clutch, and your hair tools.  Use the top space to stuff in smaller additional items – sunglasses, a magazine, snacks, etc.
4.  Zip that is up, and hit the road.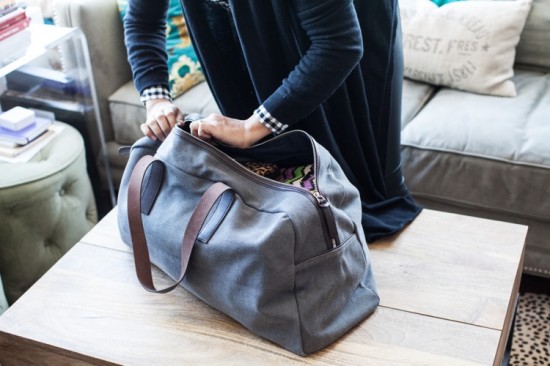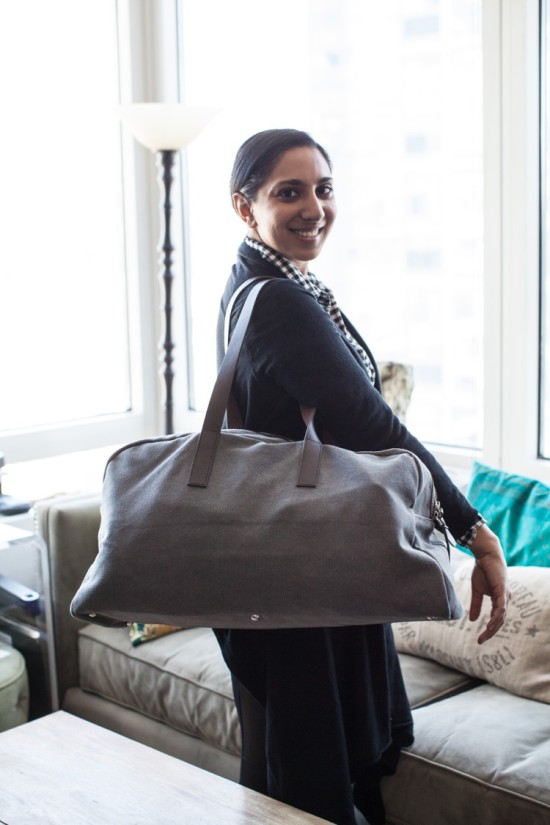 Now seriously, how hard was that?  Pat yourself on the back and enjoy your trip.
Here are my tried-and-true travel products, featured in this post:
The fine print – the duffel, toiletry/makeup/shoe bags, clutch, earrings and necklace featured in this post were generously gifted by the brands, but all opinions are my own. In my extensive experience, these are truly the best travel items in the market – and all are items I would purchase myself.
Photography by Lydia Hudgens