Thanks to your votes, I'm sharing with you one of my all time favorite travel tips -Â only pack 3 pairs of shoes. "What?!?" you ask. Â Yes, that's right – just THREE pairs of shoes. It's quite simple, really. During a typical business trip, I'll pack my travel sneakers, a pair of heels, and a pair of flats (either ballet flats, ankle boots, or sandals, depending on the weather). During a tropical vacation, it's the aforementioned sneakers and two pairs of sandals – one dressy and one casual. Â I may swap a pair of sandals for a ballet flat. For this recent vacation, I bent the rules a bit and allowed myself an extra pair of shoes. Â I packed these Rag & Bone ankle boots, Ferragamo flats, Dolce Vita sandals, and my travel sneakers. Â It was a three week trip with two different climates. Â Another pair was justified. Don't believe me that three pairs are all you need? Â I'll prove it to you: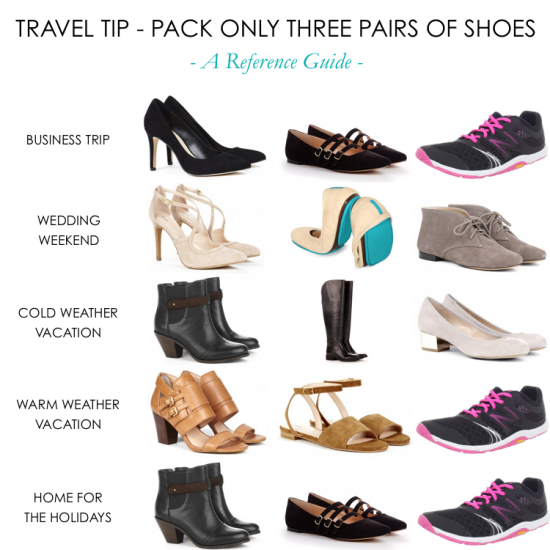 Business Trip – Since I stick with a black palette for business trips, I opt for a pair of heels and flats in the same color.  Between meetings and dinners, I rarely have a moment to myself.  You can find me pounding the treadmill at the hotel gym (wearing my all-time favorite travel sneakers) or sitting on my bed, pounding away on my laptop.
Wedding Weekend – I'm about to make your life so much easier here.  For wedding weekends, pack ONLY metallic or nude heels.  And pack a pair of Tieks to slip into at the reception and to wear through the airport.  That's it!  Given my shoes are ultra-feminine for these trips, I like to round it out with a masculine oxford.  As far as working out goes, that just doesn't happen during wedding weekends.  If I have the time, I'll do a quick sneakerless workout in my hotel room.
Cold Weather Vacation – Let's be real – when are you going to pop on a pair of stilettos while on a ski vacation, or visiting a new city in the winter? Â It's not gonna happen. Â A flat boot for the day (and the airport – always wear your biggest pair of shoes) and a heeled bootie or a low pump for night are all you need.
Warm Weather Vacation – I like to employ the same rule for this trip as a I do for a wedding weekend - nude shoes only.  Keep it simple with a flat sandal for day, a heeled sandal for night, and a sneaker for runs on the beach or exploring rough terrain sites.
Home for the Holidays – I don't know about you, but I rarely change out of pajamas and don proper shoes when home for the holidays (or any trip home, really). Â BUT if we had lots of family plans, I'd bring out an elegant flat for a formal dinner, ankle boots for running around time, and log some miles on my father's treadmill with these travel sneakers.
Other Tips:
Employing a shoe bag is key for sticking to this rule. Â My Hudson+Bleecker bag neatly fits 3 pairs of shoes. Â When it's full, my shoe packing is done. Â The shoe bag also prevents the rest of my belongings in my suitcase from getting dirty and helps me re-pack quickly. Â All in all, a WIN. Â (Win your OWN bag and enter my H+B giveaway).
If you work out religiously, I highly recommend investing in a pair of travel sneakers. Â This pair takes up very little room and provides ample cushioning for short-distance runs. Â They live in my shoe bag, which lives in my suitcase. Â And they rock.
Cardio workouts not your thing? Â I really love my Nike Studio Wrap kit, which makes my in-room yoga or ballet-inspired workouts far easier (no slipping on the carpet) and packs up nicely. Â When it comes to packing workout gear, be brutally honest with yourself. Â Are you actually going to do it? Â If so, pack away! Â If not, pack the Studio Wraps and a set of workout clothes, and try to fit in at least one workout every three days. Â Skipping the sneaker allows you to pack another pair of shoes – but as long as they all fit in the bag!
If you choose a pair of Tieks as your flat shoe, I'll give you an extra pair to pack. Â As long as it fits in your shoe bag (I know, I'm a broken record).
A well-known tip, but it's worth repeating – wear your bulkiest pair of shoes while traveling. Â AS LONG as they're comfortable and can be slipped on and off with ease.
Wear compression socks while traveling to prevent feet swelling. Â An unglamorous tip, but necessary if any of your shoe selections fall on the snug side.
Disclosure – even though it seems like it, Sole Society did NOT sponsor this post. Â I'm just that much of a fan of their shoes (and really, everything they sell). Â