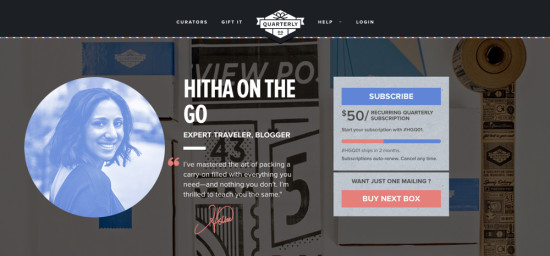 For those of you who get my e-mail updates (and if you don't, you should!), this isn't news.
So for the rest of you – I got some major news.  (No, I'm not pregnant Dad).
So many of you have asked not just how I pack, but what I use to pack for my oh-so-frequent trips.  And while I've done my hardest to show you in my weekly travel tips, I've felt it just wasn't enough.
Enter Quarterly.  They work with fellow influencers like Nina Garcia, Tim Ferriss, Bill Nye, and my gal Style Girlfriend to send their followers boxes filled with incredible things, four times a year.
I'm in incredible company, and so humbled to be working with such a great company.
Every curator has a theme for their boxes.  Mine is "Pack Perfect"(duh).  Every box will have items tailor picked to address a different packing problem – toiletries, clothing, shoes, accessories…you name it.
But it doesn't end there.  With every box, you'll get an exclusive packing guide for that box's problem.  It's something you can't get anywhere else, and the $200 price for a year's worth of boxes is worth DOUBLE that.
I'm so pumped about this partnership that I'm giving away a Quarterly box to one of you lucky ducks.  If you subscribe off the get go, no worries – you'll get my second box FREE.
What are you waiting for?  SIGN UP for my first box and enter the giveaway, y'all.  I can't wait to share the goods with you.