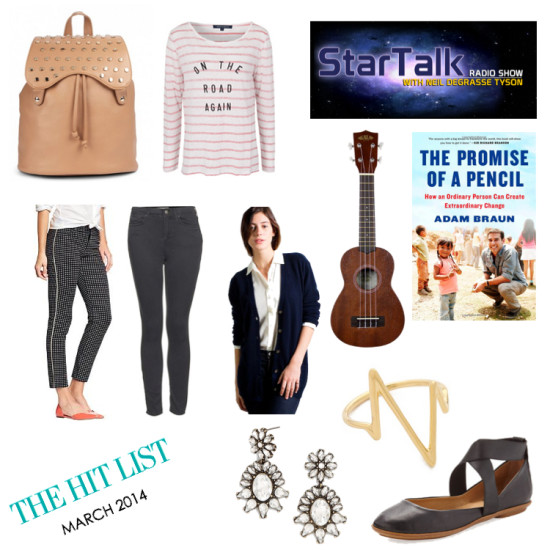 Alright, you guys.   I'm still not over the HIMYM finale (and it may dominate my conversations as of late), but the final season did inspire me to get a ukulele and learn how to play "La Vie En Rose".  Which, if you want to know, is way harder than it seems.  But I will persevere.
Another highlight of the month? Â Devouring the entrepreneurial, philanthropic genius that was Adam Braun's The Promise of a Pencil. Â One of the best books I've read, and believe it when I say the Brauns are our generation's Emmanuels. Â I recommend everyone with a brain to pick up this book. Â Unless you don't have a heart. Â Which means you're dead. Â Literally. Â (Yes, I may be a bit tipsy as I write this, but I'm going to keep this in)
Before we get into my style favorites for the month, let's wrap up the nerdiness with the podcast you NEED to add to your list – that chocolatey voiced host of Cosmos, Neil Degrasse Tyson's, podcast. Â Cosmic Queries are my favorites, where he invites a comedian to select and ask viewer submitted questions. Â Geeky sounding? Â Yes. Â Amazing? Â Absolutely. Â Your brain will thank you.
And now the things I can't stop wearing. Â A chic backpack? Â Sole Society has you covered. Â Comfortable, stylish pants? Â Opt for these Topshop jeans and the Pixie pants from Old Navy. Â You won't want to take off this cashmere goodness from Everlane (I haven't all March, since it's freezing here and all). Â Is this not the most perfect travel shirt? Â FWJ – frequently worn jewels are from BaubleBar's Nordstrom collection (hello, perfect earrings) and this heartbeat ring from Sarah Chloe. Â And lastly, these Dee Keller flats don't require any breaking in, and feel like wearing clouds. Â Honestly. Â Can't get enough.
I know this month's roundup is more fashion heavy than most, but I'm sad to admit that I haven't read as much as I wished. Â My brain hates me for it, and you must too. Â I promise next month's Hit List will have the book and music goodness you're used to.
What do you love this month? Â Any amazing new discoveries? Â COMMENT below and let me know!