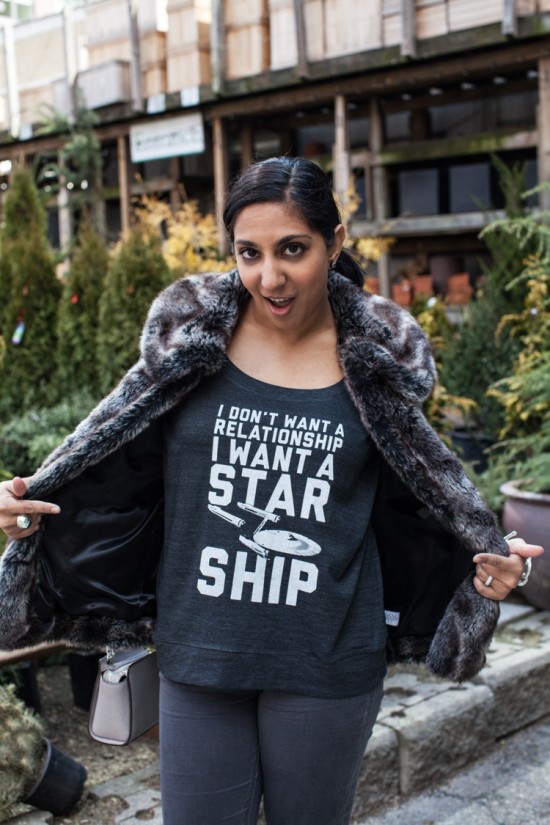 Did you know I'm a geek? Â I am.
An unapologetic, giant geek who loves dinosaurs, space, chemistry, science fiction…you name it.
And I am damn proud of it.
So proud, it seems, that I now own a drawer filled with super soft, supremely nerdy t-shirts.
Harry Potter lovers? Â I have a "Griffyndor Quiddich Team" tank and a "Boo You Whore-Crux" tee. Â Chemistry nerds? Â "Screw Your Lab Safety, I Want Superpowers" is a winner. Â (I even purchased one for my nephew).
And Star Trek AND Star Wars fans can appreciate the one I'm wearing in this post. Â Seriously though – I want a starship. Â Space would be the ULTIMATE trip, y'all.
My husband and I are also advocates for STEM (science, technology, engineering, and math) education.  While he's committed to it from the elementary level, I have a personal "mission-to-civilize" my peers and teach them the wonders of science without the agony of collegiate chemistry classes *shudders*.
If you want to wear the shirts, you had better know your stuff.
Here are five highly entertaining, easy-to-follow science resources. Â Ditch that Pandora for just an hour a week and let your mind be blown.
 I'm wearing a LookHuman shirt (warining – runs small), Topshop jeans, Rachel Zoe vest, Michael Kors bag, and Julie Vos ring and bracelet.  Pretty much my uniform during the tundra that was winter in New York City.
Photography by Lydia Hudgens