Hello. My name is Hitha, and I'm a purse addict.
I can't get enough of this accessory. The the overflowing bins of bags on my shelves stand witness to this. Cavernous totes, structured minaudieres, slouchy crossbodys. You name it, and I probably own it.
Except for a Birkin. But even I have limits, and $10,o00 for a single purse well exceeds it.
You'd think I'd pack a bag full of bags whenever I travel. And you would be…wrong.
Like my 3 pairs of shoes per trip rule, I have a 2 handbags rule. 1 large bag used as a personal item, and 1 smaller bag.
That's it. Here are the two bags you'll find me packing for virtually any trip.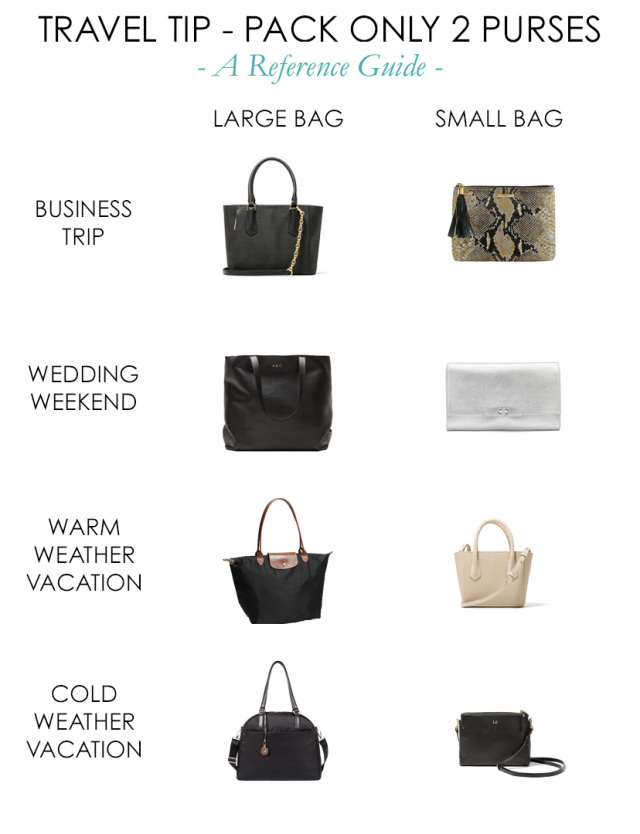 Business – I'll use a structured tote (usually in leather or coated canvas) as my personal item, and will bring along a flat leather clutch to use for business dinners, networking events, or just to hang in the hotel bar along. The clutch always has to be large enough to carry my Kindle – which I pack for every trip.
Wedding Weekend – A slouchy canvas or leather tote is ideal for the airplane and for the day at your destination. For the wedding festivities, opt a sleek clutch (preferably in a metallic hue or neutral that matches your shoes and jewelry). Hint – pack your jewelry for the weekend inside the clutch! 
Warm Weather Vacation – lightweight fabrics are king here – nylon, canvas, etc. A Longchamp Le Pilage tote is roomy (thanks to its trapezoid shape), light, and timeless. For my smaller bag, I'll bring a crossbody purse in a lightweight fabric that has lots of pockets. And it should complement your evening activities, whether you're headed to quiet dinners or to a fancy lounge or bar.
Cold Weather Vacation – roomy and durable are the keywords when picking cold weather bags, and no one does it better than Lo & Sons. Their bags offer plenty of room to stuff your winter gear while protecting the rest of your gear from the elements. You can stash a nicer pair of shoes in the OG's shoe pocket (and a Baggu to hold your winter boots) and squash a Uniqlo lightweight puffer in the bag while having room for the rest of your belongings. Lo & Sons' Pearl is perfect no matter the month, but offers more room than most of the small bag options featured. Read – room to keep your cold weather gear with space to spare.
A few more tips:
While you'll never need more than one large bag when traveling, it's fine to pack another small bag. Especially if you're using your smaller bags to pack jewelry, cosmetics, or other small items. There's no wasted space in a perfectly packed suitcase, so be sure to use your clutches and crossbody bags to pack other accessories, medicines, or trip-specific essentials (business cards and pens in the case of a work trip).
Invest in a TRUFFLE clarity clutch. I know I've waxed on about this here and here, but let me assure you that this one item will help prevent your bag from becoming a black hole of clutter. Use it for electronic items if you're headed to the beach, for airport essentials (wallet, phone, charger, sanitizing wipes) when you're in the airport, for liquids in-flight. The possibilities are endless.
While I do travel with my 'designer' bags, it's on occasion. I've found that carrying a Chanel, Louis Vuitton, or other noticeable designer makes you a bigger target for pickpockets. You can certainly bring along your luxury brand bags on a trip, but be extra vigilant or opt for a logo-free bag when you're in a tourist-heavy spot.
And because the image only shares a handful of my favorite bags, I leave you with my personal picks for bags that travel the best. While a lot of these are pricey, they will last you years and years. Well worth the investment.
Recommended large bags
Cuyana leather tote ($150)
Dagne Dover Tote ($265)
Dagne Dover Mini Tote ($245)
Everlane Twill Zip Tote ($40)
Everlane Twill Snap Backpack ($65)
GiGi New York Taylor ($360)
Hudson+Bleecker Atlas Jetsetter ($98)
Lo & Sons OGÂ ($295)
Lo & Sons OMGÂ ($275)
Longchamp Le Pilage tote ($180)
Sole Society Mason ($80)
Sole Society Milan ($60)
Recommended small bags
Cuyana leather mini-clutch ($190)
Dagne Dover Tiny Tote ($175)
Everlane Petra crossbody ($395)
GiGi All-In-One bag ($155)
GiGi Madison crossbody ($198)
Lo & Sons Claremont ($300)
Lo & Sons Pearl ($248)
MICHAEL Michael Kors Selma Mini Messenger Bag ($178)
Old Navy crossbody ($19)