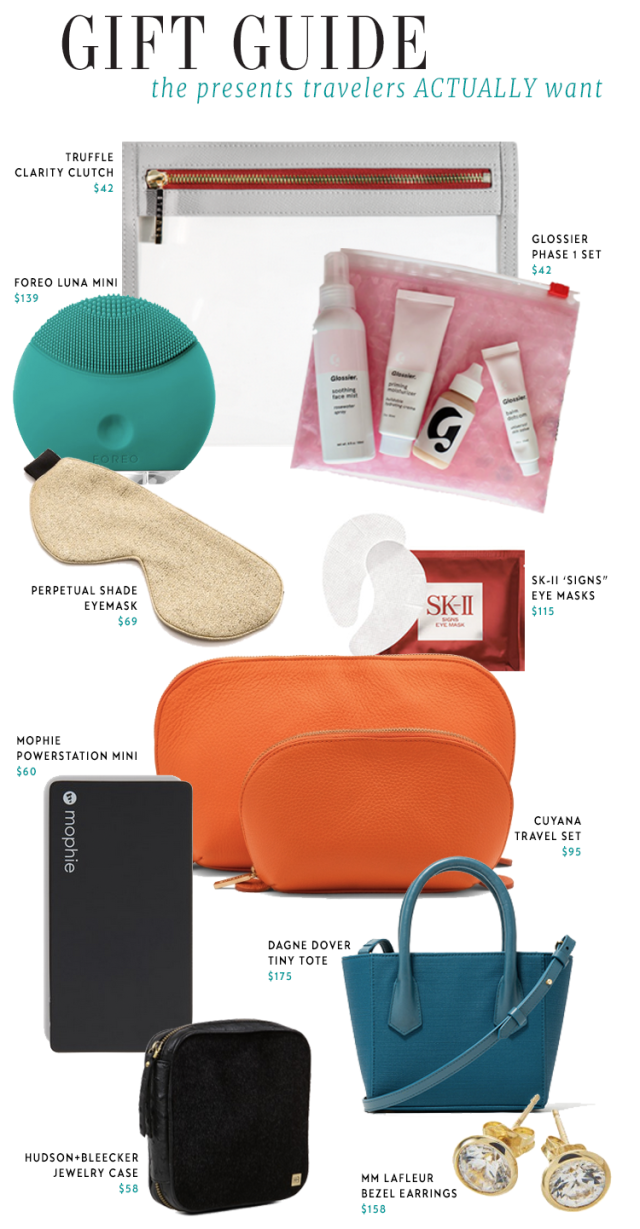 pouch // foreo // glossier set // sleeping mask // paper eye masks
leather travel set // mophie // purse // jewelry case // earrings
I was going to avoid the whole Gift Guide hoopla entirely this season. I honestly was.
But…the gift guides for jetsetters were leaving a LOT to be desired (with the exception of Grace's – as you can tell by some of our overlap).
Frequent travelers have already invested in quality luggage. They already own the noise canceling headphones.  A neck pillow was the first thing they purchased.
Don't buy them these items. At the very least, get them a Nordstrom gift card so they can pick them out themselves.
Instead, reallocate funds to travel items they WON'T purchase for themselves. A luxe eyemask that they didn't know they needed – until they receive it. Gorgeous earrings gifted inside an equally beautiful jewelry case, so they don't have to suffer the wrath of tangled necklaces packed inside a clutch anymore.
And who's going to say no to a sleek phone charger? It's the gift that keeps on giving, especially when a lot of airlines still lack in-seat power.
Even with my frequent work travels winding down, I still want some of the items on the list *cough*TINY TOTE*cough. Hint hint, honey ;)