Confession – I've been waiting to post this particular En Route With feature for a long time. Like, months. I've had the pleasure of working with Hudson+Bleecker for the past year on giveaways and reviews. Eram is a visionary and incredible entrepreneur who I have loved working with. So much so that I'm working with Hudson+Bleecker on their digital marketing initiatives! Get inspired by Eram's excellent travel advice, and also snag some H+B swag for yourself – 30% off and FREE shipping today, with code 'THANKS'.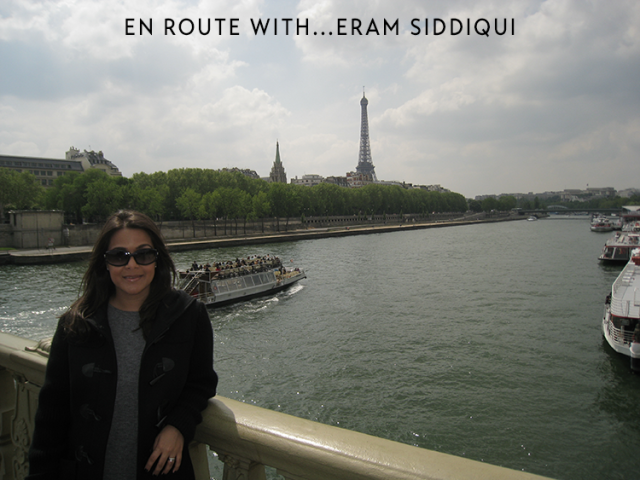 Eram Siddiqui
Founder, Hudson+Bleecker
I have been on-the-go, traveling around the world for as long as I can remember. When I was 5 years old, I took my first international trip to Asia, visiting Korea, Taiwan and Japan. I feel blessed to have the opportunity to travel as much as I do as I thoroughly enjoy travelling. It has been the best form of education for me to learn about new cultures; it has fostered patience and tolerance and as always, every trip is extraordinary and memorable.  
I am an avid traveler, traveling often between NYC (home) and California and Florida, where my family is based. I also travel extensively for work both domestically and internationally. Not to mention, I enjoy a vacation every now and then. Needless to say, traveling is a big part of my life.  In the past three weeks, I have logged in miles to London, Los Angeles and now I am headed to Hong Kong.
Because I travel so much and so frequently, I have forced myself to become a minimalist packer. It hasn't been easy, especially because I can never travel with enough shoes! Alas, I have learned to pack lighter. I would say that my packing style is somewhere in between, depending on the destination and the purpose of the trip. I was once a serial overpacker, checking in my bags, even for quick weekend trips. Over the years, I've embraced traveling with a single carry-on and I am a minimalist packer on most trips. When I travel for work, it is carry-on only. Ask me to pack for a wedding or a 10-day trip overseas, and I'm definitely an overpacker!
I travel with my Samsonite carry-on and Hudson+Bleecker Wayfarer Garment Bag. I pack my clothing using the bundling method, which creates a nice taut cube that I then insert into one corner of my luggage. For items that require extra care (dresses, coats, etc.), I hang those items in my garment bag. I pack my shoes and toiletries (in Hudson+Bleecker travel bags, of course) on the other side of my luggage. If it's a mid-week trip, I am a last minute packer, picking up dry cleaning and packing a few hours before I leave for the airport. If I am traveling for a fun weekend getaway or an exciting vacation, I pack well in advance, curating pieces and outfits, keeping each destination and activity in mind.
Like most gals, I enjoy shopping while I travel and let's just say I tend to over shop! Because I like to travel with a carry-on for most trips, I usually pack up my recently purchased goodies in a FedEx box and ship it home before I depart for the airport. While it's an expense, it's much more convenient than trying to stuff everything into my carry-on. Or worse, checking in a bag that may or may not arrive at its final destination.
Generally, I get to the airport about 1.5 hours before my flight. This gives me enough time to check in and accounts for any possible traffic delays. I live in NYC so its always unpredictable.  Getting to the airport with some time to spare allows me to decompress, send out emails or even catch up on reading.  Going through security, I'm pretty efficient. Even before I reach the conveyor belt, I remove my shoes, and if I am wearing shoes that do not require socks (sandals, ballet flats, or pumps), I take off my shoes and slip on a pair of socks to avoid the not-so-sanitary airport floors. I personally love J. Crew cashmere socks. I keep the socks in the exterior top pocket of my carry on so they are easily accessible in flight if my toes start to feel cold. It's a small but incredibly handy travel tip! Once at the conveyor belt, I take out my beauty bag and my laptop. My beauty bag, shoes and tote go into one tray and in the second tray goes my laptop. Once I am through security, I like to pick up a Starbucks Skim Chai Latte. It's become a pre-flight ritual (pending there is a Starbucks in the terminal). I also pick up a large bottle of water and a few snacks for the flight.
If I am flying during the week, I am definitely working (I am writing this mid-air on an early morning flight from JFK to LAX). For international or trans-Atlantic flights, I break up my flight in segments. I like to begin the flight reading, either magazines or a book. I don't own a Kindle because I like the touch and feel of a book. I typically travel with one book and a few magazines. I like to keep it balanced, and my go-to magazines of choice are Inc. Magazine (to keep me up to speed on what is going on in the world of business) and InStyle or Vogue for my dose of fashion and lifestyle. After reading, I work my way into watching movies, which eventually puts me to sleep. I never leave home without my Bose noise cancelling headphones. Seriously, the best gadget purchase ever! When I put on my Bose headphones, I feel like am gliding in the air. The sound quality is incredible and you can't hear the moves and shakes of the plane, talking, or anything else.  It really helps me get into a zone and makes the flight go by much faster. In-flight, I always drink water to stay hydrated and I always drink tea before we land at our final destination. In case you can't tell, I am kind of addicted to tea!