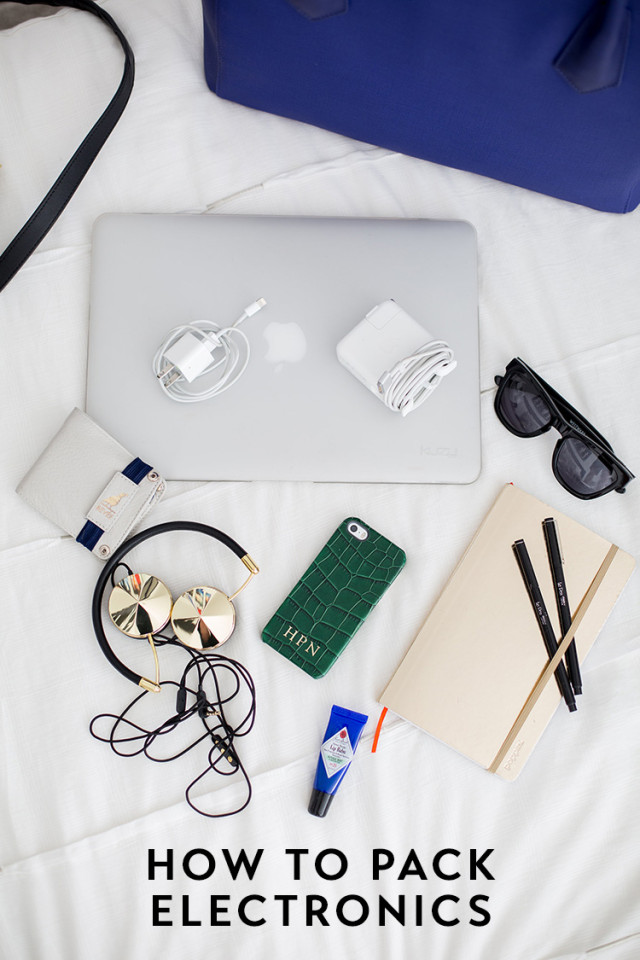 Question for you. What would be worse – forgetting your electronics or your toiletries?
Either one would suck, but I would be rendered useless without my laptop or phone. If my destination had a Sephora, I'd be alright.
Plus, 3FLOZ delivers to your hotel. Overnight shipping FTW.
All of us would be paralyzed if we forgot our electronics for a trip, or if they broke along the way. It's 2014. We are useless without our smartphones.
How to pack your electronics may not be the stylish of my "how to pack your s(#t" posts, but you'll agree that it's the most useful.
Laptop
Get it in a case. I swear by this Kuzy case for my MacBook Air, and have found that it does the trick. These padded sleeves are also a good bet, especially if you switch between bags.
Having a bag with a padded laptop compartment is the best for protecting your oh-so-important device. Lo & Sons and Dagne Dover both have these, and diaper bags are the best. Yes, diaper bags. How gorgeous is this Coach one?
Wipe down your laptop or laptop case with a sanitizing towelette when you've cleared security – the same bins are used for shoes. SHOES. Gross.
Tablets
Bring a eReader OR a full tablet (iPad, Surface). There's no need for both. Especially if you're packing a laptop.
You'll want a case for your tablet as well – these are my favorite for both Kindles and iPads.
I'll throw both my laptop and tablet inside the laptop compartment or sleeve, so I can find them quickly.
Chargers
Ever wonder how to wrap up your chargers to prevent tangles? This video will show you how to do just that.
Keep all your chargers, headphones, and other small electronics (Mophie, surge protector) in a small pouch. I alternate between a Rebecca Atwood pouch (bonus – doubles as a clutch!) or my Cuyana travel set.
Check your flight to see if there's in-seat power – it's often hit-or-miss with major American carriers. If there isn't, keep your Mophie and your phone/tablet charger on hand so you can recharge your devices on the go.
Last but not least – CHECK YOURSELF. Make sure everything is packed up before you leave the airplane, hotel room, rental car, seat in the waiting area, etc. Lip balms are easily replaced. iPhones…not as simple. AND decidedly more expensive.
Got any helpful tips on how to pack your electronics? COMMENT below and share the goods!