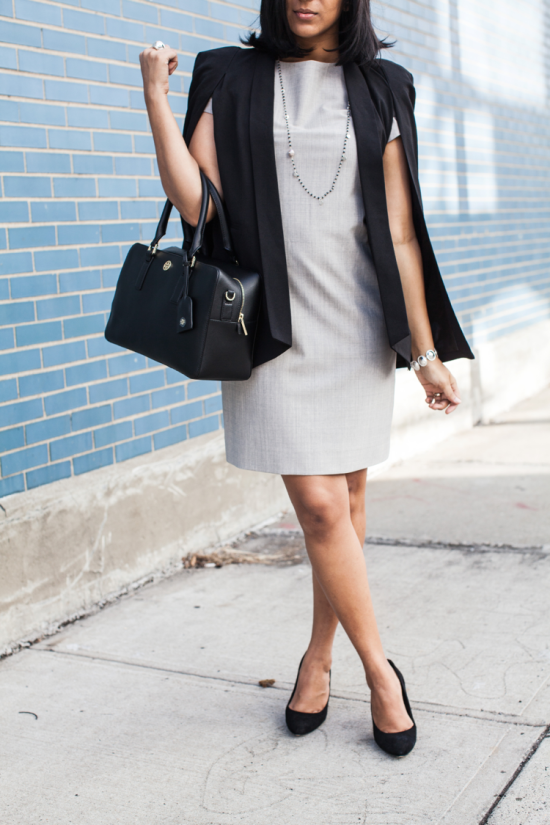 – M.M. LaFleur dress – NastyGal blazer – Tory Burch bag –
– Sole Society heels (similar) – Julie Vos ring & bracelet – Alanna Bess necklace –
Until recently, dressing the bump was akin to disguising an "I-ate-too-much pooch."  Bonus – I have a full slate of outfits to pull from when this kid is out.  Or when I've been eating too many tacos and not enough salad.
Which is more often than not, if I'm being honest.  Ooops.
A great dress has been my business uniform for the past 4 years or so.  M.M. LaFleur dresses have been the norm ever since the company launched. Each item of clothing is incredibly stylish, comfortable, and always appropriate.
Basically, the company created the business style Holy Grail.  And the Clara is apparently perfect for a growing bump – food, baby, or otherwise.
Pair it with your favorite blazer (I love this cape blazer so much that I purchased it in white AND pink) and accessories, and you can tackle more important issues.  Like how to juggle world domination with impending motherhood.  And what one ACTUALLY needs for a tiny newborn.  #preggoproblems
If business formal is your dress code, swap this cape blazer for a more structured and formal one.  Avoid blazers with padding in the shoulder, as this dress does have small shoulder pads.
A question for you – how do you feel about outfit posts?  Want to see more, or are you not a fan?  In preparation of launching the new website, I'm revamping the editorial calendar and would love to get your input.  Current plan is to have a monthly outfit, but I'm open to suggestions.  COMMENT below and let me know! 
For more maternity style posts, click here
Photography by Lydia Hudgens