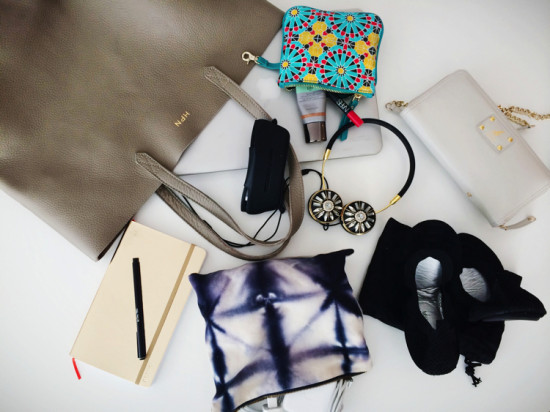 I've never been a one-bag kind of girl.  I like options.
But sometime this summer, I became a monogamist with regards to my accessories – specifically, my bag and my wallet.  And the color gray.
A stylish combination, to be sure.  And also an incredibly functional one.
First, let's discuss the bag – the Cuyana short leather tote.  It fits virtually everything – a spare pair of shoes, sunglasses, a makeup bag for touch-ups (summer humidity is no joke, folks), my laptop and notebook, chargers, headphones (an NYC or travel must)…
The quality of the bag is outstanding, from the soft pebbled leather to the tight stitches holding the bag together.  I'm pretty brutal on my bags, and this one still looks brand new.
When you consider that it holds all the crap I could need from 7 am to 10 pm, you know it's a winner.
The only downside – the lack of pockets or internal organization.  Which is where my love for pouches and my Bevée clutch comes in.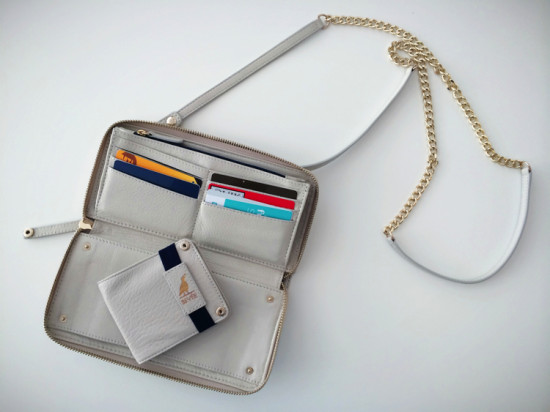 The Bevée Continental is the only wallet you'll ever need.  The long (and detachable) chain is a lifesaver when rummaging through the bag to find your wallet.  It boasts the right amount of card slots, pockets, and zippered pouches.  The pop-out mini wallet is ideal when swapping to an evening bag.  The rear pocket fits an iPhone perfectly.  And it's beautiful, with buttery soft leather and gleaming metal detail.
While I was gifted the wallet from the brand, I would purchase it for myself.  And I did, for my mother and mother-in-law.
I could get used to this whole accessory monogamy thing.
Except for jewelry.  NEVER jewelry.  A girl has to keep some options somewhere, right?