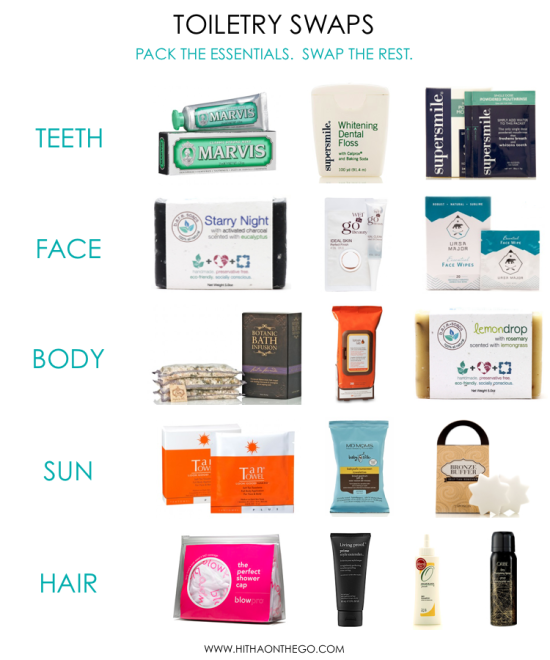 Every time I survey you about your packing woes, toiletries seems to dominate the responses.
Duly noted.
Here are the main issues when it comes to packing toiletries – you want to pack them all – even the items that you never use in your medicine cabinet.
You also want to stuff them all inside a restrictive, flat baggie.
Tip #1 for packing your toiletries is to ditch the sandwich bag and invest in a durable, plastic quart-sized bag that is gusseted or has depth.
Boom – you've just maximized your liquids bag.
Tip #2Â for packing your toiletries is to make some smart swaps. Â Do you absolutely NEED to pack your arsenal of hair products, but your skin and teeth are relatively low maintenance? Â Opt for the teeth and facial swaps mentioned above. Â Have problem skin, but your hair air dries silky straight? Â Grab some of my hair and body swaps and fill your bag with your facial essentials.
You get the drill.
I've tried each one of these products and can attest to their excellence while on the go. Â Most of them are liquid-less, and the few liquid ones are worth that precious real estate in your bag. Â Let's dive into the goods, shall we?
Teeth – Don't let the tiny size fool you – this Marvis toothpaste will last you for AGES. Â Case in point – I purchased my tube for my Asia trip, packed it for San Francisco and Australia, and still have a 1/3 of the tube remaining. Â A tube can last up to 3 months of travel. Â Bonus – it's made of natural ingredients and is suited for even the most sensitive teeth. Â Rounding out are dental care arsenal are floss (any kind is fine, but ALWAYS floss!) and a powdered mouthwash, for that extra deep clean.
Face – This soap, you guys.  Not only has it cleared up my skin without drying it out, it also packs perfectly.  A thin sliver of soap will last you up to a week (no re-packing wet bars here), and the all-natural ingredients are gentle to your stressed skin.  If gel cleansers are more your bag, look no further than Wei To Go.  This dynamic duo of cleanser and CC cream will last you for 30 DAYS.  Does it work?  Absolutely.  For my fellow eye-makeup afecionados, these Ursa Major wipes will get off the most stubborn mascara or eyeliner.  I love that they're individually wrapped, so I can pack just enough for my trip. 
Body – A hot bath and access to WiFi are all I crave after a long flight. Â Room service is a close third. Â I'm obsessed with these bath infusions, which do wonders for soaking away the sore muscles and aches that come with sitting upright for hours on end. Â I grab this lemony Bare Soap to wash the airplane gunk off me, and moisturize with these lotion towelettes. Â Done and done.
Sun – I admit, these tanning towels are the ONLY thing I haven't tried. Â Mostly because I don't need them. Â But they did make Rank & Style's best self-tanners, and friends have raved about them. Â I do, however, swear by these sunscreen towelettes. Â I love that they don't count against my liquids allotment, have barely any smell, and WORK. Â While this buffer is a self-tanner remover, I like to use it as a gentle body exfoliator – particularly in the summer. Â Random additional use – it gets deodorant off your clothing.
Hair – I would never dare recommend a shampoo/conditioner/product to a fellow woman – such recommendations would warrant their own post.  I will however, heartily endorse the packing of a shower cap to extend a blowout.  I also make ONE single product recommendation – and it's the Living Proof Prime Style Extender.  It works equally well on my wild curls or glossy straight hair.  This one product will extend your hair style by days.  Worth it?  Absolutely.  Lastly, dry shampoo is a must-pack.  Blondes will love this powdered form, which does not count against your toiletries and works like a gem.  My fellow brunettes will need nothing but Oribe's dry texturizing spray, which sprays on clear and works like a charm.
The fine print – Bare Soaps and Wei To Go via Gloss48 gifted me these items, but all opinions are my own. Â A big thanks to supporting the brands I love that help keep lights on here on Hitha On The Go!