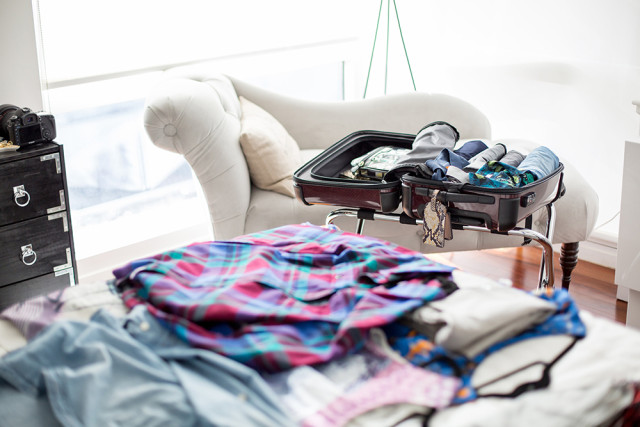 Packing for long trips suck. They just do.
When we traveled through Asia at the end of 2012, we made so. many. mistakes. Not purchasing checked baggage when we booked flights on discount carriers. Having to purchase a new suitcase during the trip because mine completely fell apart (and subsequently re-packing it in an airport). Paying SO much money for laundry.
Preparing for Australia was a lot easier, after our Asian jaunt. But I still can't hear 'Air Asia' without shuddering involuntarily.
Let me save you money (oh, the money!), time, and your sanity if you have a long trip planned. These tips will help you prepare for any long trip with ease.
Baggage check
Check the baggage requirements (size and weight) of every airline before you start packing, and make a note of the most narrow requirements. Then consider your trip. If you're staying in one location for over a month, it may make sense to pack more options and check in a full-sized bag. If you're hopping from destination to destination, an expertly packed carry-on is a better option (and the tips below will help you with just that).
Know your laundry situation BEFORE you start packing
If you're staying in a hotel, it's worth doing a quick Google search for local laundromats BEFORE you leave. Hotel laundry services should be avoided at all costs. You can also ask your hotel concierge when you arrive for a recommended local laundromat.
If you're renting an apartment, make sure it has a washer/dryer in the unit or in the building. If you have an amazing host who asks what they can stock the apartment with (score!), request laundry detergent. Many washer/dryer units abroad are a combination machine, so ask for directions on how to use it to err on the side of caution. It beats a panicked "I FLOODED YOUR APARTMENT COME HELP ME!" call.
DIY laundry
You can save a pretty penny by washing intimates, workout gear, and other delicate items yourself. I always bring a travel-sized Laundress detergent with me and use it to wash my undergarments, exercise clothes, and other quick drying items in the sink and draping it across the shower rod to dry.
I'll refresh my clothing between washes with this Laundress spray (for thin items of clothing) or rubbing it with a dryer sheet (for thicker items or heavy knits).
Pack for a maximum of 2 weeks*
*or the longest trip you can pack for in a carry-on
If you follow my tried-and-true packing tips (re-wear each item twice, refresh your clothing between washes), you can easily pack for 2 weeks in a carry-on suitcase.
And if you THINK you can't, refer back to this post on tips for packing clothes, and this packing list on how to create 10 days worth of outfits from 9 articles of clothing. If you need more help, then I have the perfect packing guide for you.
Pack this, not that
CHECK THE WEATHER. Before you pack for any trip, always check your destination's weather. Also Google 'typical weather + (destination) + (month you're traveling)' to cover all bases – rain, cold weather, humidity levels, etc.
Avoid dry clean only clothing at all costs – particularly if you're traveling internationally. It's more expensive and can be hard to find.
Also avoid 'wear once' items of clothing – jeans or pants that stretch out easily, too-thin t-shirts, distinctive prints. I keep my clothing choices fairly basic (lots of neutrals that all match each other) and pack colorful accessories. For me, those items are MM LaFleur dresses, jeans and pants that can be worn several times before needing to be washed (rag & bone and J Brand jeans, Old Navy Pixie pants are my favorites), wrinkle-resistant blouses, and slightly loose-fitting t-shirts (I use them as my workout top for its second wear). I also select items in the same color family (black and gray, usually) and am a stickler for the 3 pairs of shoes rule (pack pairs that are broken in!).
Beauty buys
Be sure all of your toiletries are fully stocked (refilled or replaced) before jetting off on a long trip. If you're traveling within your home country, you may want to purchase full-sized items of your go-to products once you arrive. If you're jetting off internationally and are a stickler for your products, it may be worth checking in your bag and packing full-sized products – especially if you're going to be gone for a month or longer.
You'll also want to bring along a small supply of go-to medicines, especially if you're traveling to a non-English speaking country. Just trust me on this.
The randoms
Consider the random things you may need upon arrival, before you have time to scope out a local market or drugstore. Is that time of the month coming up? Pack enough *ahem* supplies to take you through a single cycle. Renting an apartment and love your food flavorful? It's not a bad idea to bring along fresh containers of your go-to spices (I swear by turmeric and cayenne in, well, everything), as well as some healthy snack and meal options. If you're traveling internationally, make sure your gadgets are dual-voltage and pack the necessary adapters and converters.
Let's talk money, honey
If you're going abroad for a long time, your credit card can save you or screw you over. American Express is not widely accepted internationally. International fees can be high, depending on the card. And if your card doesn't have a chip and PIN set to it, prepare to explain "signature only" when charging items on your piece of plastic. Both the Chase Sapphire and the United Mileage Plus Explorer cards offer 0% foreign transaction fees and have the requisite chip, making them outstanding options for travel. If you're going to be in a new country for several months, you may want to open a local bank account to save on conversion fees.
Want more travel advice? You're in luck. Check out my travel tips, videos, and guides to help you with all your packing and travel needs.
What are your top tips for preparing for long trips? What random things do you pack when you're traveling? And be honest – would a full guide on preparing for long trips be helpful? COMMENT below and let me know!