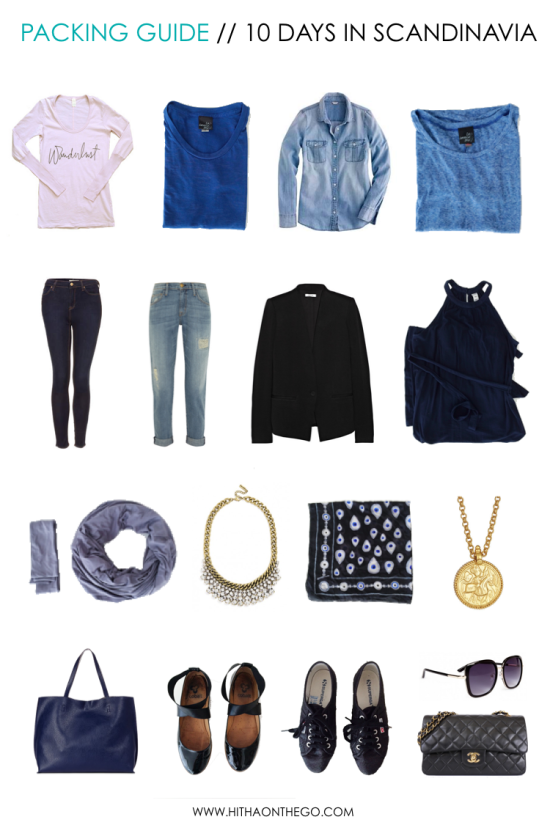 I'm in constant denial at how fast summer (and 2014 in general) is flying by.
Case and point – I refuse to believe that it's been over a month since we got back from our Scandinavian vacation.
It may be due to the fact that the trip feels like it was yesterday. Â I can still smell the fresh air from the Baltic Sea. Â My feet can feel the worn parquet floors of the Hermitage. Â I can still taste the delicious Swedish meatballs. Â Oooooh, the meatballs.
I'm also still patting myself on the back for packing list during this trip. Â Just 9 articles of clothing (not counting pajamas and underwear, of course) for 10 outfits. Â 2 pairs of shoes. Â THAT'S IT.
Don't believe me? Â Check out my outfit snaps from the trip.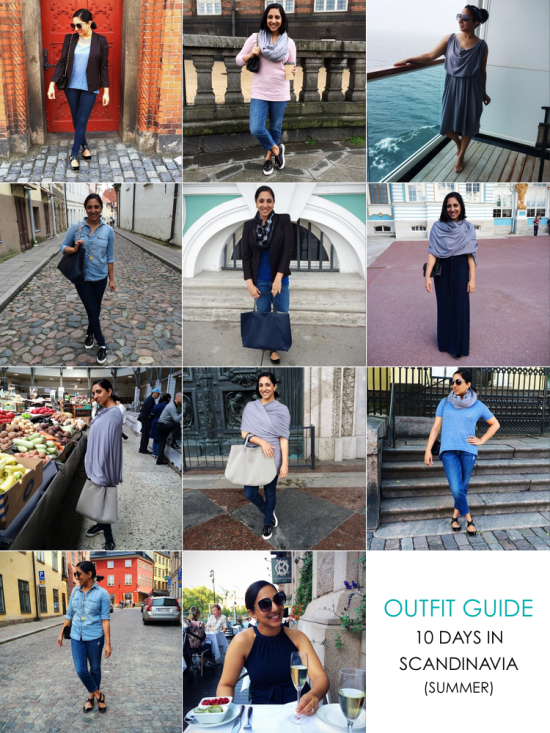 It's amazing how few items of clothing you actually need for a trip.
Every item of clothing was worn at least twice. Â I felt comfortable and stylish the entire trip. Â And my suitcase didn't require me to sit on top of it in order to close.
Tops – the weather ranged from the low 60's to the low 80's during our trip.  I kept things simple with a two lightweight t-shirts from La Senorita Jolie, a chambray blouse (always a classic), and my favorite travel shirt.  It'd be easy to layer any of the tops with my blazer or cardigan if I was cold, or could be worn alone on warmer days.
Bottoms – I live in Current Elliott boyfriend jeans in the summer – they're the only pair of jeans that look better after they've been worn a few times after a wash.  Naturally, I would bring a pair for this trip.  I rounded it out with my favorite skinny jeans from Topshop, which can be worn about 5 times before signs of saggy butt syndrome.
Dress – since we planned on eating casually or in our rooms in the ship, both my husband and I left our fancy duds at home. Â My jersey halter dress, dressed up with jewelry and a nice bag, was elegant for our evenings at Catherine Palace and at the ballet, but also comfortable enough for walking around Stockholm on our last day.
Cardi – calling this item of clothing a "cardi" does it a grave injustice.  I wore it as a cape, a dress, a top, and as a scarf numerous times during the trip.  Is there a better article of clothing for travel?  NO.  Just no.
Shoes – two pairs. Â That's it. Â I knew both my flats and sneakers could handle long walking days, and they did not disappoint. Â Both pairs were also broken in and could handle rainy weather, which was in the forecast for our trip.
Accessories – two necklaces (a blinged out BaubleBar piece and a simple Julie Vos one) and a silk scarf gave each of the outfits a stylish touch. Â My husband surprised me with a pair of Alanna Bess earrings for my birthday, which I wore frequently during the trip as well. Â Sunglasses were necessary, given that the sun doesn't set until midnight in the Baltic region. Â My Sole Society tote served me well during the flights and longer days on the town. Â My Chanel bag was ideal for the sunny days (no umbrella needed!) and evenings.
And lastly, a few packing-light tips:
Pack a clothing refresher spray to make previously worn clothes smell fresh. Â I love this one from the Laundress.
Vacation chub is a real thing. Â Make sure the clothing you pack are still flattering when you're not feeling your most fit.
CHECK THE WEATHER. Â Our trip's weather ranged almost 30 degrees and had both sunny and rainy days. Â All of my shoes were relatively weatherproof, my travel umbrella was packed inside my suitcase, and I was comfortable the entire time. Â Except for when I fell into a puddle in Tallinn.
Not headed to Scandinavia in the summer?  This packing list would work just as well for a casual springtime or fall trip.
Need more packing tips? Â Sign up for my newsletter and snag my clothing calculator for FREE. Â I use it to pack for EVERY trip of mine. Â No joke.