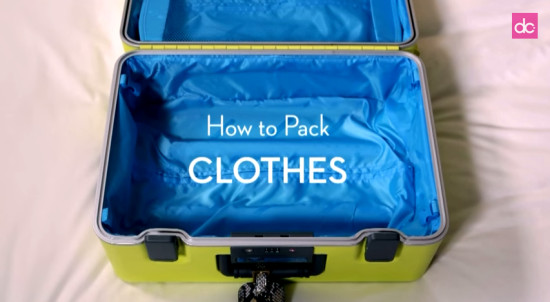 My most recent travel posts have been focused on what clothes to pack for your next trip.  Wear each item twice, layer, blah blah blah.
But how do you pack them?  That's the topic of today's post AND video.
Rolling – rolling conserves a lot of space in your suitcase.  Tightly roll your clothes like they roll burritos at Chipotle.  For clothes that are prone to coming undone (t-shirts, silky items, anything with a bias hem), wrap a hair tie (looped twice) around the clothing so it stays rolled.  These ribbon ties are the best for preventing additional creases in your clothing.
Folding – I have a love affair with my folding board.  I fold all my tops with it before placing them into my drawers, or in my suitcase.  Using the board ensures the clothes are folded as flat as possible, saving you more space in your suitcase.  I opt to fold blazers, sweaters, and blouses with collars.  Everything else gets rolled.
Packing Cubes – No introduction is needed to the FLIGHT001 Space Pak.  I place the folded clothes in first (bulkier items at the bottom, collared items at the top) and arrange the rolled clothing on top of the folded items, AND in the empty pockets and spaces.  Hate crushed collars?  Button the top AND bottom button on the shirt for easy folding, and stuff a rolled t-shirt inside the collar in a coil.
Packing Laundry – Leave an inch or two of empty space above your clothes for your dirty items.  Another reason to love the Space Pak is the laundry compartment.  A sturdy nylon bag (either a Baggu or this laundry bag) will work equally well for packing your dirty clothes.
Are you a roller or folder when it comes to packing?  Have any great tips you swear by with every trip? COMMENT below and let me know!