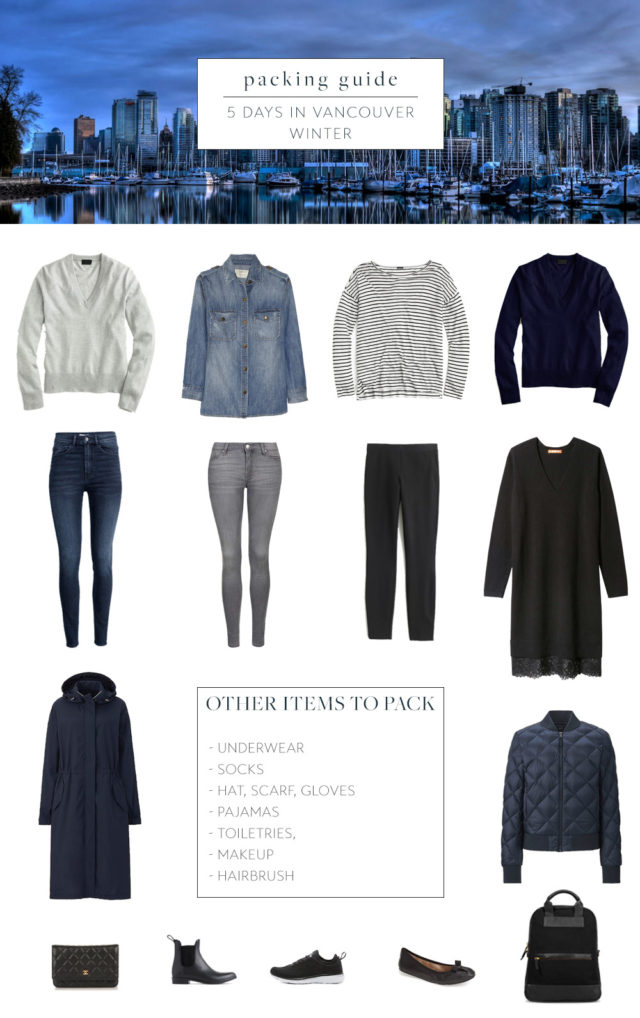 Fact – I'm not winning any fashion awards with this packing guide.
But that's the thing with Vancouver. It's an elegant city, but a casual one as well. Simple, well-fitted classics are perfect for wandering around Granville Island, popping in and out of Gastown's boutiques, or for a long walk in Stanley Park.
Just make sure your outer layers are water-resistant. Here's what I packed (and what I should have packed) for 5 wintery days in Vancouver.
Pants
Dark pants are my m.o when I'm traveling. I packed my Old Navy high rise jeans, which hold their shape even after 3-4 wears. I also brought my super soft Topshop gray jeans, which are great for the food baby I inevitably get when I'm traveling (#chubfab). And while two pairs of jeans would probably suffice, I threw in a pair of black ponte pants at the last minute – I had room, and the weather was rainy. Never a bad idea to have a backup pair.
Tops
Rainy days mean cozy sweaters. I basically live in my cashmere Everlne sweaters at home, and thus packed my navy and gray ones. I also brought my favorite striped top (also seen here), the cashmere blend adding extra warmth. I also added a chambray blouse, obviously.
Because where else are you going to wear a Canadian tuxedo but in Canada?
Dresses
I will always pack a dress, no matter the trip. For Vancouver, I threw in a lace-trimmed sweater dress that's as stylish as it is forgiving. It was the perfect thing to wear to the Thanksgiving dinner we enjoyed at the Rosewood's restaurant.
Outerwear
Given how warm my sweaters are and how mild the temperatures were, wore my Everlane anorak for this trip. I also had my lightweight Uniqlo puffer to layer underneath for colder days, which came in handy during our wait for Jams Café. This combination worked for me, but swapping both jackets for my J.Crew parka would work nicely. Don't forget the all essential scarf/gloves/hat combination – for any winter day, or trip.
Shoes
The J.Crew Chelsea rain boots was one of my best purchases last year. It looks like a normal ankle boot, but keeps your feet nice and dry (no matter the weather forecast). These were a no-brainer to pack and wear in Vancouver. While my APL sneakers were great for the one workout I got in, they were a bit of a fail the one day I wore them out and about. Mesh + a rainy climate = no good. In hindsight, I would've packed my leather Reebok sneakers. I added my pretty Ferragamo flats to my shoe bag – I rarely travel without these shoes.
Bags
My Bartaile C12 bag was perfect for transit and for the longer days wandering around. For shorter jaunts around town, my Chanel WOC worked perfectly. The pebbled leather makes the bag incredibly durable. That said, I would have packed a saffiano Lo & Sons Pearl or a Dagne Dover tiny tote instead for some extra room for my belongings.
SHOP THE OUTFITS
click the image to view the packing list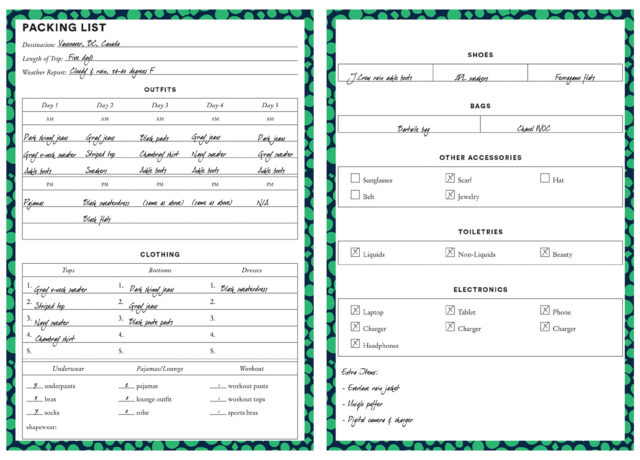 download a blank version of the Perfect Packing List
Have you been to Vancouver? What was the one thing you wished you packed for it. Leave me a comment below and let me know!
P.S. – see what I packed for weekends in Miami, Baltimore, and Charleston, and my Vancouver travel diary.
P.P.S. – have you pre-ordered your copy of How To Pack yet?