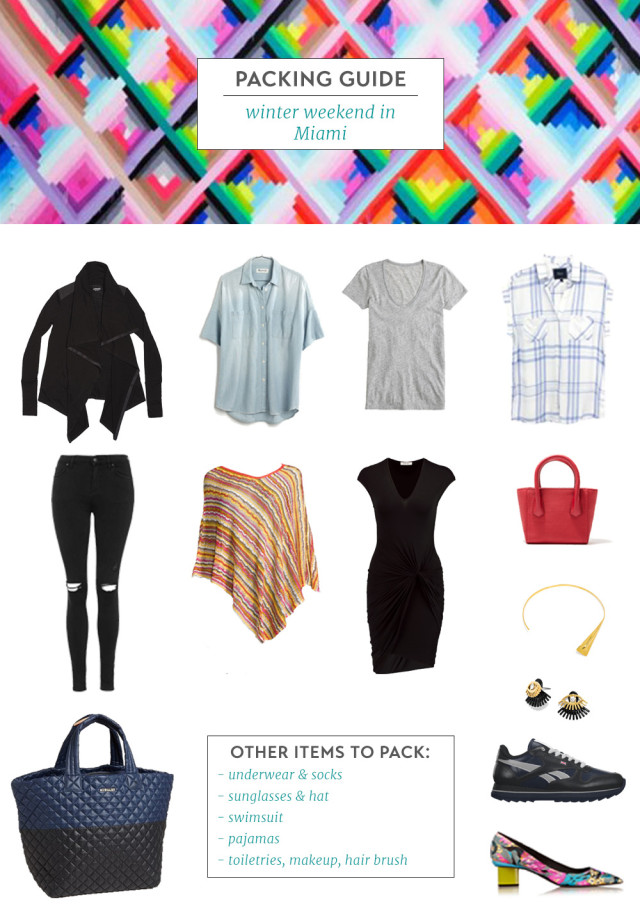 The beach. A mojito. Joe's Crab Shack STONE CRAB. Dancing the night away.
That's what you typically associate a Miami weekend with. But it's not the Miami weekend I'm headed to (except for the dancing part).
A Breakout weekend is one filled with off-the-beaten path tours, thought-provoking lectures, and getting to know incredible people.
It also involves very little rest, and the need for a fresh shirt every 12 hours (especially in Miami).
Comfort is key. That said, I've never been one to sacrifice style in the equation. Here's what I'm packing for my trip this weekend.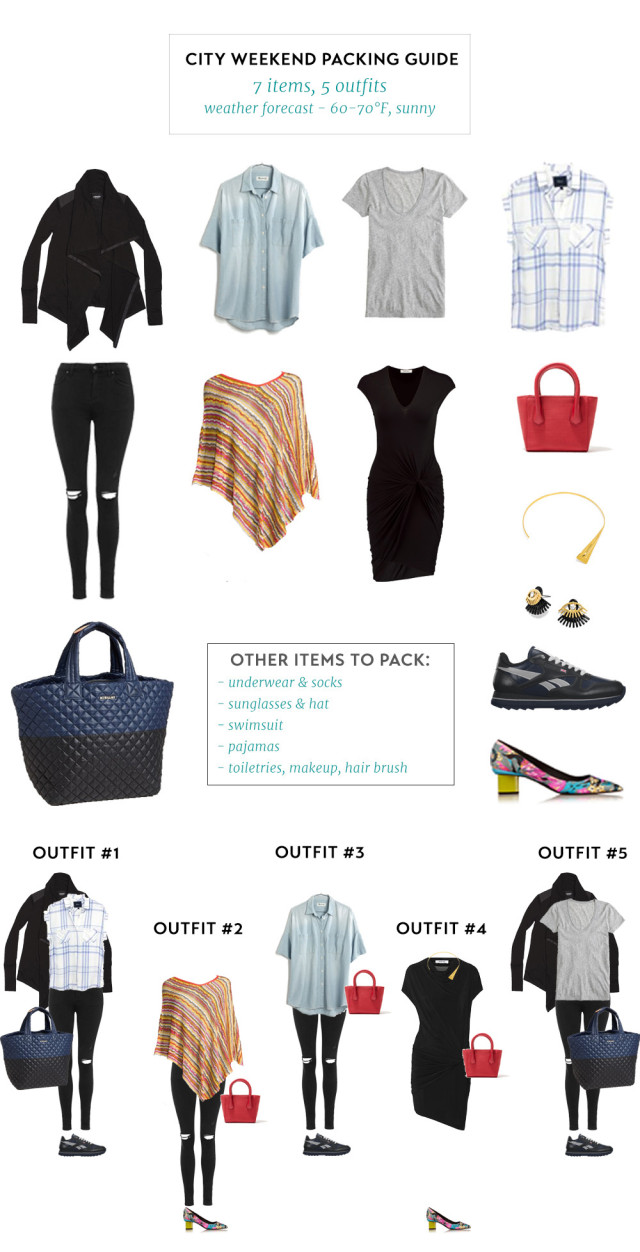 Pivotte cardigan (c/o) – Madewell chambray top – J.Crew t-shirt – Rails LA blouse – Topshop jeans – Missoni poncho – Helmut Lang dress – Dagne Dover bag –
BaubleBar collar – BaubleBar ear jackets –
MZ Wallace tote – Reebok sneakers c/o – Nicholas Kirkwood pumps
PANTS – Sorry-I'm-not-sorry for my addiction to the Topshop Leigh. They last multiple wears, are insanely comfortable, and the ripped variety is perfect for the warmer temperatures of Miami.
TOPS – After 2 previous Breakout trips, I've learned my lesson to pack a fresh shirt for every day (really, every 12 hours). I've also *ahem* put on a little bit of weight, and favor a loose blouse over a fitted top to keep me comfortable while looking polished. Enter a classic chambray blouse in a light shade, a softer-than-clouds plaid top, and an easy t-shirt that I can layer the chambray over (in case my wobbly bits are in clear view). As my going-out-tops (and nights, for that matter) have been retired, I reach for this Missoni poncho more times than I'd like to admit for those rare evenings I leave my apartment for cocktails and dancing. This one, in particular.
DRESS – this is, hands down, my favorite black dress. It hugs the right places, minimizes the jiggly ones, and never wrinkles. When paired with a bright lip and bag and printed heels, it's a perfect outfit.
Shoes – after reviewing the packed agenda, I immediately grabbed my custom Reeboks as my day shoe option. For nights, nothing beats my floral Kirkwood heels (one of my favorite scores from The Outnet).
BAGS & JEWELRY – I treated myself to the Dagne Dover Tiny Tote for the holidays, and absolutely love it. It fits everything I need for the day, is comfortable to wear, and transitions from day-to-night like a boss. I swear by my MZ Wallace large tote for weekend trips – I can fit everything in it, and it sits comfortably on my shoulder. I'm keeping it simple on the jewelry front – this BaubleBar choker and ear jackets should have me covered.
OUTERWEAR – Pivotte sent me their Good-to-Go cardigan, which should be named Great-to-Go. The draped fit is flattering, the material is super comfortable (breathable AND soft), and I'm a sucker for the thumbholes during a chilly flight. I'm keeping my winter gear neatly packed a la this post.
Want to see what goes down in a Breakout weekend? Follow me on Instagram and Snapchat (username: hithapal). And if you want to find out more about the organization, shoot me an e-mail!
[Tweet "7 items. 5 outfits. One stylish weekend in Miami."]

Wynnwood Walls image via