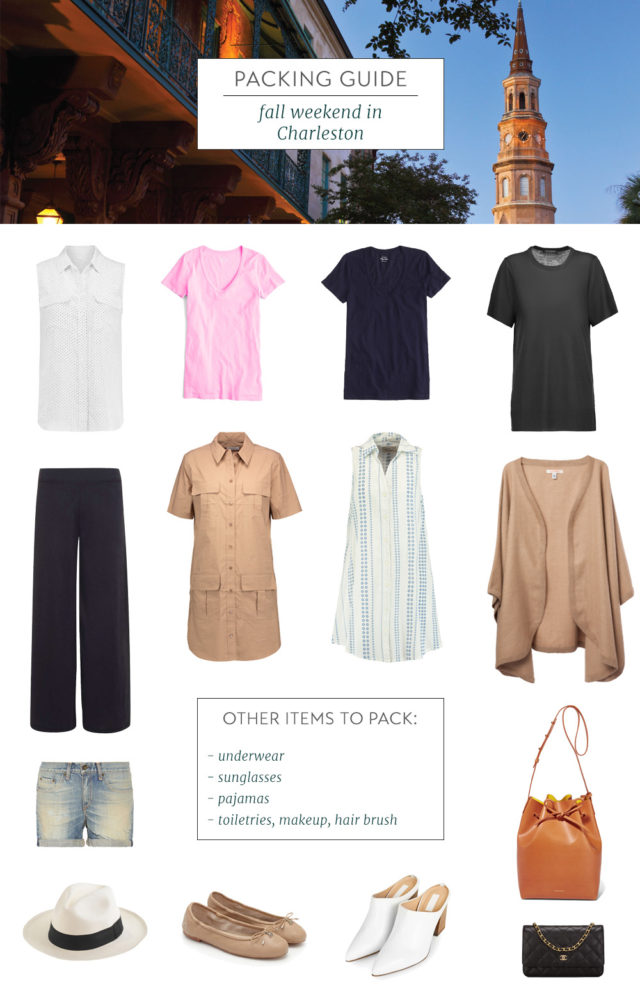 It's been over two months since our trip to Charleston, but it's still on my mind.
Amazing food. Wonderful people. A beautiful town.
The opportunity to wear dresses that aren't black (or gray, or blue).
Did I mention the food?
Here's a look at what I packed. My number one tip – pack items that can accommodate a food baby.
You'll thank me later.
blouse – t-shirts – long t-shirt
shorts – pants – tan dress – patterned dess – cape
hat – flats – mules – bucket bag – clutch
DRESSES
If you want to blend in with the locals a bit, pack a few (non-black!) dresses to wear in the evenings. This shirtdress and this patterned one were perfect picks for me – classic, not too girly, and hides my stuffed belly after a wonderful dinner.
TOPS
While I typically recommend wearing every item you pack twice, shirts + hot climates are the exception. Pack 1 shirt for every day and evening (unless you're wearing a dress). For Charleston, I packed my favorite J.Crew t-shirts, an Equipment blouse, and a tunic-length top to wear with my wide legged pants for the flight home.
BOTTOMS
I packed these shorts to wear in Charleston and pants for the flight there and back. Swap the shorts for jeans or ponté pants for a winter trip, and you're set.
OUTERWEAR
Truth be told, I only wore this cape during the flight. If I were heading down now, I would add this coat – it's lightweight but warm, really flattering, and goes with everything.
SHOES
These Sam Edelman flats are the best – really comfortable, classic, and they go with everything. In the evenings, white mules (mine are a lower-heeled version from Zara) dressed up my evening look, but were still comfortable enough to walk to dinner in.
BAGS
This Mansur Gavriel bucket bag is a packing (and style) powerhouse – it fits a TON, is fairly weather-proof, and is just beautiful. It was the perfect bag for the flight and for daytime wandering. In the evenings, my Chanel WOC (wallet-on-chain) held everything I needed – my phone, credit card, hotel room key, and a lipstick.
HAT
Panama hat for the win. I own and love this one from J.Crew.
Have you been to Charleston? What did you pack? COMMENT below and let me know!
See what I packed for a fall weekend in Baltimore, a winter weekend in Miami, and a summer vacation in Scandinavia.