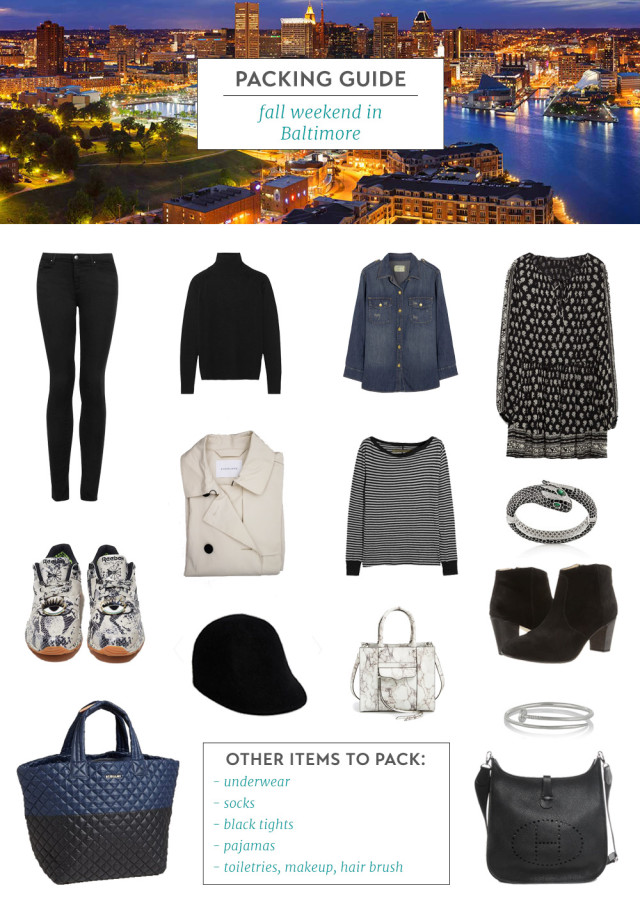 It feels so good to travel again.
Granted, I missed my son like crazy. I also missed my bed.
But to explore a new city, eat my weight in the local cuisine, hang out with a group of amazing entrepreneurs, AND get two nights of uninterrupted sleep? It's been far too long.
Also, getting to pack a bag again was pretty sweet. I played Step Up on my bedroom's television as I packed, as we were visiting the Baltimore School of the Arts (the setting for Channing and Jenna's budding romance). With temperatures ranging from the high 50's to the low 80's, I selected my favorite lightweight layers, stretchiest pair of black jeans, and a funky pair of sneakers that could handle the frantic pace of a Breakout trip.
Here's what I packed and wore each day in Baltimore: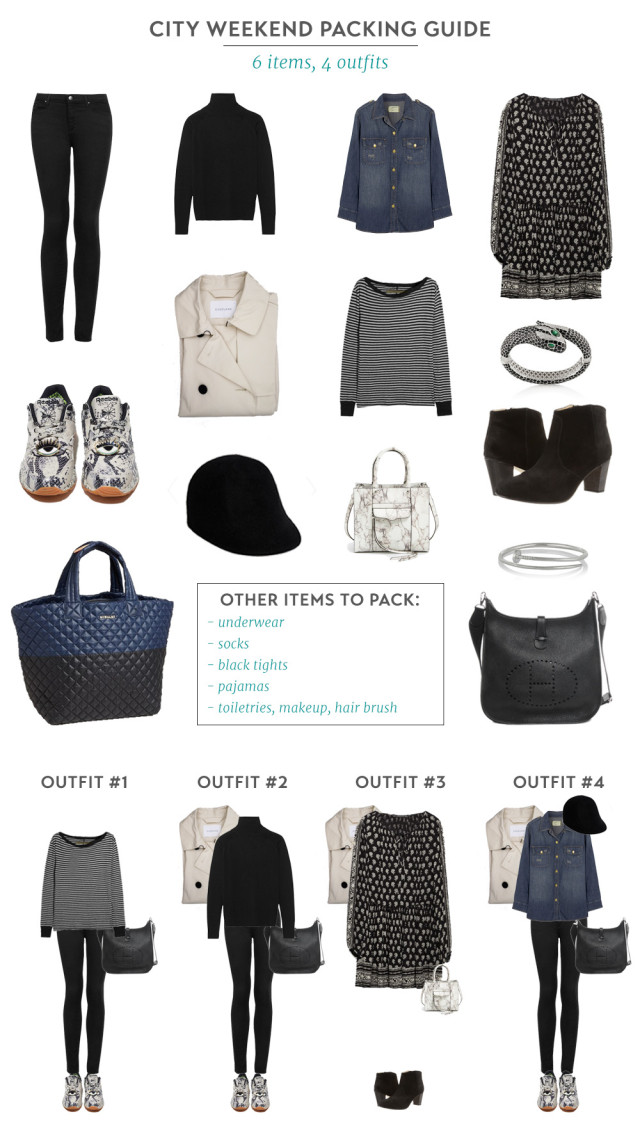 Topshop jeans – The Line sweater – Current/Elliott chambray top – Zara dress
Everlane swing trench – Enzo Costa striped top – Kenneth Jay Lane cuff
Reebok x Melody Ehsani sneakers – ASOS hat – Rebecca Minkoff bag – Sole Society booties
MZ Wallace tote – Kenneth Jay Lane bangle – Hermès bag
Pants: for a weekend, you really only need one pair of pants. Pack the pair that retains its shape and can accommodate travel chub (aka when you eat your weight in crab in a single night). For me, there's no better choice than the Topshop Leigh. It's affordable, incredibly comfortable, and manages to look as good on the third wear as it did on the first.
Options – Old Navy Rockstar skinny jeans ($25), J.Crew Pixie pants ($98), Rag & Bone plush legging jeans ($190)
Tops: with temperatures ranging 30 degrees during our trip, lightweight layers were the way to go. I've admittedly fallen off the workout-and-healthy-eating wagon, and needed shirts that would flatter my mid-section while staying stylish. My new favorite striped top, a chambray blouse I wore well into my pregnancy, and a perfect black turtleneck fit the bill.
Sweater options – Forever 21 ($20), Gap ($60), Everlane ($170)
Chambray top options – Old Navy ($25), J.Crew ($78), AYR ($115)
Striped t-shirt options – Old Navy ($20), J.Crew ($50), Commes des Garçons ($160)
Dress: The plans for our second night were a late dinner and a club – two things I rarely, if ever, do anymore. With my collection of 'going out' tops have been retired and donated, I had a mild panic of 'what do I wear???' Enter this easy Zara dress, which was comfortable for our tapas feast and dressed up enough for da club.
Options – Old Navy swing dress ($22), Free People dress ($90), Love Sam peasant dress ($231)
Shoes: If I had opted for a flat or slightly heeled boot, I probably could have gotten away with a single pair of shoes. But these sneakers…they're just too good. They also have the side benefit of making the most simple of outfits instantly cool. Thus, they came with me to Baltimore, as well as a classic pair of black booties that could be paired with all of my outfits.
Sneaker options – H&M slip-on sneakers ($25), Nike Roshe ($80), New Balance 420 – Tokyo ($100),  Michael Kors Valin ($175)
Bootie options – Old Navy ankle boots ($40), Ivanka Trump Rumi bootie ($150), Alexander Wang Gabi booties ($675)
Bags & Jewelry: Everything packed neatly inside my MZ Wallace Large Metro tote, which is my go-to bag for car trips (not for flights – the shoulder strap tends to slip off, making it annoying to lug around an airport). My daily essentials went inside my Hermès crossbody (a post-baby gift from my husband, and quite possibly the best bag EVER) and I packed my jewelry inside my tiny Rebecca Minkoff crossbody for evenings. If you're going to be running around quite a bit, a crossbody bag is my recommendation. I only packed two bracelets – one to wear with my watch during the day, and one to dress up my evening looks. That's all you need.
Duffel options – Sole Society Mariah ($38), Herschel Supply Co duffel ($80), Cuyana weekender ($150)
Large crossbody options – Old Navy trapeze bag ($32), Cuyana cinch shoulder bag ($250), Mansur Gavriel large bucket bag ($695)
Evening bag options – Old Navy saddle purse ($22), Sole Society Eileen ($40), MICHAEL Michael Kors Selma mini messenger ($178)
Statement cuff options – Sole Society beaded floral cuff ($24), BaubleBar x factor cuff ($54), Kenneth Jay Lane cutout cuff ($185), Julie Vos Greek key cuff ($330)
Everyday bracelet options – Sole Society bangle ($20), BaubleBar quad alpha cuff ($32), Julie Vos Nicolette bangle ($48), Kenneth Jay Lane bracelet set ($68)
Outerwear: I missed out on wearing my Everlane swing coat during the spring. It was the PERFECT coat for Baltimore – kept me warm during the colder days, flattered every outfit, and just made me feel great. The hat was a last-minute addition into my bag as I was heading out the door. Come Sunday morning, my hair was grateful for it.
Coat options – Boohoo waterfall trench ($44), Nasty Gal trench ($68), MICHAEL Michael Kors trench cape ($225), Burberry Brit packaway trench ($708)
Hat options – Forever 21 sateen hat ($10), Ted Baker bow felt cap ($70), Eugenia Kim Genie Alex hat ($80)
Baltimore city image via