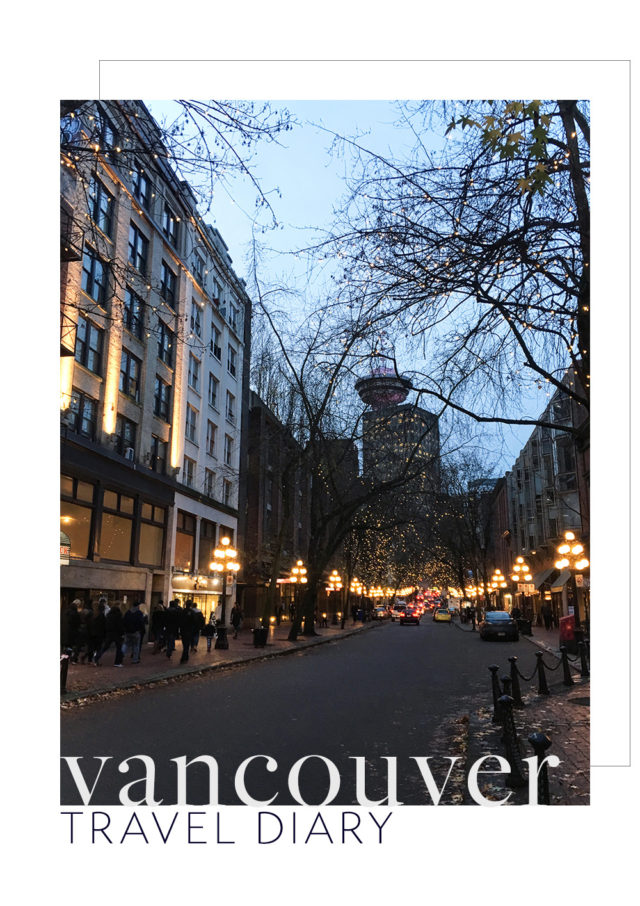 I've been to Vancouver well over 10 times.
How many of those times did I leave the West End? One…during our visit during Thanksgiving weekend.
Confession – my aunt's cooking is incredible and they own the most comfortable couch, so that may have something to do with my unwillingness to explore.
Now that I have a handful of favorite spots (with a list to explore when we return), all that's left is to book a trip. You should do the same, given that Canada topped the New York Times' top places to visit this year.
What are you waiting for?
WHAT TO KNOW
Vancouver is a city that's worth visiting at any time – the moderate climate (even the gray, drizzly weather in the fall and winter) means you can visit anytime, without the fear of frostbite. If only the same could be said for the rest of Canada…
Summer, however, is the best time to visit. The weather is spectacular and there's no lack of activities, from hiking through the city's parks to drinking wine al fresco. The latter is my preferred outdoor activity.
Skip the car and explore the city by foot, bicycle, or public transportation (SkyTrain or buses).
Vancouver's style is casually elegant. People will trek around in Gore-Tex and activewear during the day, but will step it up a bit in dresses and collared shirts in the evening. Pack accordingly, and stay tuned for a packing guide in a few weeks!

STAY
ROSEWOOD GEORGIA HOTEL
801 W Georgia Street
There is something different about a Rosewood property. There's an authenticity that's rooted in the luxury, without any tradeoff. This was the second Rosewood property we stayed at (the first was The Mansion in Dallas), and it certainly won't be the last.
Its predecessor, the Hotel Georgia, opened in 1927 and welcomed everyone from two English kings (Elizabeth II's father and uncle, when they were princes), Marlene Dietrich, and most of the Rat Pack. So many significant things happened in this space – the Seaforth Highlander's Ball (which both royal highnesses attended), the invention of late-night room service (another thing to thank Katherine Hepburn for), and the broadcast of BC's #1 radio station for over a decade.
Rosewood reopened the property in 2011, taking care to preserve the art deco and rich details of the building. You almost feel as if you've stepped back in time when you walk in – until you whip out your phone to capture the moment on social media.
Every detail of this hotel is so thoughtful – spacious bathrooms with two sinks, the most heavenly bed I've ever slept in, and the fastest room service I've ever experienced. We admittedly spent a lot of time at the hotel (I had #GivingTuesday and our Gift Impact launch the next week), dining in the property's restaurants (the pot pie at 1927 is to die for) and getting a quick workout in their beautiful fitness center. After spending our evenings with family, we'd return to the hotel and walk downstairs to Prohibition for a nightcap (the blue-cheese martini for me, and the Inception negroni for my husband), live music, and some of my favorite conversations of the trip.
You could spend all your time in the Rosewood Georgia and be completely satisfied.
Or…you could venture out and explore some of my favorite spots from the city.

DO
ENGLISH BAY & SEA WALL
My family lives in the West End, which is where I've spent most of my time in this city. And while we typically hang out at home (and eat my aunt's delicious cooking), a daily walk is always in the cards.
The Sea Wall is usually the destination.
Our usual route is to walk down to English Bay and visit the happy statues. They're just…happy.
From there, we turn right and begin walking along the shore. On the right, the beach hugs the bay until it narrows and disappears. On the left, the urban sprawl of apartment buildings and busy roads give way to the trees and playgrounds of Stanley Park. You can almost forget that you're in the middle of Canada's biggest cities. It's that peaceful. Take a deep breath, and enjoy that air. Diptyque doesn't hold a candle (pun intended) to this park.
GASTOWN
Consider the complete opposite of Stanley Park – trendy restaurants, curated boutiques, flannels & facial hair. And then remember you're in Vancouver, not Brooklyn.
Welcome to Yaletown. The only neighborhood in North America that's more Williamsburg than…well,Williamsburg. It would be insufferable, but the neighborhood embraces its yuppie/hipster vibe with a sincerity that's hard to mock.
Overlooking the cobblestoned road and brick-layer sidewalk are some of Vancouver's favorite restaurants (the aforementioned Flying Pig), bars (Mosquito), and shops. Yaletown is best explored at twilight. With the old-fashioned street lamps lit and the sidewalks filling with people headed to a post-work drink or early supper, the energy is really something.

EAT & DRINK
JAMS CAFE 556 Beatty Street

A word to the wise – wake up early and get in line. Jams Café is one of Vancouver's most popular brunch spots, and with good reason. Everything on the expansive menu is great, but a perfect meal would be the Little Veggie (roasted vegetables and  homemade crumbled biscuit, topped with fried eggs), the fried chicken (swoon), and a single red velvet pancake. Wash it all down with a coffee and a mimosa, and you're set.

Set for a nap, that is.
THE FLYING PIG GASTOWN
102 Water Street
I like to consider myself a cheese and meat board expert (see here and here), so it takes a really special one to impress me.
And The Flying Pig's charcuterie and cheese board impressed me. Just three meats and three cheeses, and the best spicy stone-ground mustard I've ever had. The rest of the food was excellent – especially the pulled pork poutine (#whenincanada) and the creamed corn with jalapenos. There's a brut sparkling rosé on the Yaletown menu that was just…ahhh. So good.  Any meal would be great here, but they have a great daily happy hour.[/one_half_last]
HAWKSWORTH
Rosewood Hotel Georgia

I just have 3 letters for you – KFC. Except in this case, it's cauliflower. I don't care if it's the trendy vegetable right now. The Korean-Fried Cauliflower bites at Hawksworth were perfect – crispy, spicy, ever so slightly sweet, and completely addictive. We washed ours down with Moscow Mules before heading upstairs (the restaurant is in the Rosewood) and taking a long nap.
MOSQUITO
32 Water Street

A champagne and dessert bar, in the heart of Yaletown. In short – the perfect place for a cozy drink, sweet treat, and relax. We enjoyed the truffle popcorn and the peanut butter-chocolate-banana bar while sipping glasses of the Cavalleri Franciacorta Brut Blanc de Blanc.

SHOP
PARLIAMENT INTERIORS 115 Water Street

I don't even know how to categorize this shop, given that it has it all.

It has furniture. It has paper goods. It has a nursery of indoor plants. And it has some of the most random delights I've ever seen.

Whatever you call it, it's just special. We picked up some cards, a book of letter prompts and envelopes to write for Rho, and a new Christmas ornament from this beautiful boutique.

And if I were allowed to bring plants in my carry-on, I would have filled my extra space with the paperwhite bulbs planted in individual gold planters. The Sputnik-sequel light fixture (only $300 CAD!) may have found its way in my husband's suitcase as well…
ORLING & WU 28 Water Street

A kitchen and home-lover's dream, Orling & Wu is filled with the best of Scandinavian and Asian home items. I've never seen most of the kitchen items they had beautifully arranged throughout the shop – which made wandering around so much.

Scandinavian sponge cloths were stacked among intricate placemats and bowls filled with old-fashioned teaspoons. Children's books that I'd never seen were arranged between handmade stuffed animals and clever sets of wooden blocks.

We popped in on Black Friday, where everything black had a 30% discount. I picked up several sponge clothes (with the black dots, of course) and some new books for Rho. I would've purchased the entire store, but we were already running late for dinner with my aunt and uncle. Next time…
Have you been to Vancouver? What are some of your favorite spots in the city? COMMENT below and let me know!
Feeling wanderlusty? Check out my travel diaries for Paris, Bali, and Tallinn.