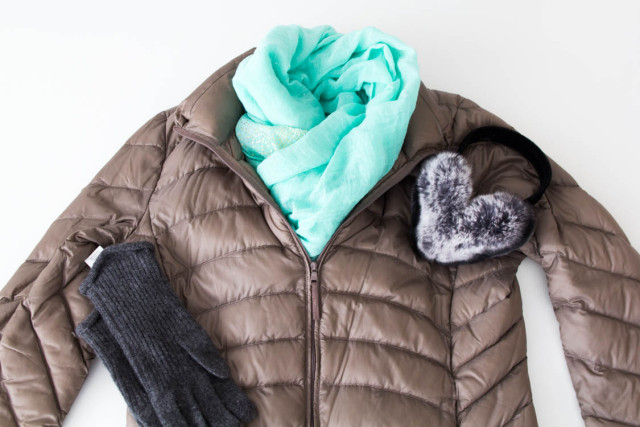 Winter gear is a pain to pack. Particularly when you're jetting off FROM the cold and to warmer destinations.
The last thing you want is for your bulky coat, shoes, and accessories to hog up the space in your suitcase. Space that can be better used for swimsuits, silky dresses, sandals. And sunscreen. Don't forget that SPF!
But no one likes to return home to frostbite. Hence – the Hitha On The Go-approved system for packing your cold weather gear.
Let's talk shoes first. If you're jumping in and out of the car at your cold weather spot, you can probably make do with a pair of sneakers or flats paired with compression socks. There's rarely a need to wear a bulky pair of boots. Opt for a style that you can wear sans socks, and remove then right after landing. I wear either my Nike Roshe sneakers (which double as my workout shoes) or Yosi Samra loafers(which take up barely any room)  No swollen or sweaty feet for you!
Next- the coat and accessories. If I'm not going to be outside in cold weather for long, I'll wear my Uniqlo Ultra Light down coat (more options here), which folds into a tiny pouch. Instead of a wool scarf, I bring a large cotton one that'll double as a swimsuit coverup at my destination. And I never leave home without gloves, which get tossed into my pocket before I pack up the coat.
Also, earmuffs. Though you can use large, over-the-ear headphones in a pinch as well!
Here's my step-by-step guide for packing my winter gear: