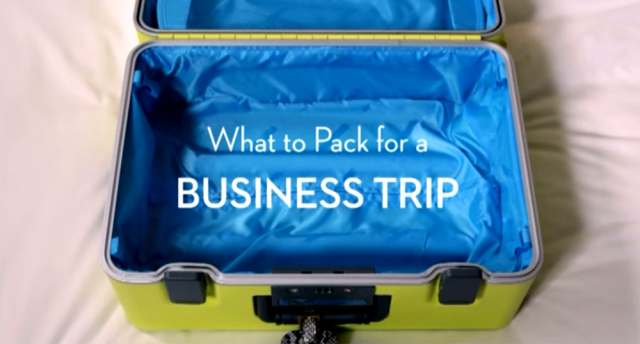 Business trips defined my life from 2009-2014. I was in a constant state of unpacking and repacking. The attendants at the United Club and my dry cleaner saw me more than my friends. My frequent flier miles balance was through the roof.
Not gonna lie – I miss that latter point.
I shared some of my must-pack items in the video below, and some extra tips for business trip packing.
Because business should be what you focus on – not what you're packing or wearing.
– black dress – blazer (splurge, save) – heels – flats – sneakers – blouse (splurge, save) –
– pants (splurge, save) – pouch (also love this and this)
CLOTHING
The cardinal rule – pack in the same color family (black, brown). Grays pair best with black, and navy & camel go with both. Your primary clothing (blazers, pants, and skirts) should be in the same color for business formal. Complementary neutrals for these items work for a more casual environment. You can infuse color with your dresses and blouses, especially in a business casual environment.
Business Formal - it's all about a great suit or a elegant dress and blazer combination. If you opt for the former, bring the matching pants AND skirt so you can maximize the wears for your suit. 2-3 dresses (2 neutral and one in a color) and a classic blazer (neutral, always) can suffice for a weeklong business trip. Hose is never a bad idea to bring along, especially if your work environment is conservative. Always bring at least two pairs.
Business Casual – classic separates that complement each other without being overly matchy-matchy are great for a business casual environment. You can also make bolder color choices with your blouses and dresses, and opt for a patterned skirt instead of a plain one. If your environment allows it, opt for a white or a colored blazer or a caped variety instead of a classic, dark neutral.
Conferences – ONLY PACK WHAT IS COMFORTABLE. Think breathable fabrics, looser silhouettes, and shapewear that doesn't suffocate. Conferences can also throw off your eating schedule, so opt for items that flatter when you're bloated or feeling heavier than usual. A great blazer will be your best friend here – it flatters virtually any outfit.
BEAUTY
LESS IS MORE. TIME IS EVERYTHING. The faster you can get your face and hair ready for business, the better. Because you have better things to do with your time.
Like breakfast.
Hair – if your budget permits it, get a blowout before a business trip. It's an indulgence I always allowed myself, given how hopeless I am at styling my own hair and how productive I am while getting one. I also never leave home without my dry shampoo.
Makeup – keep it super, super simple. Business trips are not the place to experiment with false eyelashes, contouring, or bold eyeshadow colors. That is, unless you're a makeup artist (and if you are, skip this entire section). Stick with a clean, minimal look that enhances your natural beauty. I also opt for products that come in a stick (rather than a liquid), such as this foundation and this blush/illuminator. Not only does it conserve space in your liquids bag, it also makes touch-ups easy and less messy.
Nails – groomed nails are a finishing touch to any business look. Get a manicure (if your airport has a nail salon, get there early and enjoy a little pre-flight pampering) or just shape your nails and apply this.
ACCESSORIES
The beauty rule rings true for accessories – keep it simple, especially if you work in a conservative environment. There is a time and a place for statement necklaces and shoulder-grazing earrings. A pitch meeting is not one of those places.
Shoes – like the video said, three pairs. Your heels and flats should be in the same neutral hue, and always pack pairs that are well-broken in. I'll pack a pointed flat (elegant enough to wear with my business attire) and a mid-heel that I can last all day in. I'll also bring my Nike studio wraps or travel sneakers so I can get in a workout. A sweat session + room service wine and a grilled cheese = my favorite hotel room tradition.
Bags – your personal item will double as your work bag, so select one that fits everything and complements your work attire. Be sure to also bring a flat pouch that can double as a clutch for any evening activities. You can find all my favorite bags for travel here.
Jewelry – wear your most subtle pieces on the plane (a delicate chain, stud earrings, rings, and a watch) and bring along 1-2 statement pieces to dress up your outfits for any evening events. More jewelry packing advice here.
Other – always bring a scarf and a belt. Not only will the former keep you warm on the plane, scarves can transform a look. Fold a silk scarf in a triangle and tie it around your neck to update a classic dress, or hang a soft pashmina around your neck and belt it for a vested look. This is the one area you can add some color or pattern, so go bold with your choices.
RANDOM ITEMS

A car USB adapter, so you can charge your phone and be navigated on the go
Extra business cards (tip – keep a box packed in your suitcase at all time)
An external battery to charge your devices on the go
Feminine hygiene products. Just in case.
Stationery (cards, envelopes, and stamps) – when a meeting deserves a personalized follow-up
Something indulgent – a bar of dark chocolate, a pile of trashy magazines. Whatever you need to unwind after a stressful day.