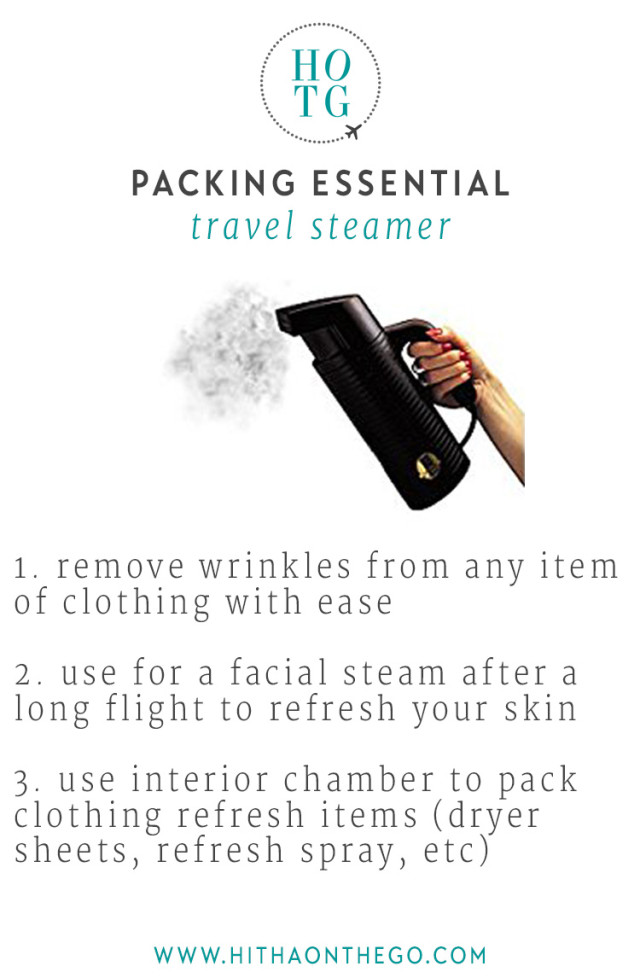 There are travel items I really like – dry shampoo, my Glossier set, travel sneakers.
There are travel items I love – my FLIGHT001 SpacePak and my Hudson+Bleecker travel accessories.
Then there are the full-blown obsessions. Topping the list is my travel steamer, which I never. ever. leave home without.
In fact, I own two of these bad boys – one for home, and one for travel.
Why do I love this little steamer so much? I could write a novel, but I'll limit myself to these three reasons:
De-wrinkling for dummies
I'm hopeless when it comes to ironing. After burning a hole through a blouse (during a trip for a final job interview, no less), I ditched the hotel room iron for this handy little guy. Even if you're a deft hand with an iron, its use is limited to only a handful of clothing – suits and thicker fabrics. Steamers work on virtually all fabrics, including delicate silks, cashmeres, and embellished clothing items.
Facial on the cheap
One of my favorite things to do after a long flight is give my skin a little TLC with a hotel room facial. After cleansing and exfoliating, I fire up the steamer and let the warm air mist over my skin. After a good 5-10 minutes of steaming, I'll slap on a collagen-infused mask and use the leftover steam to de-wrinkle my packed clothing #multitasking
Keeping that clothing clean
I like to use the chamber of my steamer to pack my non-liquid clothing fresheners – dryer sheets, a stain removing bar, and laundry detergent sheets. No wasted space, and all of my gear for keeping my clothing fresh are in one place.
Are you an ironer or a steamer? Do you have any items that you never travel without? COMMENT below and let me know!