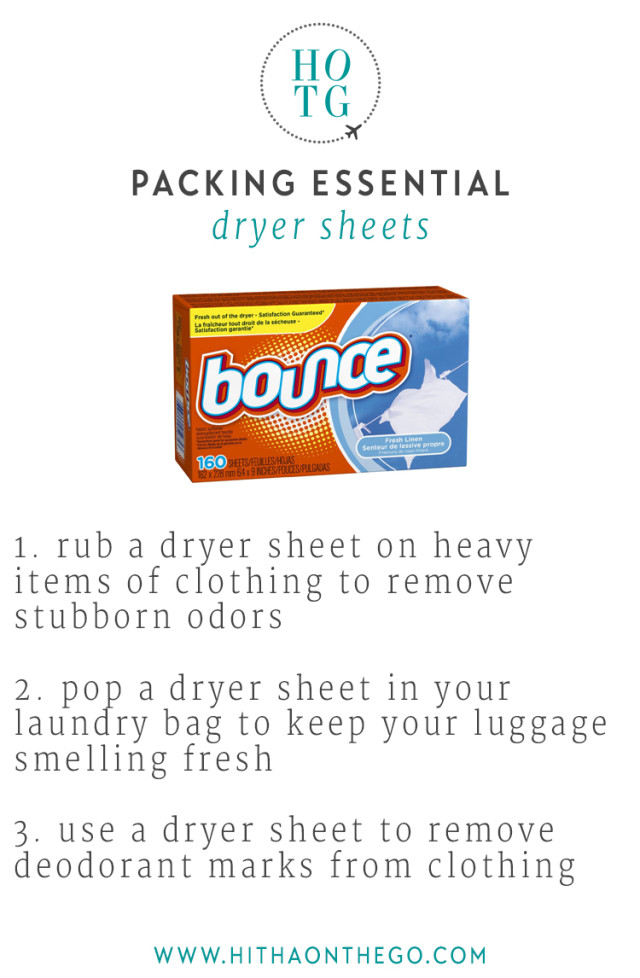 "You pack the most random stuff." – virtually anyone who travels with me.
I prefer to think of myself as a packing McGyver, repurposing bar items to pack my jewelry and office supplies to pack my toiletries.
One of the most random items? Dryer sheets.
Why am I pillaging my laundry supplies when I pack for a trip? Read on…
So fresh and so clean-clean
I discovered this handy use while on a business trip in Las Vegas, which we can agree smells awful. To get offending odors out of clothing (especially heavier items, like suits and sweaters), rub a dryer sheet all over the item. The sheet absorbs the odor, leaving your clothing smelling like it just came from the dry cleaners.
No stinky suitcases
Popping a dryer sheet in your laundry bag absorbs all the gross smell from your dirty clothing, keeping your luggage smelling like, well, not dirty laundry. (Another tip – wipe down your suitcase with a sanitizing wipe after a trip to keep a myriad of germs out of your home and off your body).
Wipe it up
Black shirts. White deodorant. Deodorant marks inevitably ensue.
A dryer sheet will wipe that right off without marking the rest of your clothing.
I typically go through 3-4 dryer sheets in any given trip, and keep about 10 sheets packed in a baggie in my suitcase at all times. No muss, no fuss, and great smelling clothing.
Want more travel advice? You're in luck. Check out my travel tips, videos, and guides to help you with all your packing and travel needs.