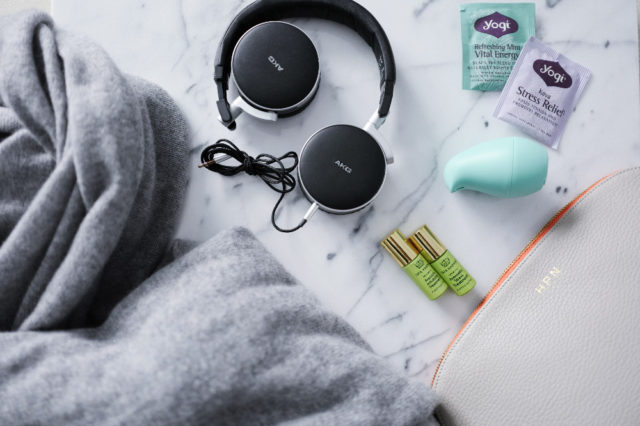 There's one mantra I swear by – for travel and for life.
I cannot control everyone around me. I can only control myself.
Bad flights are among the most unpleasant experiences. There are crying babies, drunk businessmen, turbulence, and planes that haven't been thoroughly cleaned.
Bad flights suck. Period.
What makes it worse is that you can't do much about it. But you can control parts of your experience, and how you react.
These four essentials, which I pack for every flight, help. A lot.
Noise-Cancelling Headphones
These were my first noise-cancelling headphones (first seen here), and they continue to be my favorite.
The AKG N60 headphones fold up for easy packing, can be charged via a USB cord, and truly block out the chatter, crying, and chaos of your journey. Especially when Enya is playing.
Ohhhh, Enya.
As far as noise-cancelling headphones go, the AKG headphones on the affordable side – but work just as well as their Bose and Beats counterparts.
Just get them. You won't regret it.
Tata Harper Aromatic Treatments
Planes smell…not good.
The Tata Harper Stress and Irritability therapies smell divine – and work wonders for changing your mood.
I like to apply these at the beginning of the flight (and every couple of hours or so) on my wrists and my chest. Eyes closed, 4 counts of 4-7-8 breathing, and I'm significantly more relaxed.
Even in a middle seat, in coach, on a 15 hour flight.
These Tata Harper aromatherapies are definitely a splurge (a big splurge). This anti-stress treatment and this tranquility roll-on are great alternatives that are also all-natural.
Scent goes a long way. Particularly when there's the lingering odor of banana in the air.
Your Favorite Tea (Or Beverage)
A cup of herbal tea is one of my go-to rituals to relax. There's something about holding a warm cup and feeling the steam on my face that helps turn off my brain – if only for a second.
I always bring a few of my favorite tea bags (Refreshing Mint if I have to work, Kava Anti-Stress if I don't) to brew and sip during my trip. A cup of my favorite tea helps me feel at home wherever I am – even if it's 30,000 feet in the air.
If a glass of wine or a Bloody Mary is what you need to unwind – do you, friend. Whatever it takes to get you to relax.
Sanitizer (Spray & Wipes)
I've always sworn by sanitizing wipes, but this new product is a game changer. The Birdie santiizer by OLIKA is industrial strength  that you can spray directly onto your hands or use to wipe down a surface (thanks to the dry wipes dispensed at the bottom).
It also doesn't smell like hand sanitizer, which is a plus.
I have a whole spray/wipe routine I go through after I board the plane. I clean the seat belt buckle, the tray table and fastener, the arm rests, and the window and window shade. If I'm planning on sleeping, I'll also clean the wall around the window to rest my head against.
If I plan to sleep, I'll bring along this travel pillow and sleep mask to truly block out the world around me – for the duration of the flight.
I like to pack all of these essentials (along with a face wipe and a sheet mask) in the large pouch of my travel set – which goes with me on every trip I take.
I also bring my own travel blanket as well as my cape. I'll wrap the cape around my upper body, and cover my legs with this super warm scarf by White & Warren (a splurge, but worth it).
You can't control who you're seated next to, or how they're going to act.
But with a few products and a fast routine, you'll be oblivious to them.
And you'll feel pretty relaxed in the process.
click here to save the post to Pinterest!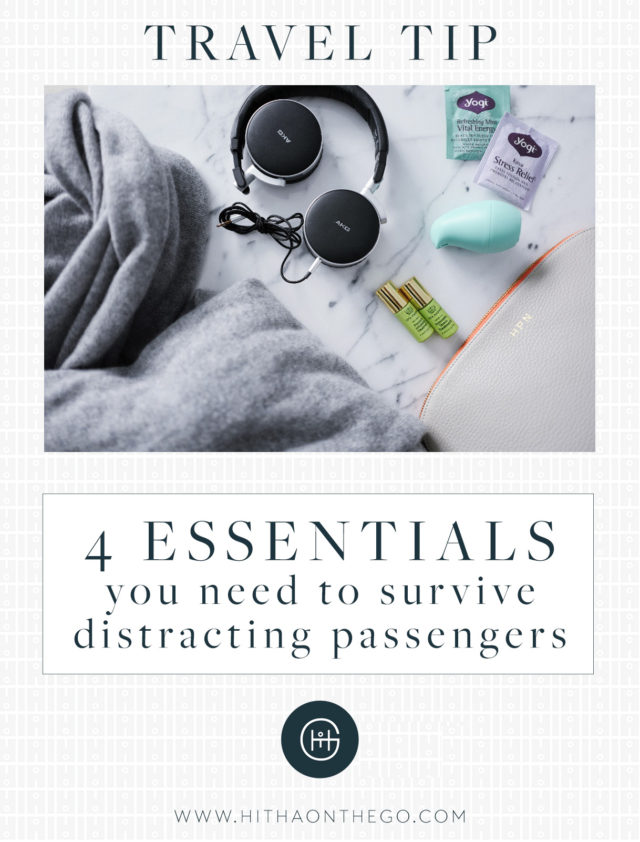 Do you have any essentials you pack to block out distracting passengers? COMMENT below and let me know!
P.S – the 3 skin products you need when traveling, and a quick travel etiquette guide.
SHOP THE POST