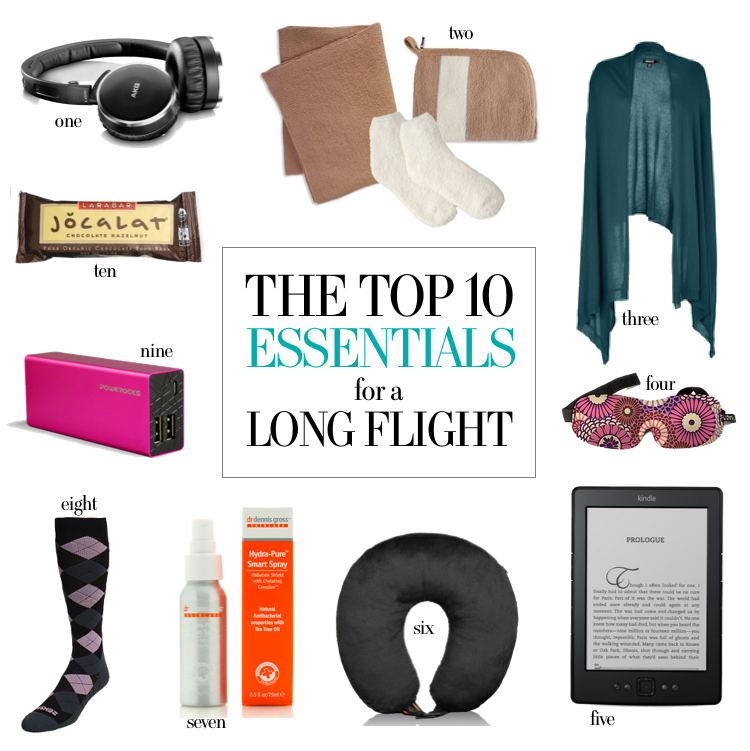 My husband and I are jetting off to Thailand on Thursday.  In my true OCD nature, I've already begun to pack.
We have a brutal travel schedule ahead – a 14-hour flight to Tokyo, followed by a 7-hour flight to Bangkok.
Surviving 20+ hours of travel requires a few aides.  Like these.  (Booze & Ambien not shown – nor recommended, if you can avoid them!)
1. Noise-canceling headphones drown out crying babies & loud passengers.  These also can be charged via USB, have tangle-resistant cords, and come with their own carrying case. You can never beat Bose, though.
2. A luxurious travel blanket and eyemask gives your economy seat a touch of first class. (I also love this eyemask and cashmere travel wrap)  Tip – unless it comes packaged in plastic, do not use the airline-provided blankets.  They are the biggest germ-spreaders.
3. A DKNY Cozy upgrades the style quotient of the most simple of travel outfits, and keeps you blissfully comfortable even in hour 10 of a flight. This Cuyana cape is also a great option and incredibly warm.
4. Block light and prevent smushed eyelashes with this raised eye mask.
5. Catch up on all the books you meant to read this year in this Kindle – perfect when the movie selections are less than stellar.  Tip – click here for book recommendations.
6. The best neck pillow.  Ever.
7. Spritz this spray on your face and neck, early and often, to keep your skin hydrated and happy.
8. Keep swollen ankles at bay with compression socks – a cheery argyle pair, that is.
9. Prevent dead batteries with this lifesaving gadget.  Frankly, it should be a permanent fixture in every work bag and purse.
10. Airplane food has nothing on these delicious snacks.  Tip – eat a hearty meal at the airport, and bring a bottle of water.  No caffeine or booze while traveling.  In-flight hangovers are exponentially worse than those at sea level.
Not shown:
Anti-bacterial towelettes to wipe down your bag and laptop (after security) and arm rest/tray table.  A heavy-duty bag to carry all the essentials.  A travel wallet, filled with confirmation printouts and local currency.  These mini-toothbrushes are a lifesaver.
What do you pack for painfully long flights?  Please share in the comments – I'd love to know!