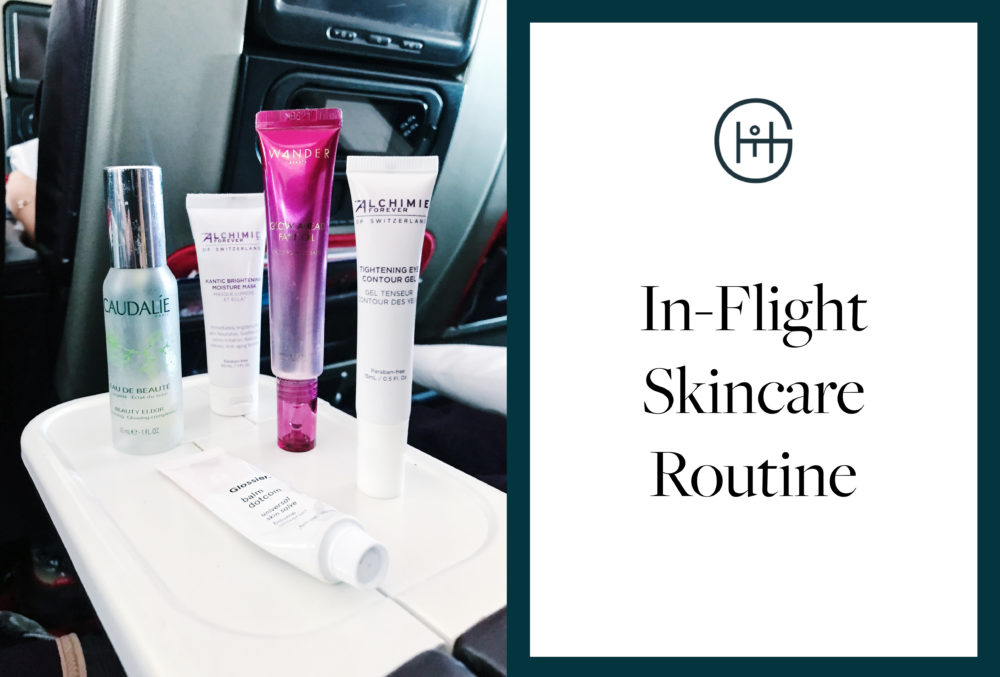 There's a lot out of your control when you're flying.
Delays happen at the most inconvenient times. The line at Shake Shack in JFK is far too long. The power outlets in your gate are all being used. The person sitting next to you won't stop chatting. Someone on the flight brought a tuna fish sandwich for a snack.
All of these things are why I'm militant about how I pack and travel.
I begin packing a week in advance, which lets me fully relax and rest the night before a flight. I always pack in a carry-on, so I'm not spending any extra time in the airport. I have a fully charged power bank, extensive snacks, Bose noise-cancelling headphones, and a Kindle loaded with books on hand at every time. I splurge for Comfort Class or Economy Plus so I can board early.
And I always, always, always do this skincare routine on the flight.
The routine itself isn't revolutionary in any way. It involves a lot of spritzing, layering of skincare products, and reapplication. It leaves me looking relatively fresh-faced after a flight, which is always a perk.
The magic in this routine is how it makes me feel.
It gives me a semblance of control, which is a rarity when flying. The process of spritzing and massaging product into my skin is relaxing.
It's deeply calming – even with the weird looks directed at me as I go through the whole routine.
And calm is something we can all use more of when we fly.
I've been a devoted practitioner of in-flight skincare since the early days of this blog. While the products have changed, the routine itself hasn't.
This is how I take care of my skin – and my soul – when flying.
I go to the airport bare-faced, with my most hydrating products (hyaluronic acid boosting serum and face cream, rich eye cream, and finished with face oil) applied before I left home. Once we've taken off and are at 35,000 feet, I like to cleanse with one of these towelettes (or a hot towel, if I've been upgraded) and start with a clean slate.
First comes a generous spritz of Caudalíe face mist, followed my a generous dab of Alchimie Forever's Tightening Eye Contour Gel under my eyes. I mix Alchimie's Kantic Brightening Moisture Mask with a few drops of Wander Beauty's Glow Ahead face oil, and massage it into my skin for a couple of minutes, sweeping my fingers in an upward motion and finishing with a gentle tapping of my fingers across my face. I dab Glossier's balm on my lips and my cuticles, and settle in with my Kindle.
When my skin starts to feel dry (every couple of hours or so), I refresh my face with a spritz or two of Caudalíe spray. I dab 4-5 drops of Wander's face oil on my face, and lightly massage it into my skin, followed by more Glossier balm on my lips.
Spritz, oil, massage, dab, and read/sleep. Drink a ton of water. Repeat every couple of hours.
When we're about to start descending, I cleanse my face again with another towelette and Caudalíe spritz. From my main toiletry bag (which is always in my backpack), I apply serum and my usual face cream. If we're landing during the day, I'll finish with Supergoop's eye and face sunscreen. If we're arriving at night, I dab on the Alchimie eye cream and Wander face oil I'd been using on the flight.
I deplane feeling alright. My face feels hydrated and healthy. I'm as calm as you can be, depending on the flight. And while I'd kill for a shower and a burger, I'm ready to tackle whatever's next.
How I combine skincare and self-cafe at home, what's in my toiletry bag, and how I pack my toiletries. 
I share travel posts on Thursdays. You can find (and filter!) them all here.