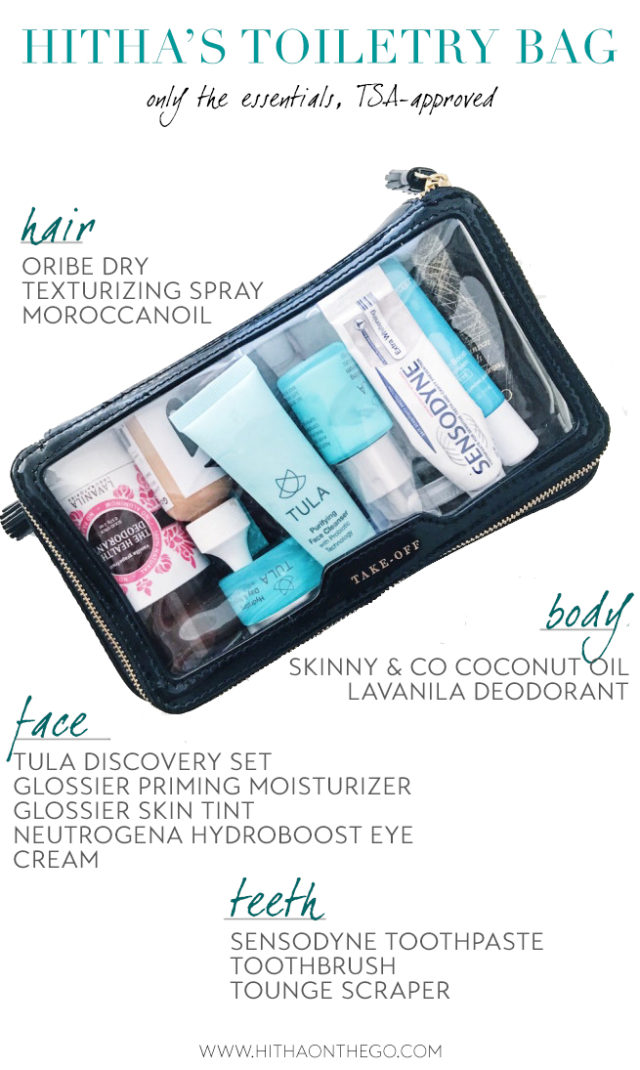 "Ma'am, des eeez too much. You must repack in des," she said, waving a standard sandwich baggie.
"Okay." I replied. I got it – security is naturally tighter in Paris, and CDG was no exception.
"Ma'am – des all will not fit," she admonished.
"Please, just let me try."
My deodorant and contact lens solution (medical essential) were transferred to my non-liquids bag. My facial serum and moisturizer were nearly finished, so I quickly tossed them.
Everything else? It was snug, but they all fit and the bag zipped up.
Under the glare of the French security agent, I packed up the remainder of my belongings and headed to the gate. With a little smirk on my face.
It was one of those rare happy traveler moments. And one I had to share with you, for your own carry-on adventures this summer.
I'm far from a minimalist in certain areas of my life (books, shoes, bags, kitchen appliances). But when it comes to toiletries, I can easily pack my products to meet the strict TSA (and international) requirements.
I've talked about some of my tried-and-true rules before – pre-pack your toiletries, make liquidless swaps when possible, use coconut oil for basically everything.
And you can snag my toiletries cheat sheet here. *wink wink, nudge nudge*
Instead, I'm just going to share the travel toiletries I've been using religiously for the past year or so. In different climates and in varying stress levels, they have me looking and feeling great no matter where I am.
BAG: ANYA HINDMARCH INFLIGHT BAGÂ (total splurge. Totally worth it)
What are your go-to toiletries, especially for the summer?
It's rude not to share, so leave a comment below ;)