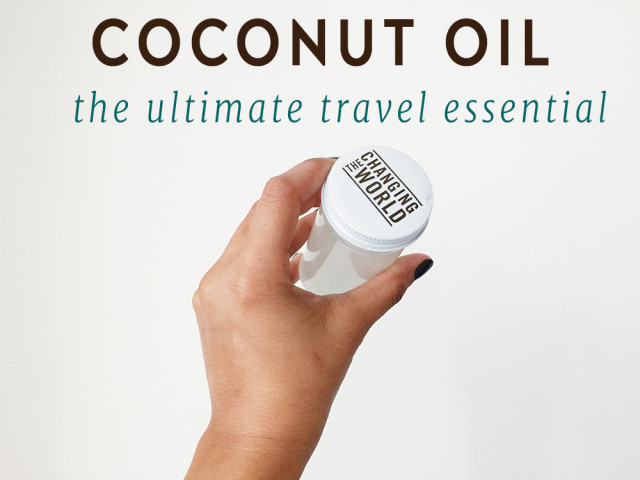 Coconut oil has become the oil of the moment. From the oil pulling craze that went around last year to its prominance in healthier baked goods, it's been having a moment.
For me – it's as much a part of my childhood as my obsession with My Little Pony, the A-Team (strange, but true), and strawberry-flavored EVERYTHING.
Ask any Indian woman what the secret to her thick, shiny hair is. The answer – weekly vigorous head massages with this liquid magic, spending hours (sometimes a day or two) wandering around with a greasy head, ending with the most painful hair washing experience ever.
At least, that was my weekend ritual as a kid. I hated it then, but I'm so grateful for it now. Thanks mom!
Coconut oil is one of those miracle products with benefits for every aspect of your life – your health, your appearance, and even your love life. It makes for the perfect toiletry for travel as well.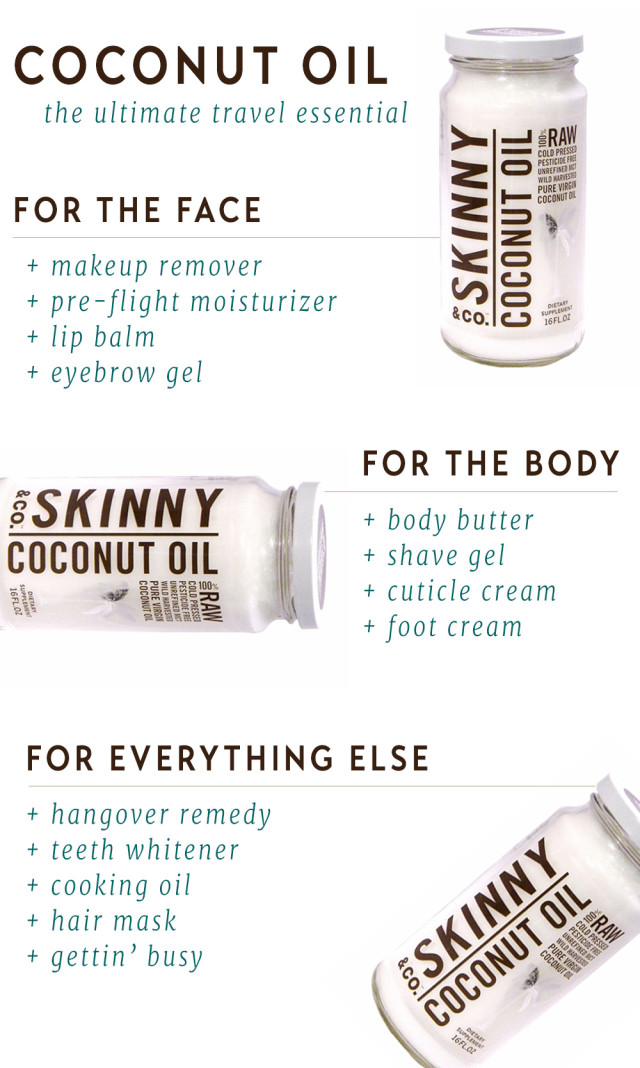 FOR THE FACE
My everyday beauty ritual (at home and on the go) is to massage coconut oil all over my face to remove my makeup. Not only do the fats of the coconut oil bind to all the makeup, it also leaves the delicate skin under my eyes moisturized in the process. I also slather coconut oil all over my face before a flight. The rich fats in the oil create a protective barrier between my face and the awful airplane air. Coconut oil is also a part of my makeup routine – I apply it on my lips before I start my makeup routine, and tame my brows after filling them.
FOR THE BODY
This product is a powerhouse for your body. It makes for the BEST body cream (and leaves you smelling delicious). I also use coconut oil as my shave gel (especially on tropical vacations) and cuticle cream and foot cream (especially for cold weather trips). Want to tame hair frizz and flyaways? Coconut oil to the rescue.
FOR EVERYTHING ELSE
Want to cure that hangover and get whiter teeth in the process? That's what oil pulling (swishing a glob of coconut oil for 20 minutes) promised. I do recommend an oil pulling session before an overnight flight – the oil leaves behind a layer of fat that helps prevent dry mouth. Obviously, coconut oil can be used in a kitchen. If you want to whip up a healthy salad dressing, whisk coconut oil, lemon juice, salt and pepper (and Tabasco!) in a paper cup with a fork to add flavor and healthy fats to a limp airport salad. You can do like my mother did and massage coconut oil in your hair before washing. Bonus points if you leave it on for hours or during a workout – the sweat from your scalp aids in the oil absorption.
SO, WHY SKINNY & CO. COCONUT OIL?
Here's the deal – ANY cold-pressed, raw, organic coconut oil works, and there are many brands available. I recommend using a small jar or clean prescription bottle to pack the oil for travel (those plastic squeeze bottles are relatively useless when the oil is solidified). I love (and use) Skinny & Company for a number of reasons – because they meet all of these requirements, that I can find it on Amazon, their gorgeous branding, AND for the fact that they have a travel-sized jar.
Whatever the brand, make sure you leave room for the 3 fluid ounce jar. You'll thank me for it later.