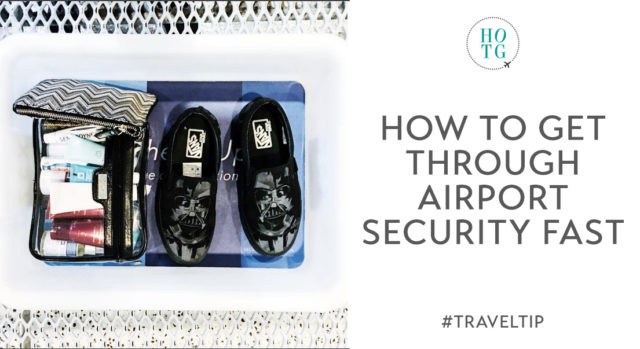 Confession – I've become a bit rusty at traveling.
Packing, I can still do in my sleep. But traveling? I've made a few missteps here and there.
Most frequently, in airport security. But it's not all my fault.
Security lines keep getting longer, with summer travel and fewer TSA agents at the helm. Having been so used to TSA PreCheck, I've been that person to have her suitcase opened, items removed and rescreened, while holding up the rest of the line (and with the doors about to close on my flight). I've even had to throw away a toiletry or two (thankfully, nearly empty ones).
I admit – some of this is entirely my fault. But most is out of my control, and is sadly the new normal.
Thus, an update to this post was much needed. And now, delivered. 6 tips on how to get through airport security fast (in 2016).
At home…
Pack your bag properly
You should always pack the items you'll need to remove for security (liquids bag, laptop, boarding pass, identification) LAST. You'll be able to find them, place them in their specific bins, and push them through the x-ray scanner faster than posting a puppy-faced Snapchat.
Give yourself extra time
Here's the bad news – lines are longer and slower, with cuts to TSA agents all across the country. Even if you have TSA PreCheck, even if you're traveling through a smaller airport (where they tend to be more strict about the rules), give yourself an extra 30-45 minutes just to get through security. It's not a good look to be crying while your bag is screened for a third time (and you have 5 minutes to get to your gate before the doors close).
At the airport…
Skip TSA PreCheck, depending on the lines
There have been a number of times in Newark where there were NO lines in regular security, but the TSA line snaked around the C-3 checkpoint. As long as everything is packed properly (tip #1) and you've donned slip on shoes, it may be faster to go through the whole remove-lliquids-laptops-and-shoes song and dance instead of waiting and keeping your kicks on.
Bear this in mind for international travel, if you're carrying on. In Europe (and Paris, especially), all of your liquid products MUST fit inside a flat Ziploc baggie. While medical-related items are exempt (like contact lens solution), everything else has to be squeezed into the teeny-tiny bag. Either plan to check in your suitcase or repack your liquids into the quart-sized Ziploc before you even reach the airport.
Unpack while you're in line
You'll likely have some time to kill while waiting in line. Go ahead and catch up on your Instagram feed and the latest blogs, but have your boarding pass and ID in hand by the time you reach the first agent. Once you pass him, start grabbing your laptop and liquids bag and begin easing your feet out of your shoes. Dump everything in one bin, and grab that one and the one below it. Immediately place them side-by-side and unload the essentials into them accordingly (laptop in one, liquids and other essentials in the other).
Repack outside of the line
Once you and your items have been screened, grab your bins on a nearby bench and repack accordingly. Do NOT repack your bag as your items make their way down the conveyor belt. You hold up the line and piss off the other travelers who are just trying to make their way to their trips.
And if there's only one tip you follow, make it THIS one. Please. Pretty please.
Keep calm. Always carry on. And safe travels this summer!
Got a failproof tip for breezing through security? COMMENT below and let me know!