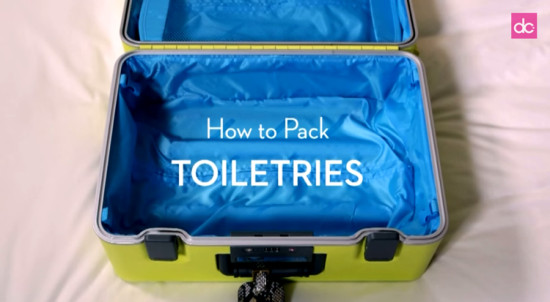 For beauty junkies and people with fussy skin or hair, packing toiletries ranks up with bikini waxes and dentist appointments as things they most dread.
Their words, not mine.
Selecting your toiletries.  Start with the items you use multiple times a day, and then once a day.  PACK THEM.  What do you use every few days, or weekly?  Depending on the length of your trip, pack them or leave them.  Next – divide what's actually a liquid vs. what isn't.  "Solids" like deodorant, makeup sticks, and super thick balms qualify as solids and don't need to fit in that tiny quart-sized bag.
The right size. Â If you're reading this a week or so before your trip, invest in your go-to products in TSA-approved sizes. Â 3FLOZ, Sephora, and Birchbox are great online (or in-person) destinations that you can snag your preferred products. Â For your go-to toiletries that aren't available in travel-friendly sizes, GoToobs are the BEST travel bottles. Â I also love this FLIGHT001 bottle kit, which a wide variety of sizes and comes in the perfect bag. Â In a major pinch? Â Use contact lens cases to pack small amounts of liquids – either daily amounts, or to pack liquids you use small amounts of (hair serum, eye cream, etc).
The right kit.  While Ziploc bags are convenient, they can be a pest when packing your toiletries.  They break, are limited in space, and are just ugly.  Investing in a roomy, beautiful toiletry bag is a much better way to go.  I have both the Hudson+Bleecker Voyager and the Stephanie Johnson ML Traveler and sing their praises – they include a gusseted quart-sized bag in durable plastic, tons of smaller pouches, and fit even the biggest beauty junkie's toiletry collection.  My kit is always pre-packed, which makes packing and unpacking a breeze.
Where they go.  My liquids bag always goes in my personal item, and always near the top.  Easy to find for security screening and for an impromptu in-flight use.  The non-liquid toiletries go in my suitcase.
You can find more of my toiletries packing advice here and here, and in the video below.