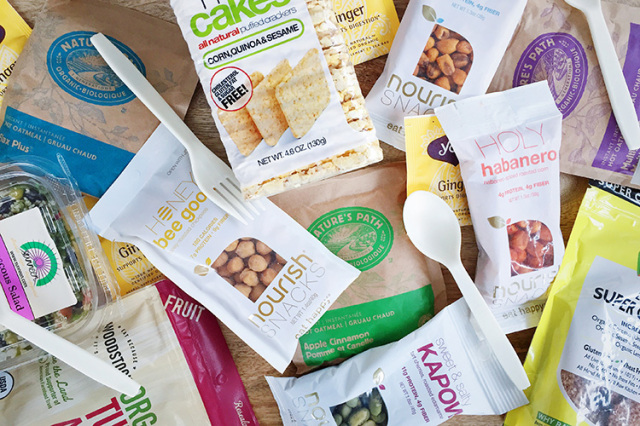 Crisp white tablecloths. Gleaming silverware. White china. Petite stemware.
Unless you're lucky to be sitting in the first few rows of an airplane, this is not your dining experience when flying. (And even if it is, the presentation is usually better than the food. Blergh.)
Airplane food is pretty inedible. Airports can be hit or miss when it comes to dining options. What's a traveler to do?
I'm a pretty terrible person to be around if I'm hungry or tired. When I'm suffering from both (and further compounded with body aches), it's not pretty. To spare my poor husband and anyone else I'm traveling with, I'm big on packing two food bags – one for my personal item, and one in my suitcase.
Why two bags? So I can tame the hunger monster while en route and at my destination.
For my in-flight food bag, I pack a two small meals (four if I'm traveling with my husband) and several snacks, depending on our total travel time.
Opt for food that can be at room temperature for at least 6 hours. I swear by cut vegetables, turkey slices, hard cheese, or fruit (clementines are my favorite) for in-flight meals. I stay away from bread and salty foods while traveling, as they make me feel bloated and sluggish.
Avoid peanuts and peanut products – you never know when you're sitting by someone highly allergic. No one wants to be the reason a flight had to make an emergency landing.
Consider your trip when packing up your in-flight meals. If you're headed straight for a hotel , I recommend using plastic bags and containers that can be tossed/recycled for storing your food. If you're staying at a home or apartment rental and have access to more food and washing facilities, consider a bento box or reusable containers – you can wash and refill them for your return trip home.
Bring your own disposable cutlery – you never know who washes their hands in an airport food court. More healthy travel tips here!
Include a sanitizing wipe in your food bag. Wipe down your armrests, tray table, and the latch of the table before touching them. You will thank me for this later.
Always pack two extra snacks – baggies of dried fruit or carrot sticks, protein bars, or Nourish Snacks. You may not need them, but you'll be glad you have them in the event of delays, traffic, or random pregnancy hunger strikes *raises hand*
I never leave home without a substantive amount of snacks and miniature meals, all non-perishable in my suitcase food bag. Breakfast overpriced or just look gross? Got a case of the late night munchies? Need a protein boost after a workout? You'll be eternally grateful for this extra bag of food.
Pack foods you won't mind eating for multiple meals. For me, that means oatmeal, nut butter packets, more Nourish snacks, almonds, rice cakes, and Haribo gummi bears. I also keep more tea bags, green juice packets, EBOOST (great when the water doesn't taste good) packed in here – usually a week's supply.
I'll also keep my vitamin box packed in this bag -Â easy to find in case of emergencies. *cough*HANGOVER*cough*
Replenish this bag when you return home from your trip (as well as your vitamin box!), and pop it back in your suitcase before putting it away. It's one less item you have to remember to pack come travel time.
Bring along spare Ziploc bags so you can consolidate snacks and keep your food bag as small as possible.
Other Tips
Felicia wrote an excellent post on what she packs in her food bag when she travels.
Airport and hotel lounges are great places to grab snacks and water.
Starbucks is as healthy as they come when it comes to airport dining. Request a venti water (at most, they'll charge you $1) with a meal and drink to hydrate on the cheap.
These airplane picnics offer some great ideas on what to eat 30,000 feet in the air.
If you read one link, read this one. The Food Babe put together the most comprehensive guide of great travel food I've come across.
Get 10% off your Nourish Snacks order with code ONTHEGO, good through the end of the year! I swear by Holy Habanero, and my husband and I fight over Monkey Love.
How do you stay healthy when you're traveling? Any great food recommendations? COMMENT below and let me know!
This post was sponsored by Nourish Snacks. I was gifted snacks and compensated for this post. but all opinions are my own. I love Nourish and have been a loyal customer since they launched! Their Mr. Pop-u-lar and Holy Habanero saved me during a 3 hour flight delay in Austin. True story.