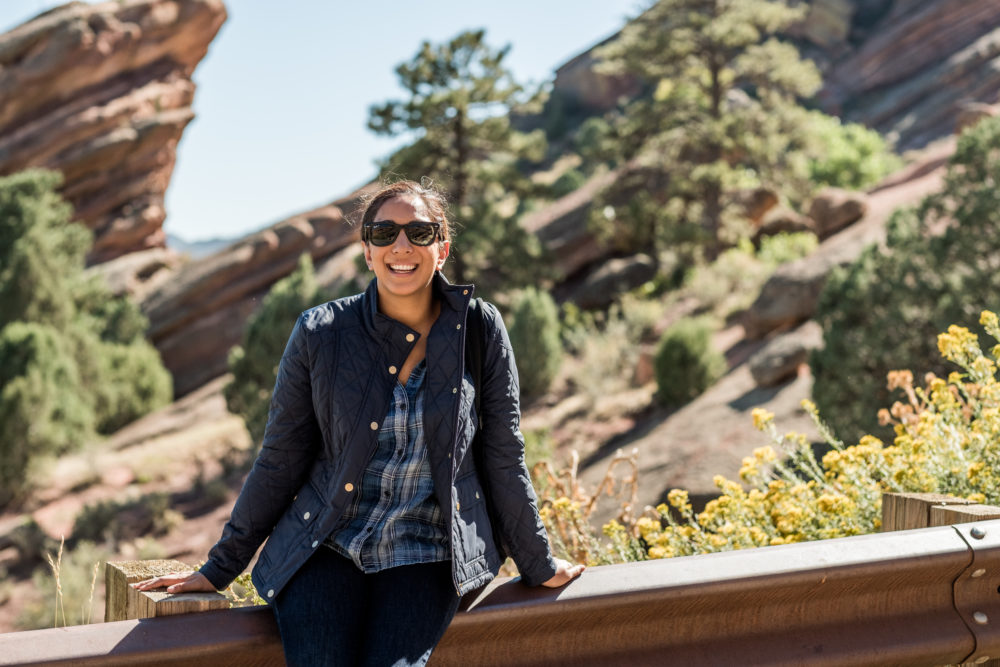 I had the best time in Colorado last month.
I can't pinpoint to one experience, meal, or conversation that made the trip. Rather, it was the combination of all three that left me with a full heart – and a fuller belly.
This travel diary combines recommendations from this trip and my longtime favorites (I spent most of my high school years outside of Boulder).
Regardless of the season, Colorado is a perfect place for a vacation. Here's everything you need to know.
Denver
I admittedly didn't spend a ton of time in Denver growing up – we hung around Boulder, visited my aunt and uncle in Aurora, or went to the mountains. Denver's main attraction some 17 years ago was the 16th Street Mall.
Oh, how far we have come.
The city is filled with incredible restaurants, a booming brewery and distillery culture, and boutique properties. Here's what I recommend checking out.
Stay
Gorgeous decor. Outstanding cocktails. Double sinks in the bathrooms and a chair swing in the rooms.
This hotel is just cool. Really, really cool.
Located in the heart of Ri-No (River North), The Maven is the perfect place to stay in Denver. It's close to everything you could need – great restaurants, Union Station to get in and out of the city, and even the Rockies stadium.
The rooms are spacious and well-appointed. The beds are very comfortable, the bathrooms are spacious, and I liked the standing desk behind the bed to get a little bit of work done (while on my feet).
There are all sorts of thoughtful touches in The Maven – water bottle filling stations by every elevator (as well as filled bottles on hand in the front desk and valet), an Airstream in the lobby that serves complimentary coffee and tea, and friendly service.
I'll definitely be staying here again.
Eat
I have a soft spot in my heart for food halls. Gotham West Market completely changed my old neighborhood (Hell's Kitchen), and I love that I can get a little bit of everything to make up my own weird, wonderful meal.
I felt the same way about Central Market.
Not only is it home to some of Denver's best restaurants (Vero for pizza, High Point for ice-cream, SK Provisions for burgers and sandwiches), but it also acts as a proper market for Ri-No residents. Fresh fish is flown in daily from Japan and sold at Silva's, and Colorado meats are sold at The Local Butcher. Given that there isn't a grocery store in this neighborhood, it's a boon to the community.
Plus, it's absolutely beautiful – airy, tons of natural lights, and plenty of places to sit and enjoy a snack or a meal.
Classic Italian cuisine, meet fresh Colorado produce and meat.
Throw in an absolutely joyful sommelier, and you have Il Posto.
I can't recommend anything specifically, given that the menu changes every day (seriously!). But you can't go wrong with the day's risotto (and you know how I feel about risotto) and stalk their Instagram for a peek at what they're serving.
You can't go wrong. It's all delicious.
Snooze takes brunch to a level I've never experienced.
And brunch is my favorite meal.
Tucked inside Union Station, this cafe serves up any breakfast you're craving.
Want eggs? However you like.
Pancakes? Order a flight.
Being the potato head that I am, I went for the Spuds Deluxe Рa heaping bowl of crispy hash browns, perfectly poached eggs, black beans, and fresh jalape̱os that made my heart and stomach so happy.
The pancake flight is another dish not to be missed, nor is the breakfast burrito.
You can't go wrong at Snooze's.
Salad is the last thing I look for on a menu. Ever.
But I would eat Mercantile's Colorado Quinoa Salad all day long.
Served in their market (an ideal spot to grab sandwiches and salads for a quick lunch), you can get a taste of Alex Seidel's vision.
If you like what you taste, head on back for dinner. Their homemade pastas are outstanding, as are the fresh meats.
(And ask nicely if they can whip up the quinoa salad for you. Those polenta croutons are just heavenly).
Drink
I had no clue that wine was grown and made in Colorado. Thanks to this place, it is – and it's damn good.
The Infinite Monkey Theorem is such a gem – a winery smack dab in Denver, that focuses on just one thing.
Making really, really good wine.
There's a playfulness with IMT that you don't get with other wineries – their irreverent name, the cheeky packaging and branding, and their very chill (but knowledgable!) staff.
It's a little out of the way, but totally worth a visit. The cabernet franc was my favorite (I even ordered a case to be shipped back to New York, which they sent along with the jacket I left behind).
Do
Whether you're venturing out of Denver or just want a place to escape the weather (which will change in another 5 minutes, trust), Union Station is the ideal place to seek refuge.
Even though the station is over 100 years old, I never visited it when I lived in CO. The renovation was completed in 2014, and it's since become a transportation and cultural hub in the city. Two aforementioned restaurants (Snooze and Mercantile) are in the Station, as is Tattered Cover Books and Green Boxes (a really cute gift shop).
I recommend hopping on a bus to Lafayette (my old hometown!) and explore Old Town. Walk around and take in the murals, taste some craft brews (Liquid Mechanics and Odd13 are awesome), and finish the day with dinner at Efrain's. To this date, I've never had better cheese enchiladas.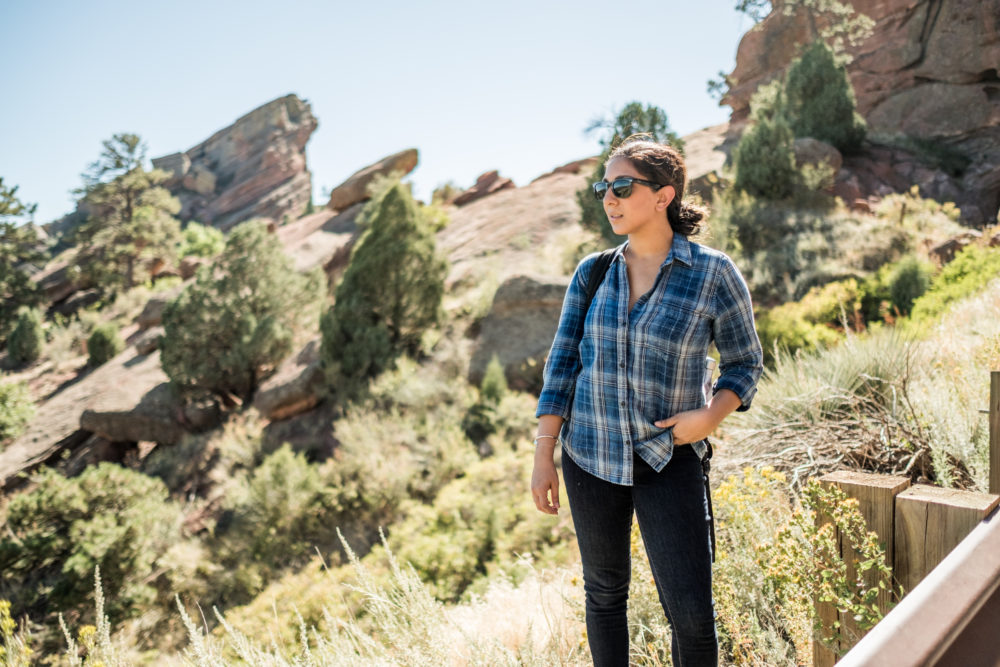 It's worth planning a trip to Denver just to see your favorite artist or band perform at Red Rocks.
Trust me.
It's also worth the drive for morning yoga or for a movie night.
Or if you just want to get out in nature, but don't have the time to drive up to the mountains.
The amphitheater and park gets its name from the red rocks surrounding it, and it's truly beautiful. Even though it's just a quick drive from downtown Denver (about 30 minutes), it feels like a world away.
Literally. I feel like many a new planet from Star Trek was inspired by Red Rocks.
At least, that's what I tell myself.
Make the trip, and don't forget to pack plenty of water.
Breckenridge
Most of our trip had us in Breckenridge, my favorite mountain town in Colorado (and second only to Whistler).
I love this town.
The people are kind, the food is great, and their lift tickets have arguably the best value – tons of lifts and trails on 5 different peaks.
I've been here in both the summer and winter, but this trip was my first time coming up in the fall. Here are my picks for a fall stay in Breck.
Stay
One Ski Hill is the perfect place to stay in Breck – massive rooms, great location on the base of Peak 8, and little touches that make your stay just a little bit easier.
My room was larger than my first two NYC apartments – put together. I relaxed next to the fireplace, did a necessary load of laundry (thanks to hiking and horseback riding), and thoroughly enjoyed the soaking tub and steam shower every evening I was there.
I can't comment on the food, but the fact that each room has its own kitchen means you can escape the typical hotel food and enjoy your own favorites.
The incredible ski location of One Ski Hill puts it a little bit out of town, which is fixed with both the BreckConnect gondola and the hotel's complimentary shuttle.
Eat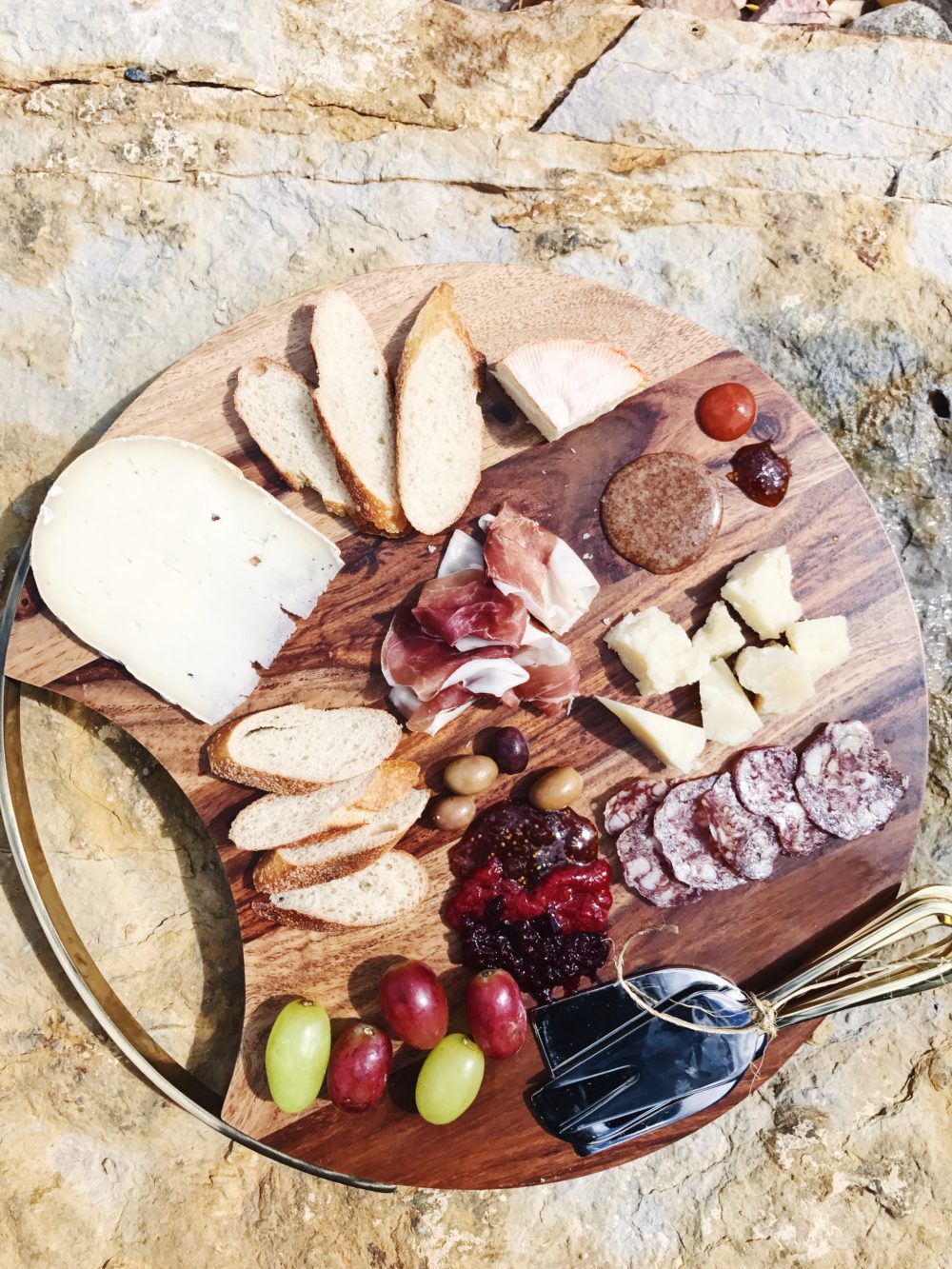 Columbine Cafe
I'm a sucker for all-day breakfast, and was starving after a hike.
Biscuits and gray was exactly what I wanted, and they were PERFECT at this classic diner in the heart of Breckenridge.
This casual spot offers massive breakfasts in a casual, chill setting. There was so much more I wanted to try (the breakfast burrito, the pork green chili, pancakes).
Go there hungry.
The Cheese Shop of Breckenridge
One of our lunches in Breck was making cheese plates with the help of this shop.
And it was one of the best meals of the trip (which is saying something).
The locally made (or nearby sourced) cheeses and meats are outstanding, as is the expertise from the staff. Pop in for a tasting and put together some with a sandwich or two for a picnic outside.
Drink
The food here is good.
But you don't come to a distillery for the food. C'mon.
Breckenridge Distillery gave us the red carpet treatment – a full tour of the facility, a liquor and chocolate tasting, cocktail mixing, and dinner in the tasting room.
I'm admittedly not a huge liquor fan, but the chili vodka, the spiced rum, and the bourbon was absolutely delicious.
Indulge while you're here. Just don't forget to drink water. A lot of water.
Our plans for a sunset hike and photo session with John Fielder were nixed due to snow, so we did the next best thing.
We drank. And John gave us a presentation of his incredible photography over said drinks.
The Baker's Brewery is in the neighboring Silverado, but it's worth the visit. Everything is brewed onsite, and is absolutely delicious. We didn't order any food (given that Tieghan was making us dinner), but the drinks were a great way to start our evening.
Do
There's only so much you can see on a hike. And chances are you'll experience less, given how many pictures and videos you're taking.
The same can't be said for horseback riding.
Riding in the mountains is a priceless experience. You get to see the mountains in a way you never would, and help support animals that have been rescued.
We all had a great time – from experienced riders to those who had never mounted a horse before.
It was awesome. But bring gloves – just in case.
This was the Colorado experience generously planned for us by the state's tourism board. All opinions are my own. 
What to pack for a fall trip to Colorado, and the perfect long weekends in Charleston, Vancouver, and upstate New York.
image credits:
2 // 3 // 4Â // 5 // 6 // 7 // 8 // 10 // 11 // 12 // 13 // 15 //
1 // 9 by Nathan in Denver for Flytographer
14 by Hitha Palepu