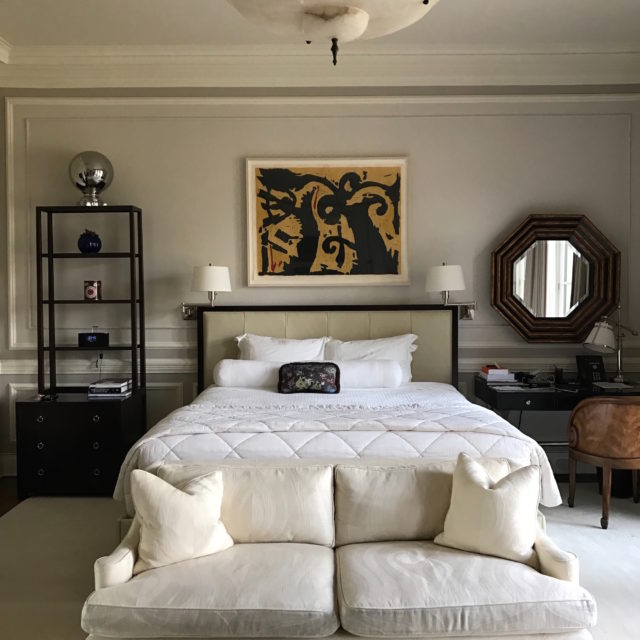 This trip was not at all sponsored, nor did we receive a press rate. It was such an incredible weekend that I felt the need to share it with you, in case you're looking for the perfect 2 day escape close to New York City. 
"I want to get away," I told my husband, last month.
"Okay…"
"And I don't want to plan it. And I don't want to get on an airplane."
"But honey, I…"
"Why don't you call Dolev?"
Thank goodness for husbands who are saints. Also, thank goodness for good friends who happen to be rockstar travel planners.
After kissing Rho and saying goodbye to our parents, we hopped in the car last Friday and began the drive out of the city. I knew nothing – only that the destination was northwest of the city, and about an hour drive away.
An hour and half later, we drove up a dark, winding drive and pulled in front of a stunning house.
Mansion, really.
"Welcome to Glenmere Mansion, Mr. and Mrs. Narasimhan."
Our car was swiftly parked and our bags brought in as we checked in. Within a few minutes, we were ushered into our room.
Calling it a room may be a disservice.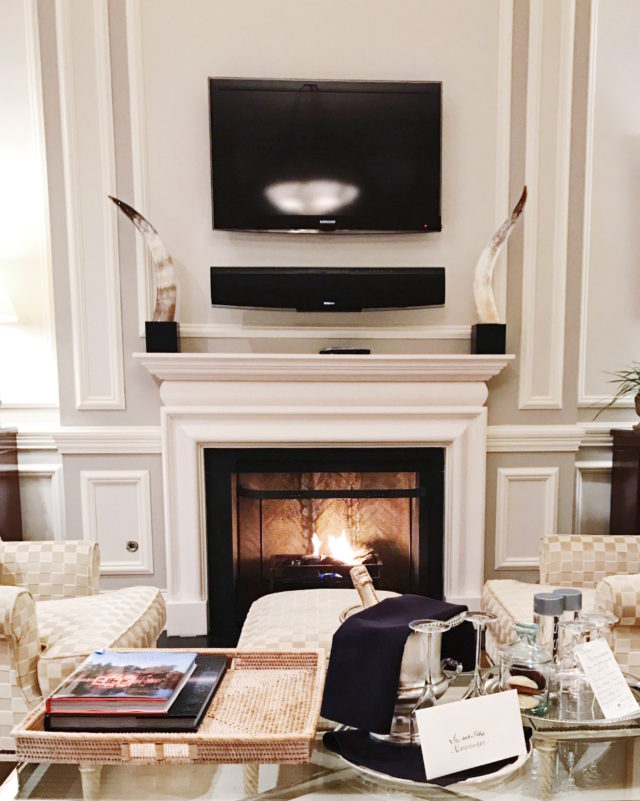 I zoned out as the butler showed us how to turn on the fireplace and pointed out the heated bathroom floors and steam shower. All I wanted, respectfully, was for him to leave so I could get into the plush robe, open the champagne that was chilling on the coffee table, and curl up next to the fire.
And order dinner. I now realized why Sri ignored my pleas to stop at Taco Bell during our drive up.
Our dinner arrived quickly – just moments after we changed pajamas and robes, unpacked our bags, and turned on the fireplace. In addition to our dinner (ravioli for him, cauliflower flatbread pizza for me, and a cheese plate to share), our waiter brought up two complimentary bellinis to enjoy.
Don't mind if I do. 
After FaceTiming our parents for one last glimpse of Rho, we put away our phones and tucked into our dinner. We were admittedly silent for the first 10 minutes, thoroughly enjoying our meals. Satiated, we talked – about our weeks, upcoming projects, the news (we can't help it), and about all the upcoming things we're looking forward to.
And Rho, of course. We can't go 10 minutes without talking about him.
With dinner eaten and our bellinis and champagne drunk, we settled in to watch the latest episode of The Expanse. And we promptly fell asleep, in one of the most comfortable beds ever.
I think it was only 10 p.m.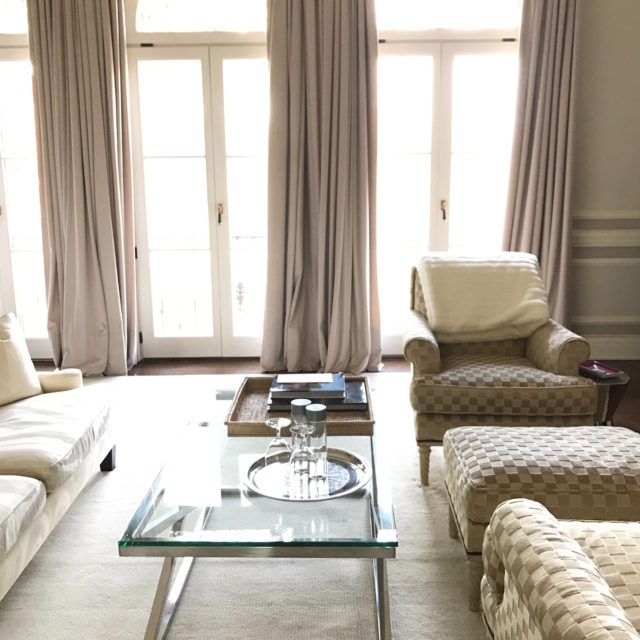 The room was pitch dark when I woke up the next day, feeling totally refreshed.
A peek behind the blackout curtains revealed a sunny day – and a warm one.
We quickly got ready (though I lingered in the steam shower, which helped relieve the lingering congestion from my cold) and headed downstairs for breakfast. We passed through the library (filled with board games and beautiful hardcover books) and into the main dining room, where we took a table by the window and promptly ordered. With my Earl Grey tea (lemon, no cream or sugar) came out a basket of warm, fluffy breads and softened butter. I (daintily) tore apart a freshly baked corn muffins and slathered it with butter.
SO. GOOD.
My scrambled eggs and breakfast potatoes were served shortly after, along with both Tabasco and Sriracha sauces. The eggs were cooked to perfection – fluffy, light, and the requested goat cheese perfectly melted inside. The potatoes were crisp on the outside, mealy on the inside, and seasoned so well. We were silent for most of breakfast as we ate, marveling at the food and the beautiful rolling hills and lake outside the window.
After we ate, we went back to the room to grab our sunglasses and headed back outside. After a quick chat with the gentleman manning the door, we headed down the driveway and on the path he recommended we take for an easy, 2 mile walk.
It was, well, perfect. The sun was shining, the weather was warm (no jackets needed), and we had the luxury of just walking – no stroller, no running after Rho, no rushing home to get him fed. A small herd of deer ran by us the second we said "Toto, we're not in Manhattan anymore."
I could get behind this whole great outdoors thing.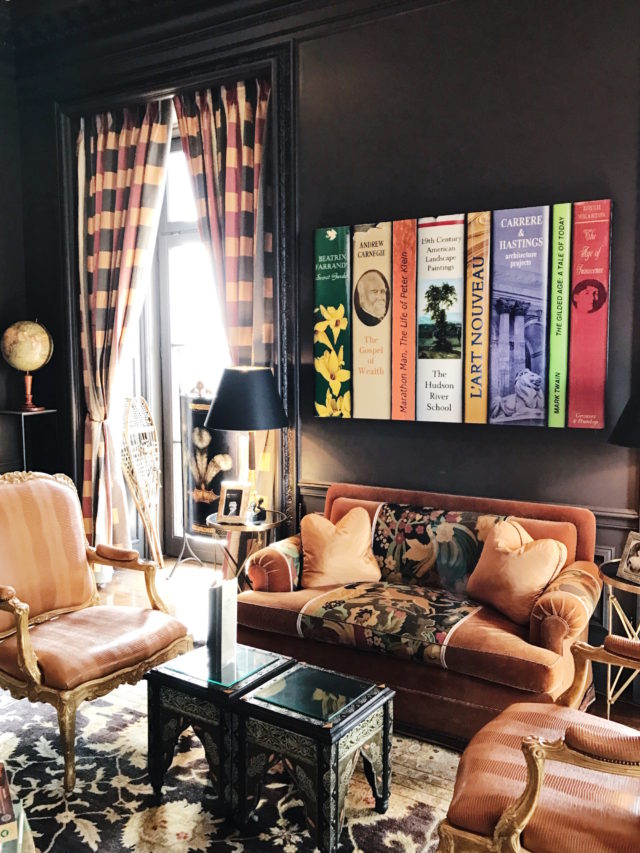 We settled in the library after we returned, me reading this book and my husband playing his Nintendo 3DS. We ventured into Frogs End (the cozy tavern onsite) for lunch. The French Onion soup (completely vegetarian) was one of the best I've ever had, which followed my starter of oysters and a glass (okay, two) of Schramsberg's sparkling rosé.
After a quick nap and a change into robes and slippers, we made our way to the spa for massages.
I promptly fell asleep again, and woke up only when the therapist gently patted my shoulder to mark the end of the session.
After enjoying a cup of tea in the spa's relaxation library, we made our way back to the room to get ready for dinner (him in a button down and slacks, and me in my favorite sweater dress and ankle boots). We headed downstairs early to the hotel's living room – a beautifully appointed room with couches, small tables flanked by armchairs, and cocktail menus propped up around the room.
A waiter comes over seconds after we sit down. "What would you like to order?"
I settle on the Sparkletini (which was incredible, despite its My Little Pony-sounding name). I was so into my own drink that I ignored whatever my husband had ordered. As we sipped our cocktails, we strike up a conversation with one of the property's owners, Alan. He regales us of his stories about the property, his last career in PR, and tempts us to extend our stay so we could enjoy the Hammam treatment in the spa. We make a deal – if we have a boy next and name him Alan, he'll rename the Sparkletini "the Hitha."
It may be a fair trade. We don't have any more boy names.
He guides us into the dining room and seats us side-by-side at a banquette next to the fireplace. I order the cauliflower soup, the salmon, and another Sparkletini. My husband opts for the beets and the pasta. We continue to talk about Rho and everything not related to home or calendar logistics.
And of course, we're dead silent when each course arrives. The food is just so, so good.
As I glanced around the room, I notice that the guests fall into two categories – youngish couples (many being newish parents, according to Alan), and older couples in groups of four or six. The younger couples are ushered in as we finish our dessert – we clearly didn't get the memo about the second seating being for the younger couples.
No matter. I prefer the early bird special.
After one more breakfast on the property (I go for a cappuccino and the pancakes this time), we get our bags from our room, check out, and head out to our car. The kind butler pulls our car to the front and hands us a small bag (filled with water bottles and some cookies for the ride home) and bids us farewell.
I was a little sad to leave the Glenmere Mansion. But we'll be back.
Honey, you did well. VERY well.
WHAT I PACKED
Planning a weekend getaway yourself? Here's what we did in Napa, Vancouver, and Charleston.