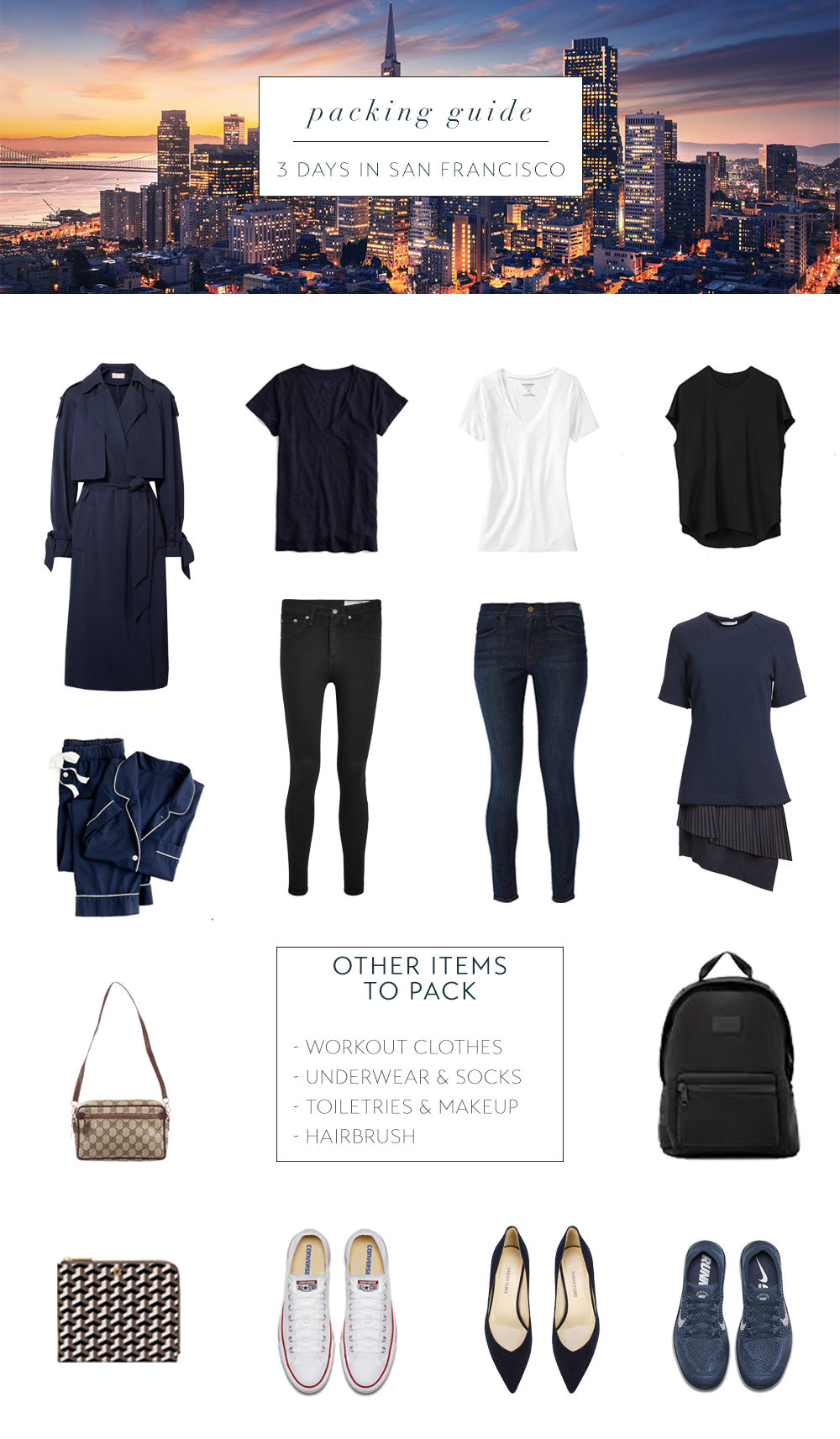 I love San Francisco.
I love the relaxed vibe of the city. I love the weather. I love seeing my friends and family that live here. I love the food.
I really love the proximity to Napa.
And I love how easy it is to pack for.
I spent a whirlwind 3 1/2 days in the Bay Area, thanks to Heymama to help launch their San Francisco chapter. I also took some meetings, caught up with some friends, and enjoyed having to just take care of myself for a few days.
Here's what I packed and wore for the trip.

navy draped trench -Â white t-shirt – navy t-shirt – black blouse
pajamas – black skinny pants – blue skinny jeans – navy 2-in-1 dress (another style here)
shoulder bag – backpack*
clutch – Chuck Taylors – heels* – sneakers
Tops
I never travel without a few Encircled t-shirts – they drape beautifully and are the most comfortable t-shirts I own. My black MM.LaFleur Didion was perfect for the introductory investor meetings I had, when paired with my black pants and draped trench.
Bottoms
Old Navy never fails when it comes to high-waisted dark denim, nor does Rag & Bone for skinny black pants. I wore them for coffees, for meetings, and in the rare moments I had to explore San Francisco for a bit.
Dresses
This old dress from 10 Crosby Derek Lam was the rare fantasy AND power piece to pack. It was the perfect thing to wear to the Heymama launch party. The top piece (basically a long sweatshirt) was ideal for my flight home, and I wore the bottom ruffled piece under my trench, which I belted for another slightly dressy look.
Outerwear
I won't lie – I agonized over which jacket to bring for this trip. I debated between my leather jacket, my track suit top, and this draped trench (or a combination of two or even all three), and ultimately left the former two at home. It was the right decision – the trench kept me warm during chillier evenings and could be worn as a dress when belted.
Shoes
My Sarah Flint heels are insanely comfortable, which made them a no-brained to pack. They worked with everything, from my dresses to jazzing up my all-black MM/Rag & Bone outfit. Chuck Taylors were perfect for wandering around the city in, and I could have gotten away with just those two shoes. I wore my sneakers to and from the workouts, but could have easily worn my Chucks since I rented shoes at SoulCycle and went barefoot for the Dynamic Core Class.
Bags
Everything easily fit in my bigger carry-on from Away (I opted for it over the smaller one since I knew I'd be bringing back coffee beans for my husband and some gifts for Rho). My Dagne Dover backpack carried me through from the airport to running around San Francisco. I swapped it out for my Dagne Dover clutch when heading into meetings or when I wanted to get some offline writing done (the clutch fits my iPad perfectly). My little Gucci bag was ideal for evening events and dinners with friends.

Here's what I packed for a weekend at my favorite getaway, 3 days in Napa, and for a long weekend in Vancouver. I publish a travel post on Thursdays. You can find them all here.