This En Route With feature is a little bit different. Not only am I featuring one of my best friends and my work wife, but we're also discussing how we travel ONCE we arrive – cars, cabs, and everything in between. Something Samira and I share in common is our love for National's Emerald Club app, which makes booking and getting to your car a breeze. We also share a love for themed spin classes (BRITNEY!), pesto pizza, too much red wine, and making the world a better place for girls worldwide.
Samira Panah
Co-Founder and CEO of Bridge2Act and Regional Manager of Media & Entertainment at Cisco
Prior to Hitha changing my entire packing game, I was an excessive over-packer; I'm talking checking in luggage for a 3 day weekend! Amateur. I was always stressed by the prospect of packing, embarrassed at how much I would pack, and how little I would use.  Fast forward to today, and my packing game is on point. I use the Tumi Alpha 2 carry on, which has single-handedly revolutionized the way I pack.  It has an expandable pouch as well as garment bag within the suitcase, which allows me to pack for well over a week in one carry-on — A CARRY ON!  I'm currently in Los Angeles on business and am proud to say I packed for this 10 day trip in a carry on— which includes clothes for a bachelorette party, major work meetings, and exercise gear during my down time. I typically pack the morning of my trip, usually 3 hours prior to departure.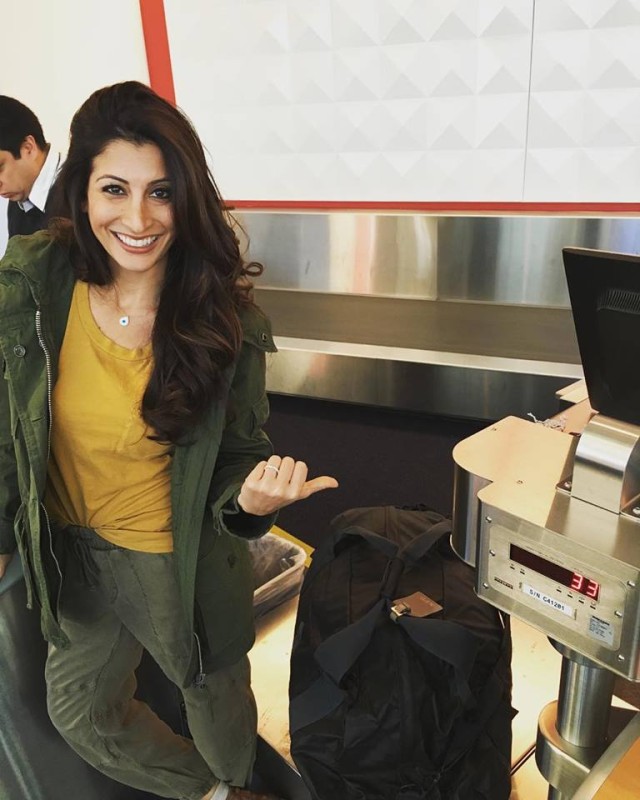 While I'm a last minute packer, I'm a very efficient one. My packing routine is driven by days and outfits; I start with the amount of days, and lay out outfits for each. I try to bring pieces that can be worn more than once as well, and can reduce items packed by reusing. I tend to go for pants and separates, but lately have been loving my MM.LaFleur dresses, since they never wrinkle, barely take up any room, and look amazing on. Next up are shoes. Working out during travel is non-negotiable – it helps keep my sanity and waistline in check. I always plan for SoulCycle or hot yoga classes while on the road so I don't need to waste space by bringing sneakers and can stick to the 3 pairs of shoe rule. I also have pre-packed toiletry and make up bags from Hudson & Bleecker which contain all the products I use everyday.  The initial investment of having to purchase 2 of everything (bronzer, blush, razor, shampoo, mascara, soap, etc.) was annoying, but it now saves me at least 15 minutes in the packing process. I simply keep the products in these travel bags and let them live in my Tumi. My other mainstay bag is my Louis Vuitton Neverfull, which holds my laptop, chargers, notebook, and everything else I need for the flight.
TSA PreCheck is a game changer. Because I'm able to breeze right through security (no more taking off shoes or coats, removing my laptop or liquids bag), I get to the airport just in time to board. Yes, I am the women you see running to her gate. And why not? Makes for great exercise and I spend no time waiting in a line to board. I always wear layers and my heaviest shoes, and purchase two 1 liter water bottles during my mad dash to the gate. I force myself to drink the entirety during the duration of the flight- this prevents dehydration, keeps your skin supple, and helps your metabolism and digestive system stay normal (read: avoid irregularity).  If I have an extra 15 minutes before I need to be at the gate, I usually stop into the XpressSpa area of the airport for a quick manicure.  
I am a proud aisle, economy comfort traveler. I am a Delta Platinum member, so I highly recommend sticking with one airline to gather as many points as possible.  I also have the Delta Sky Miles credit card, which helps me earn miles as I spend.  With all the water I drink on the flight, I usually am up 3-4 times to use the restroom, so I need to make sure I am not in the window seat, or else the other travelers in my row would mutiny.  My routine is pretty standard: catch up on New York Times & Huffington Post on my iPhone while taxied at the gate, close my eyes for take off for a nice 15 minute nap, then hop on the GoGo Wifi to get all the emails and presentations done that have jammed up my inbox.  I rarely read or watch movies— as I find this time on the plane a critical time to catch up on all the items I have let fall off my plate.
When I arrive to the airport, the mad dash resumes as I race out of the airport and to my rental car area. More often than not, I rent a car during my business trips, and am a loyal Emerald Club member. Their app is amazing – it only takes a few seconds to reserve my car, which I like to do first when planning a trip. Nothing beats instant gratification. The app's Location Tracker makes it easy to find the National location, and I love that I can just hop in my car and go. No waiting in line for the keys, and the ability to choose whatever car I want (which is usually a Chevy Cruz – an odd choice, but their MyLink system is extremely easy to use and the Bluetooth is on point).  I also swear by TripCase, which is like a personal assistant for things travel. Where am I staying? What time is my flight? It's all there. I also use MyFitnessPal to stay on track with my diet.
My travel essentials are:
Want to see how other #girlbosses pack and travel? Check out Ruzwana Bashir, Gillian Morris, and Sarah LaFleur's features as well.
This post was sponsored by National Car Rental. All opinions (especially Samira's and my love for this rental car company and app) are our own.
Top photograph by Lydia Hudgens, all others provided by Samira Panah