Apologies for this week's En Route With… post being a day and a half late – but I assure you that it's worth it.  I've largely profiled bloggers in this series, but am have slowly been working on expanding the features to jet-setting entrepreneurs doing some exciting things in the travel world.  Kicking off the profile is Ruzwana Bashir, who founded and runs Peek, an amazing startup that helps travelers find and book one-of-a-kind experiences on their trips and even in their own backyard.  I'll be sharing more about Peek in tomorrow's post, but read on to see how the company's fearless (and stylish!) leader packs and travels…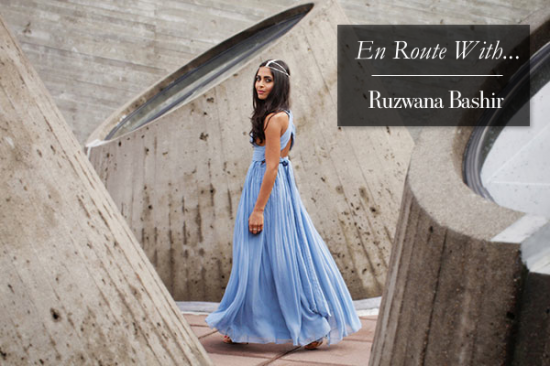 Ruzwana Bashir
Co-founder & CEO, Peek
I'm probably an overpacker – but that's normally because I don't plan very often in advance and leave it to the last minute.  As a result, with little time, you tend to err on the side of caution and tend to overpack.  If I'm going away for a few months, I'm actually pretty good and packing everything that I need, being minimal.  But for a typical trip, I tend to have more things than I ought to.  I'm a roller, not a folder.  If I have anything that really needs look after, then I pack it in a suit carrier (especially dresses) and it's preserved.  I try the best I can to carry-on only, but it really depends on the circumstances and how long I go away for.  If I'm going away for the weekend, I'll carry on.  It also depends on the type of airports I'm flying through – if it's an airport that I'll be lugging a suitcase for long distances, I opt for the convenience of checking in.  I'm probably half and half, with checking in vs. carrying on.
If you can avoid it, it's certainly nice to not have to check in a bag. I did tackle a 6-week trip with only a carry-on, so I was forced to pack smart. My inner nerd shone through as I created a spreadsheet of every item I planned on taking, and removed items that didn't have a multiple purposes. I bought my first Tumi bag when I was living in London. I wanted something that was really durable, looked elegant, and still had an air of professionalism.
I'm definitely the type of person running to the gate – I've never been there at the recommended 2 hours prior to departure, or at least not on purpose.  I'm always optimistic about how long something will take and so I'm always trying to make my time at the airport the very least.  I haven't missed a flight for a long time.  In security, I always have my bag of beauty products ready to take out the second I enter.  I always dress in comfortable clothes and minimal jewelry, to avoid any hangups in security.
My typical travel outfit is silk trousers by Maison Martin Margiela, Lanvin sneakers, and a cashmere sweater that's both comfortable and warm (I have one from Comme des Garcon and one from Everlane).  Apart from that, I carry my passport in a Smythson travel wallet and a cashmere blanket for the long flights, as it does get cold.  I believe in being comfortable for travel, and not fall into the Victoria Beckham trap of wearing high heels to the airport.  I always buy a cup of herbal tea before boarding the plane – I'm a tea addict and it helps me relax on the flight.  I take a lot of redeyes, and it helps me go straight to sleep.  When I fly to SFO from JFK (in the Virgin terminal), I'll stop for food (Pinkberry is a must-stop) before boarding my flight.
On the plane, I'll either work or sleep.  I don't really watch movies or do anything else.  My times on planes can be my most productive, so I will power through work or get some rest.  I always take my MacBook Air on flights (in lieu of my iPad) – it's so light, and I can power through e-mails and other work.  Not having WiFi is really great because it's one of the few times you aren't getting distracted by things being pushed to you.   For my seat, it's window all the way – I don't know why anyone would want to sit next to the aisle!  You can lean against the window to sleep, which is perfect for the high number of the redeyes I take.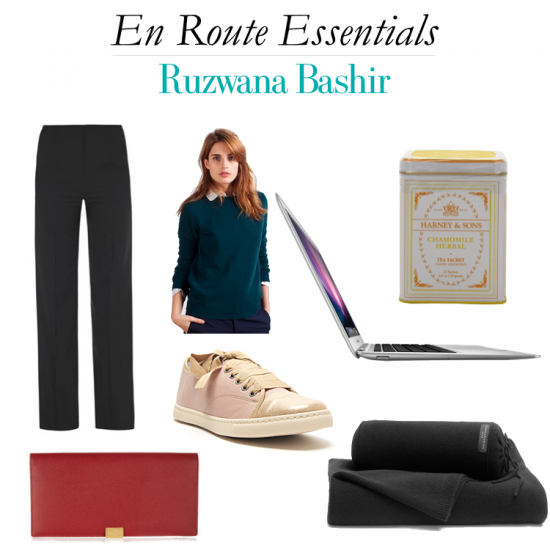 – silk trousers – cashmere sweater – MacBook Air – chamomile tea –
– travel wallet – sneakers – cashmere blanket –
first image via