Our second feature in our entrepreneur series is one of my favorites – Sarah LaFleur, founder of M.M LaFleur. Â I had the honor of being featured by the company earlier this year, and I'm thrilled to return the favor and pick Sarah's brain on her own travel routine and essentials. Â A former management consultant who knows a LOT about life on the go, Sarah's feature is chock full of great advice and style tips. Â M.M LaFleur dresses are must packs for me, and I can't wait to see what other style essentials this company comes out with. Â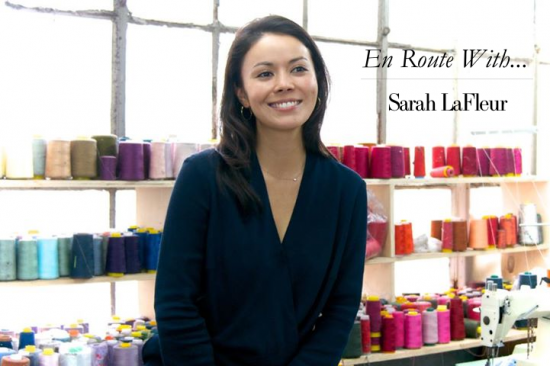 Sarah LaFleur
Founder & CEO, M.M. LaFleur
My mother–who was first a flight attendant for Lufthansa in the early 70s, and then an international business woman and the wife of a diplomat–taught me everything I know about packing for travel.  So I'm cheating here; really just passing on her wisdom.   My suitcase is a Rimowa Salsa, which I can roll with the gentle push of my index finger.  I once bought myself a Tumi as a gift to myself during my management consulting days, and regretted it almost immediately; it's so heavy that I have trouble lifting it over my head to get it into overhead.  (What's the point in that?) Shortly after I discovered my boyfriend's carry-on by Burton.  It uses the same wheels as skateboard wheels and is incredibly light and durable.  By far the best carry-on I've used.
My travel bag is either my Louis Vuitton or Lo & Sons.  I love everything about that brand, from the owners (a wonderful mother and sons team) to the product itself.  I also am eyeing a Milli Milliu's Geneva bag.  For carrying liquids, instead of using zip-lock bags (that can rip or tear and aren't very sturdy), I use a transparent plastic cosmetics case that contains not only my liquids, but also my cosmetics.  This means that I don't have to separate my liquids from the other stuff, which can be a hassle.  I own this one from Anya Hindmarch, but it's so precious that I usually just end up using this.  I am neither a folder or a roller, but a layer.  It packs the most number of items, and minimizes wrinkles.  I'll always pack my Starwood Preferred Guest by American Express.  I am a loyal customer from my management consulting days, and have taken some of my most luxurious vacations purely on SPG points.  And I never leave without my iPad and my good luck charm from Kiyomizu Shrine in Japan.
I always carry on – check-in is for amateurs.
When getting to the airport, I like cutting it real, real close.  So close that, 1 in 20 times, I miss my flight. (Gotta live life on the edge, amiright?)  The only time I make it a point to arrive with plenty of time is when I'm flying out of Terminal 8 at JFK so I can go to Vino Volo, my favorite bar in all of Queens, probably top 10 in New York; dare I say it!
If it's a business flight, I'm typically working.  I think it's some carry-over from my management consulting days when my first boss out of college told me that I had to be working at all times on a business flight. (Some would call that post-traumatic stress disorder.)   If I'm flying for pleasure, it's TV episodes all the way, baby! I once watched 12 episodes of Damages on my flight from Tokyo to JFK.  I felt mildly ill afterwards.   I opt for window for flights that are longer than 4 hours; aisle for anything under that.  It may be totally unfashionable, but I swear by these socks and throw them on as soon as I get on a flight.  I hate cold feet.  I pair the socks with a dress from my own line.  I'll wear the Sarah or Felisa dress if I have to go to a meeting straight from the airport.  It's made out of wrinkle-resistant, machine washable fabric.  I opt for my Narie or Lydia dress if it's an overnight flight.  The fabric is so soft and feels like pajamas.  I'll pair the dress with a pair of flats.  My favorites are Repetto, J.Crew Cece flats, Charlotte Olympia, and Tabitha Simmons.  I use Kiehl's Acai Damage-Correcting Moisturizer during the flight. My face looks visibly fresher after I use it, and I'll apply it at least once every 4-5 hours on a flight.
It may be an old wive's tale, but I eat protein if I want to stay awake on the flight, and pasta/carbs if I want to fall sleep.  If I'm not running to my gate, I pick up something delicious before I board the flight.  I love the croque madames at none other than Croque Madame at Terminal 2 of JFK.  My other guilty pleasure is stacking up on a box of macarons at Laduree at Terminal 1 of Charles de Gaulle.  I hydrate like a mad woman, and drink sparkling water during the flight.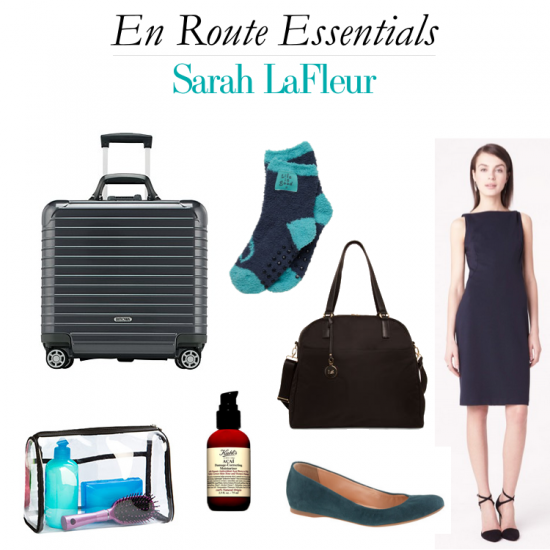 – suitcase – socks – bag -Â dress –
– liquids bag – moisturizer – flats –
For more En Route With posts, click here