I'm back!  Thanks for being patient with me as I recovered from this pesky infection and waded through mountains of work.  I'm holed up in the Bombay airport, waiting to check in for my flight.  Hell would be nicer place to wait.  While I suffer through smelly neighbors and eardrum-crushingly loud announcements, enjoy reading the latest installment of ERW – I'm featuring my close friend and fellow entrepreneur Julia of Lemon Stripes.  Enjoy!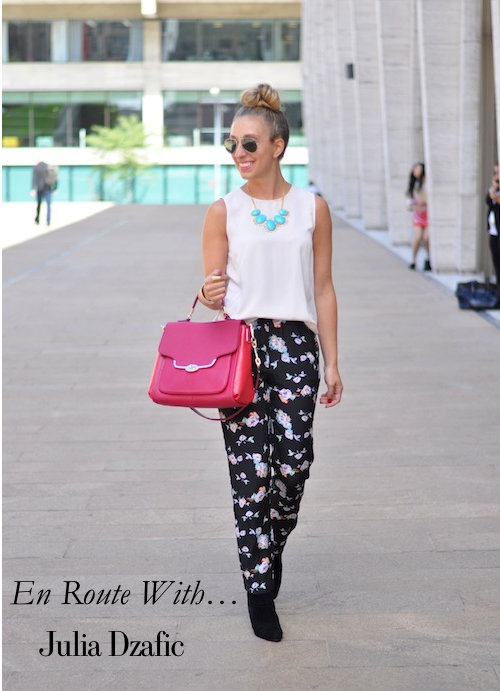 Julia Dzafic
Founder & CEO, Lemon Stripes
I am a bit of a freak when it comes to packing. Oh wait – I'm a freak about most things, given my OCD tendancies. Here's my deal: I make a list 2-3 days before my trip, even if it's just a weekend at home in New Hampshire. The day before, I pull out everything that I need for the trip and organize it in piles on my bed (separated by shirts, pants, work out gear, etc). Once I can see everything laid out, I usually realize that I'm insane and don't need 5 dresses for a 3 day long weekend and take out the extras.
I fold everything as neatly as possible, and always stuff my socks and undies into a bag so they aren't floating. My other trick is that I always put each pair of shoes into a shoe bag so that they don't touch my clothes (Hello OCD!).  Next comes the jewelry which is the most important part of packing for me. I always need multiple jewelry options for each day I'm away so this is where I really go crazy. I have a Gorjana jewelry wallet and fill it to the brim with necklaces, rings, bracelets, and earrings. My sister never packs accessories when we go away together because she knows I'll have so many with me!
{ 3 comments }