Clara has been a blogger-turned-friend for most of this year.  We first met during this photo shoot, but our friendship really picked up steam when we discovered a mutual obsession with Pitch Perfect, Netflix original programming, and Lo & Sons bags.  She brought an amazing watermelon feta salad to my rooftop potluck, and we've been firm friends since.  Besides being a social media maven, Clara pens the mouth-watering and eye-catching blog Channeling Contessa and is an all-around badass.  Plus, this girl knows how to travel.  Read on for the details…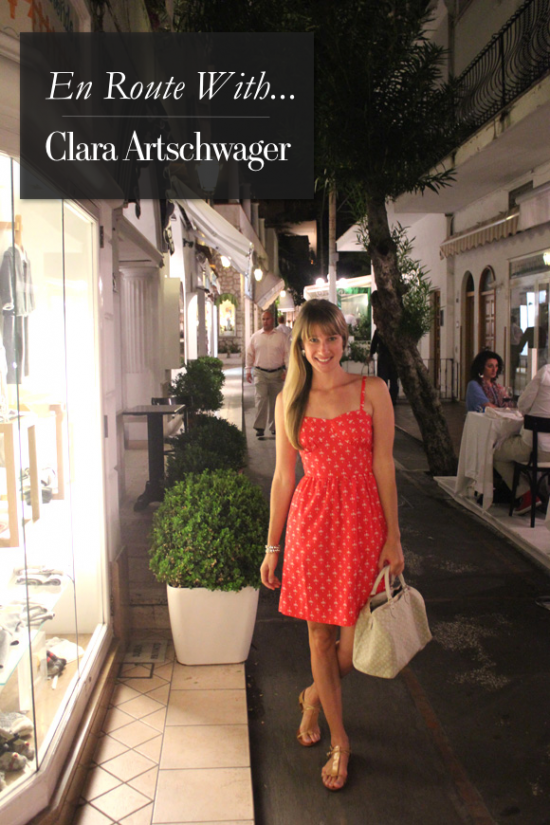 Clara Artschwager
Social Marketing Strategist | Blogger, Channeling Contessa 
My first job out of college was in marketing at a healthcare consulting firm. After rising the associate ranks, I was put on the road- for 22 off site meetings a month. Yes. 22. That meant I was on the road from Monday through Thursday each week. Suffice it to say, I did not last long in this role, but the experience really taught me how to pack efficiently. Unless I'm going away for more than two weeks, I always carry on. Part of that is the hassle (and cost!) of checking a bag, and part of it is the love affair I have with my suitcase. Right before I hit the road for that job, I invested in a new suitcase- a sweet little Ricardo elite that has been my best travel companion (aside from my boyfriend) for the past six years. I'm a perpetual planner, so I always pack the night before. Skirts and dresses get rolled, the rest is folded and sectioned into tops, bottoms, pjs, and workout clothes.
I'm an hour and half girl at the airport, unless it's an absurdly massive one or I'm in a foreign country and don't know my way around too well. After traveling so much for work I've gotten really good at identifying the best line for security. That generally means following the business travelers as they know what's up when it comes to unloading and packing up lighting fast. After security it's off to indulge in my guilty traveling pleasure- gummy candy. Bonus points if the airport has a bulk candy store. Philadelphia has a phenomenal one… embarrassing, I know. And I always get a big bottle of water for the flight, I hate the water they serve on planes and those cups holding nothing!
On the plane I am a hardcore aisle person. I've got long legs and occasionally like to stretch them in the aisle, and get anxiety when I don't have easy access to the restroom. I'm constantly drinking water to stay hydrated so several trips to the bathroom during a flight is not unusual for me! Unless my stomach is bothering me, I don't drink anything other than water. And aside from pretzels, I never eat plane food. I know it sounds snobby but it makes me feel terrible! How long has that stuff been sitting in those trays?!? For overnight flights I'll either buy something in the airport before we board and carry on, or carry a bunch of granola bars and trail mix with me to get me through. Most flights these days I'm working, but if I'm headed on vacay a good book and a pile of Real Housewives re-runs is pure heaven.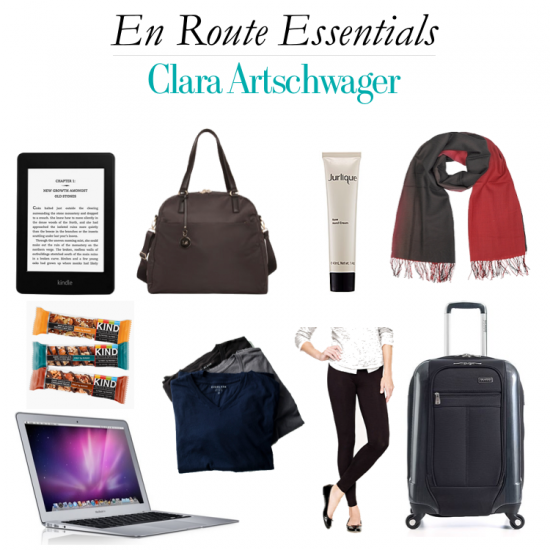 – Kindle – Lo & Sons OG – hand cream – cashmere wrap –
– KIND Bars – MacBook Air – v-neck t-shirts – black leggings – suitcase