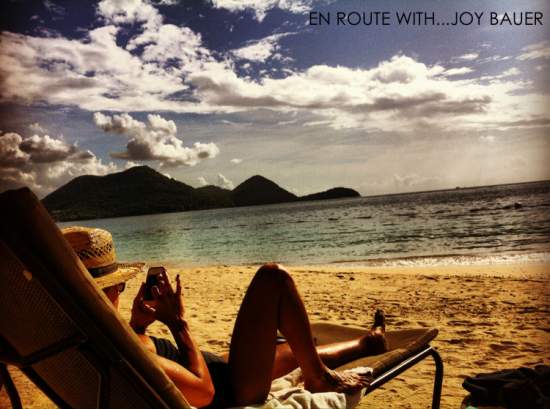 Joy Bauer, MS, RDN
Health and Nutrition Expert for NBC's TODAY Show, Best-Selling Author, Founder of Nourish Snacks
I am a major over-packer, and a very last minute packer too! It's always better to have options, right? I have two Briggs & Riley bags—a large carry on suitcase with a garment compartment and a small carry-on for my work, computer and snacks. It's a perfect combo because I can easily hook the smaller unit to the top of the larger suitcase and don't have to coordinate rolling multiple bags (since I'm usually in at least 4-inch heels!). I am known to throw things in my bag 10 minutes before I'm supposed to be out the door, so there really isn't any particular order when I'm in such a rush. Toss, toss, toss, and feverishly try to close the overstuffed bag. I'm definitely a folder. But nicer dresses and skirts that I'll need for an event or a shoot remain on hangers and get transferred to the garment portion of the bag. When it comes to packing, last "second" sums it up.
Whether I check in my bag depends on the trip and how much I've overpacked – I used to try for only carry-on, but have had far too many embarrassing attempts at trying to squish my HUGE over-stuffed heavy bag into the overhead compartment (thank goodness for strong, helpful travel mates).  Now, depending upon where I'm going and how much I'm bringing, I'll often check the larger bag and bring the smaller bag with essentials on the flight.
Things you'll find in my carry-on – Bose noise-cancelling headphones, Karen Walker sunglasses, a Nalgene water bottle, and all my gadgets – my laptop, my iPhone, and a Mophie. On the beauty front, I always pack YSL mascara, S.W. Basics lip balm, Neutrogena makeup remover cloths, Essie's Ballet Slippers, and my Dry Bar curling iron. I'll never leave home without my Sonic Care electric toothbrush, Tom's natural toothpaste, a lint brush, and my Nike sneakers.
I'm known for running to the gate right before they close the boarding doors—with my heart racing a bazillion miles a minute. Not a second to spare. Occasionally, I have time to get a quick drink and hit the restroom and it's a welcome miracle. However, for family vacations it's an entirely different scenario. My husband is uber-organized and likes to get there nice and early. He knows exactly how to get everyone out the door in time (even if it means telling us the flight is an hour earlier than it actually is).
Lines in security don't bother me. As long as I have my iPhone in my hand and can look through work emails, check Facebook/Instagram, and text friends and family, I'm totally fine with it. I'm a total security line pro—even with multiple bags, high heels, and a laptop requiring a separate bin.  If I have time to kill before take-off (this typically happens only in the case of a delayed flight), I find a quiet spot near the gate to get some work done, hop on a conference call, or chat with my mom or kids. I actually love airports. If time permits, I'll always try to hit up a coffee shop! It doesn't matter what kind…I find the nearest one and order a steaming cup of black coffee – it's MY jet fuel.
Up in the air, I pray that there is WI-FI on board (luckily, it's more common now) and flip open my laptop as soon as I can. There's always something going on with work so I like to stay connected as much as possible. If that's not an option, I'll catch up on the latest food and nutrition news by flipping through health magazines and journals (they're always packed in my carry on bag). If my family is with me…forget it! I'm yapping away with them :-)
I'm an aisle person. I like to have the option of stretching my legs whenever possible and, of course, easy access to the bathroom. My laptop is my "go to" for work trips, but when it's vacation-time, I'll pull out the iPad or iPod (we're an "Apple" family) for fun games and tunes. If I'm not sipping on a black coffee, then it's water – have to stay hydrated…especially for long flights. As for food, I always have a stash of my own Nourish Snacks on hand – whether I'm craving something sweet and salty or savory and spicy, there's plenty of variety to keep me satisfied and energized. These days my favorites are Cashew Colada, Almond to Cherries, Holy Habanero, Monkey Love, and my Coconut Chewphoria snack bars. I'm truly an addict!
Get 10% off your next Nourish Snacks order with the code ONTHEGO.  Happy snacking!