Natalia Del Rivero is the creative director and owner of Del Rivero Design Co. Studio and a pilates instructor in training. This is how she packs and travels.
I've gotten much better at packing over the years. Having had a few bags lost in the past, I don't fully trust airlines with my belongings. So I'm a carry-on only kind of gal if it's a weekend trip or even up to 6 days. After that, I will check one bag at most. I swear by my Raden for my carry-on and my Samsonite or EastPack if I'm checking in. I've never understood the concept of rolling clothes. Surely they arrive more wrinkled, don't they? My mother taught me to fold everything carefully and old habits die hard.
I used to pack well in advance but time seems to have gotten the better of me. As a result, I've become much more relaxed (though I'm still not the kind of person who packs a few hours before her trip or late the night before). Packing for my 3-week honeymoon and a 2-week trekking trip to Bhutan last year definitely required some prior planning. I could only take one carry-on and one checked bag for both trips – needless to say, the task was challenging!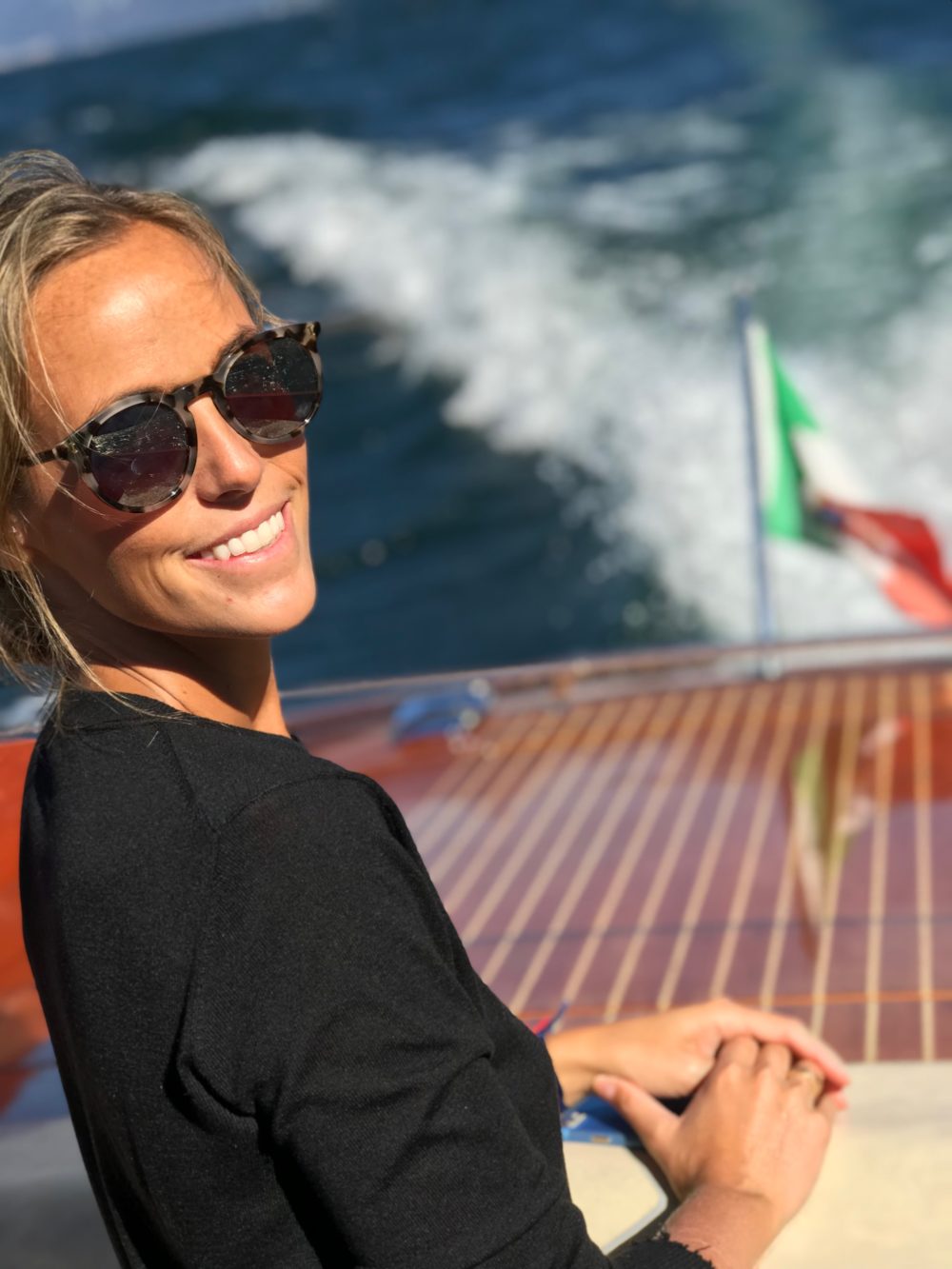 My biggest pet peeve is rushing and sweating to the gate! I am not a fan. Before I got married I told my husband I was prepared to travel alone to the airport and meet him there for the rest of our lives if he couldn't change his routine. Major deal-breaker for me (haha). When heading to the airport, I like to leave enough time for traffic, any unprecedented lines or airport chaos and still have time to buy a coffee or sit down for a snack and read a book or magazine. Travel to the airport is also a window of time I use to call my parents and catch up – something I always look forward to. In fact, I called my mother on my way to the airport this morning.
Sadly, being a foreigner in the US, I'm not allowed to apply for TSA PreCheck or Global Entry so long lines have been the norm for the last 14 years. Giving myself ample time before my flight means I can handle lines in a more relaxed way. While I don't enjoy them, they don't ruin my travel experience.
I love and live by routines and organization. I like to make sure I have everything I'm going to use during the flight in my handbag or tote when I'm still at the gate, with everything else in my carry-on. This way, I can stow my carry-on overhead and take my seat quickly once I'm on the plane.
When I'm up in the air I like to drink a lot of water, and a coffee only right before landing if it's a morning arrival. I don't drink anymore so alcohol is a non-issue on flights, but I'll never forget the only cocktail I've ever had on board. I was 18 and it made me feel so sick because of the altitude and cabin pressure. Never again!
I always order my gluten-free meal ahead and often bring my own snacks from home since I have a few food allergies and not all airports have good options. Fun fact: my favorite airport food option is the Sha-Wellness Store at Barajas Airport in Madrid (where I'm from) – the choices and quality are top-notch.
I used to be an aisle person through and through because I like to stretch my legs. But the fact is I sleep better at a window seat, and have been sitting here lately. I make sure I get up to walk a few times during a flight. If an airline offers premium economy like Iberia or Virgin Atlantic, I will always book my seat in that section. While I believe in and love the comfort of business/first (who doesn't?), it's not where I want to spend my money.
I usually read and sleep on flights and only work if I have to. Movies on longer flights for sure – I'm currently flying to LAX as I write this and have Slumdog Millionaire playing in the background. I enjoy the obliged disconnection and the "me" time a flight can provide – no phone or email. For those who know me well, this makes perfect sense since I love being alone. Cancellations and delays, however, are an entirely different ball game. I do not deal well with either and I get very frustrated. I do not like being late anywhere let alone hours late to my final destination.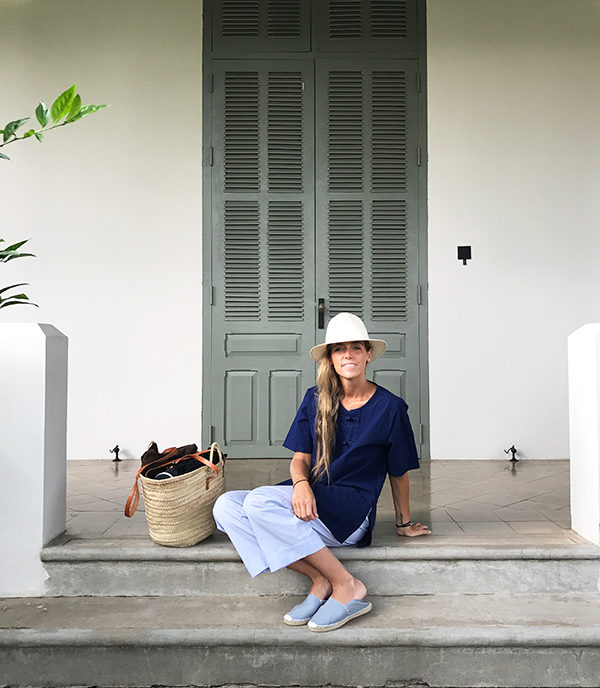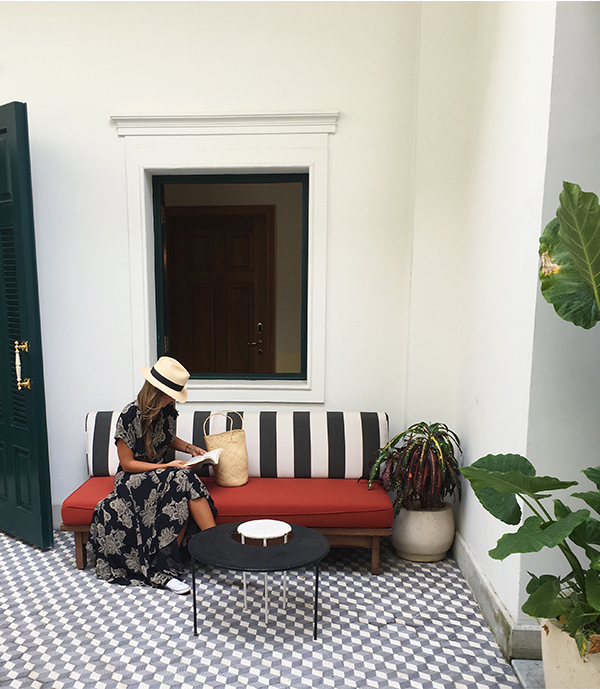 I cannot live without my white low-top Converse or pajamas! I always travel with L'Occitane Hand Cream, a Touché-Eclat YSL Highlighter Pen, and my Cellcosmet Eye Contour Cream. I love to take notes and make lists while I'm traveling, so I carry my Smythson Wafer Leather Notebook and Pilot Razor Point pen (in navy or black only, I'm particular about my writing) in my handbag at all times. Other travel essentials include my Kindle and/or a book, a cashmere pashmina, a clutch for evenings out, and my Panama hat or my navy Marc Jacobs beanie, depending on the weather at my destination.
As far as my wardrobe staples go, I never leave without my white linen button-down shirt, my high-rise vintage 505 Levis, something striped, my vintage black and white floral dress I bought in San Francisco 7 years ago and my Zara black leather jacket that I've had for 10 years (they used to make amazing leather pieces.) I also like to be practical and carry as little as possible in my handbag so I transfer all my IDs and credit cards from my everyday wallet to a Delfonics Quitterie card case holder or small pouch – they're cute, waterproof, and light. I highly recommend them. And I can't forget my travel backgammon and my Canon G16 camera or my Canon 5D camera depending on the nature of the trip.
Lastly, if I'm going somewhere new I like to take a Wallpaper guide book with me to supplement my own research. They always come in handy!
SHOP NATALIA'S TRAVEL ESSENTIALS

Natalia met this social entrepreneur in an airport, sharing toothpaste while trapped at JFK during a blizzard. Want more packing inspiration? This is how a marketing strategist and Rag & Bone's VP of creative pack and travel.
All images courtesy of Natalia Del Rivero