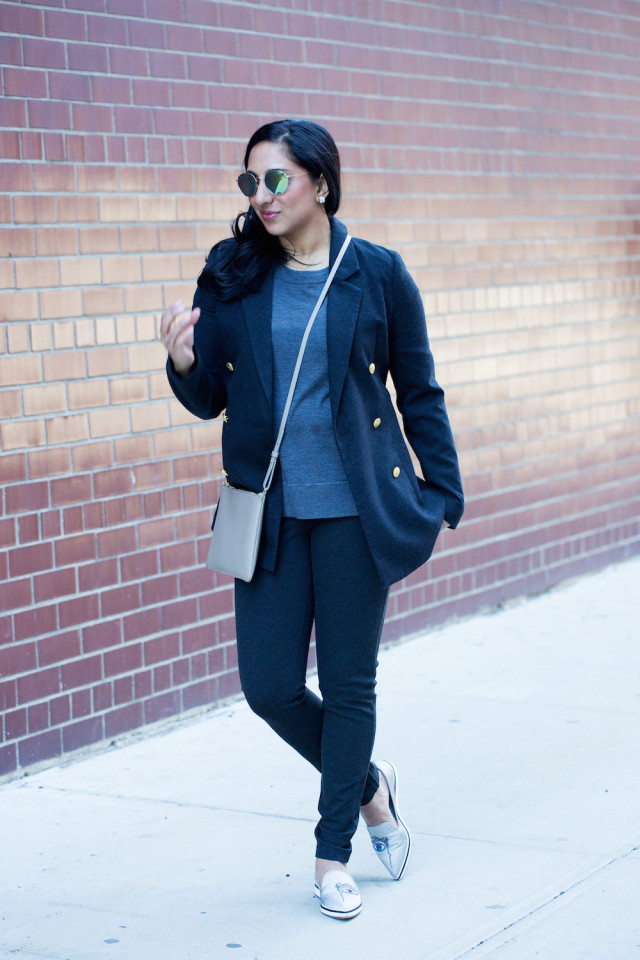 Piperlime blazer (similar) – Everlane sweater – J.Crew pants – Madewell sunglasses
Cuyana bag c/o – Nicholas Kirkwood loafers – Happiness Boutique earrings c/o
I won't lie – I miss getting suited up for work. Kind of.
There are a lot of effortless elements about a suit. They match (because, duh). They look polished. Finding a matching top is easier than pulling together 2-3 separates.
The only downside? They're not the most comfortable of outfits.
And when you're literally always on the go (and chasing after a toddler who has just learned how to run), comfort is everything.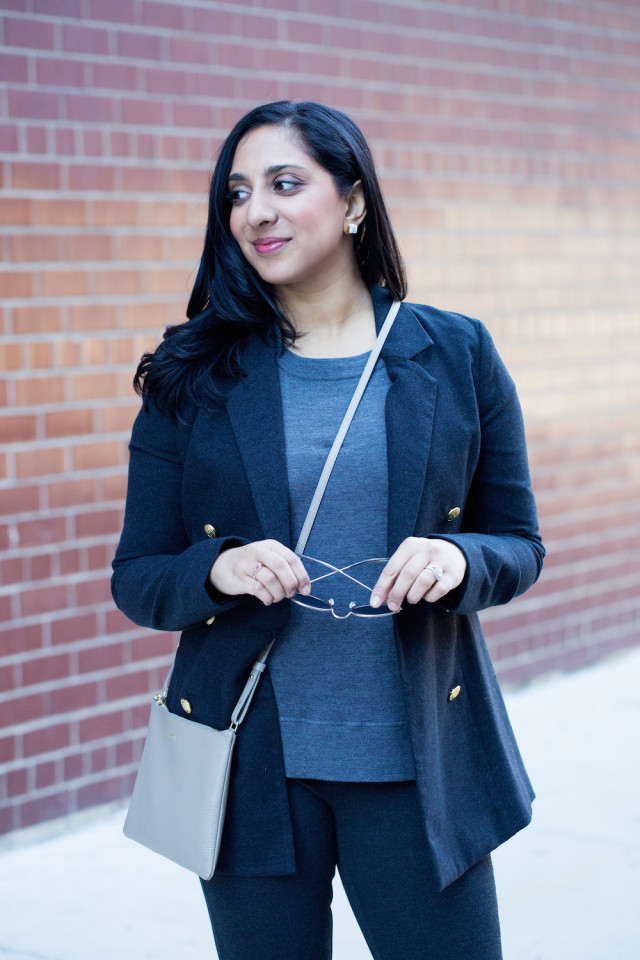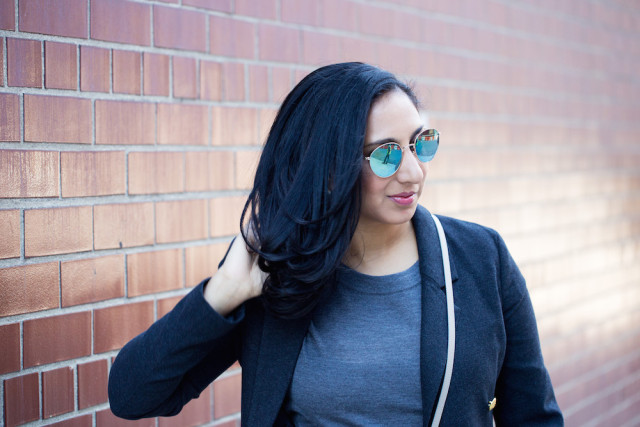 Remember when I talked about gaining a little weight?
Things on that front have gotten a little better on the eating and exercise front, but the weight is slow to come off. Which makes getting dressed a challenge.
There's a vanity element, for sure. But mostly I want to feel good. No pinching of pants, or weird clinging of a shirt.
Thankfully, I have a few sartorial tricks up my sleeve that I'm sharing with you today.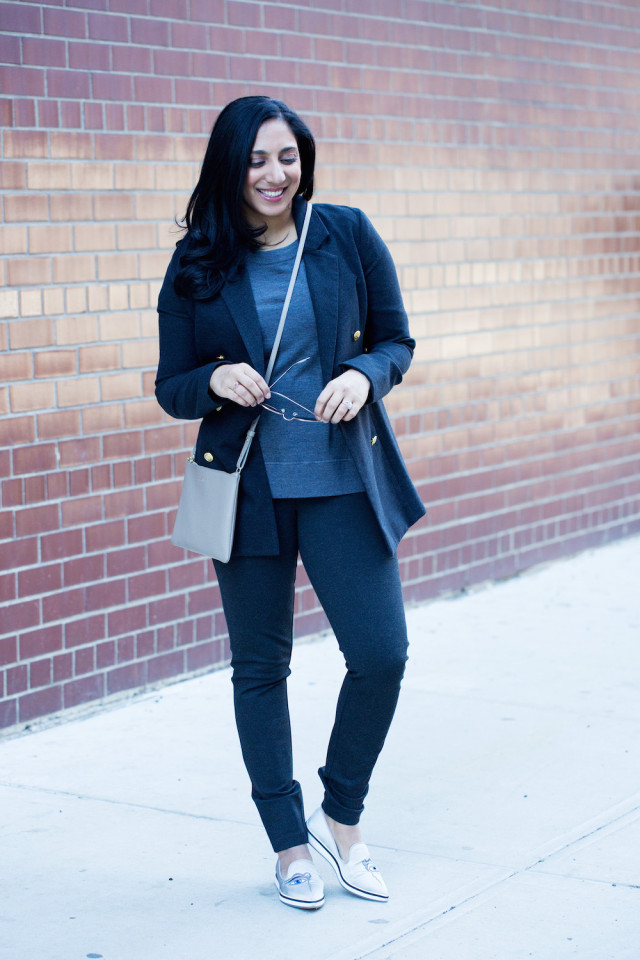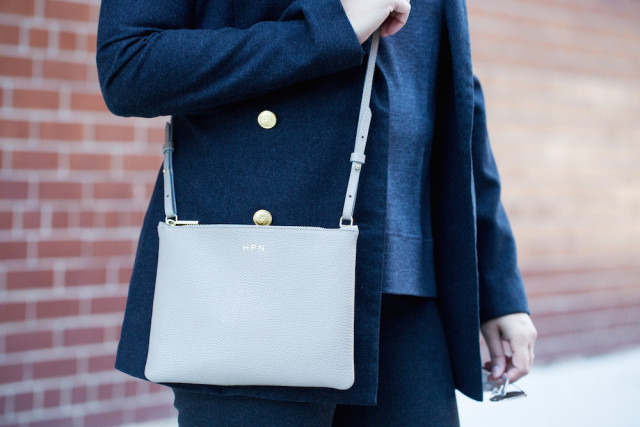 1. Monochromatic Mania
Sticking to the same color (and shade, if you can) streamlines your body and can help camouflage any 'wobbly bits.' Your pants and top (or jacket, if you're layering) should be as close to the same shade as possible, as in the case of these pants and this blazer (RIP, Piperlime – this blazer is a rockstar). Layer in different shades or complimentary prints (vibrant blues for navy, light grays with charcoal, cognac or chocolate with tan) with your accessories. This Cuyana crossbody, funky Nicholas Kirkwood flats, and marble earrings did the trick here.
2. Blazer BAE
Every woman should have a blazer that's simultaneously fitted and boxy. It adds an undeniable polish to your outfit while hiding the most common weight gain areas (stomach, bottom, tops of thighs). While this Piperlime beauty is sadly no longer available, I do recommend J.Crew's Regent blazer, Madewell's Flatiron blazer, or AYR's The Embassy blazer. If you're on a budget, this Forever 21 number  or this knit blazer from Nordstrom are perfect.
3. Show It Off
Even when you're feeling your worst, there's always one part of your body that gives you a boost. As you camouflage your load-bearing areas with looser fits and boxy cuts, pair them with a form-fitting piece that shows off your ass(ets). If they double as shapewear (like the excellent J.Crew Pixie pants), that's all the better.
Best of all – these tips work whether you're putting together a suited look or just need a few hacks for a stylish work look. Or day look. Any outfit, really.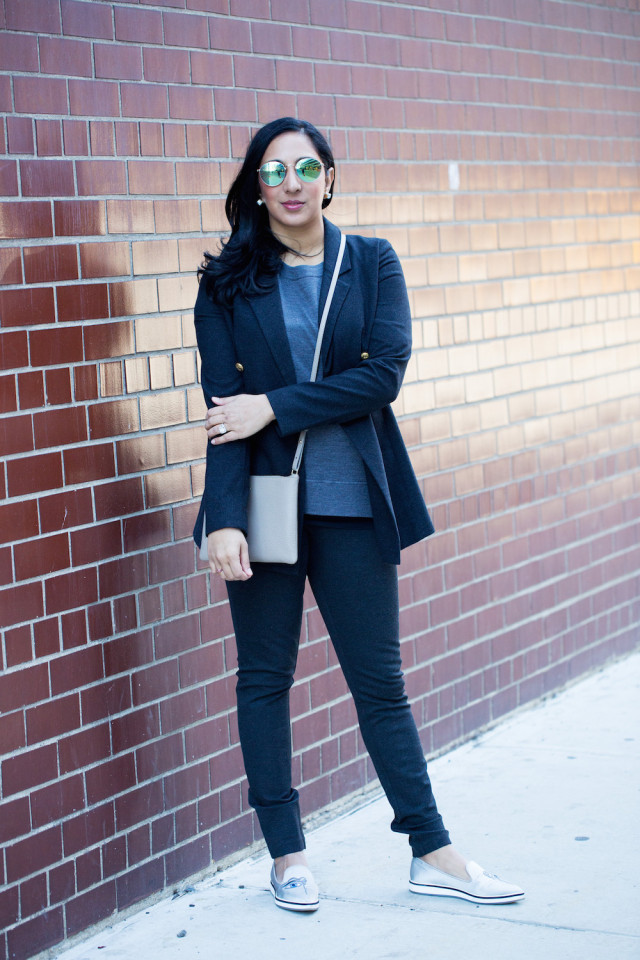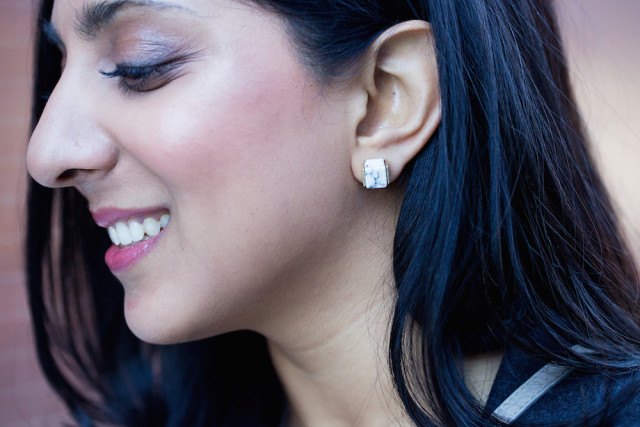 I'd love to know – what are your favorite style hacks for when you've gained a little weight? COMMENT below and let me know! 
SHOP THE POST:

photography by Lydia Hudgens
Love a monochromatic look? You can find my favorites here, here, here, here, and here.